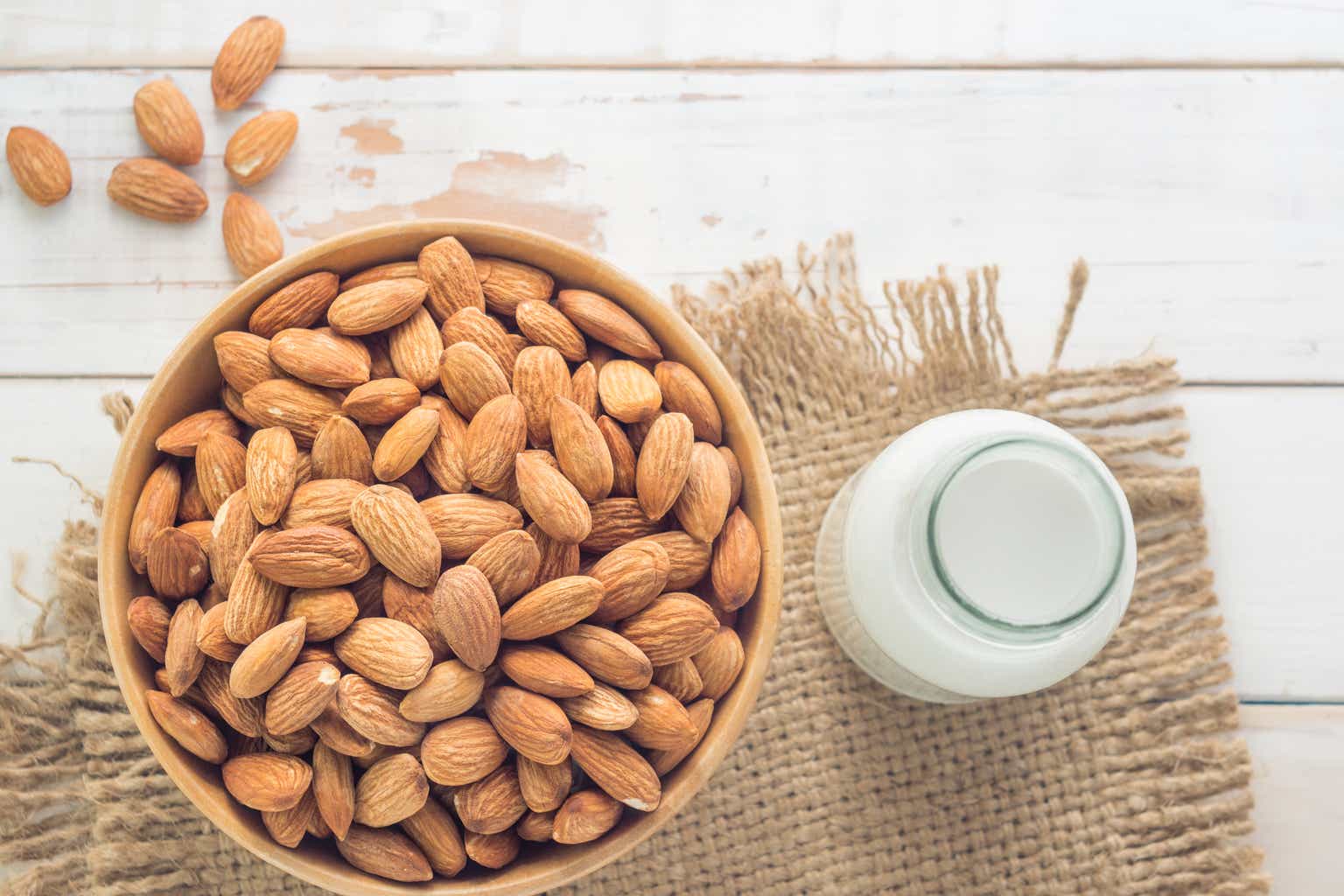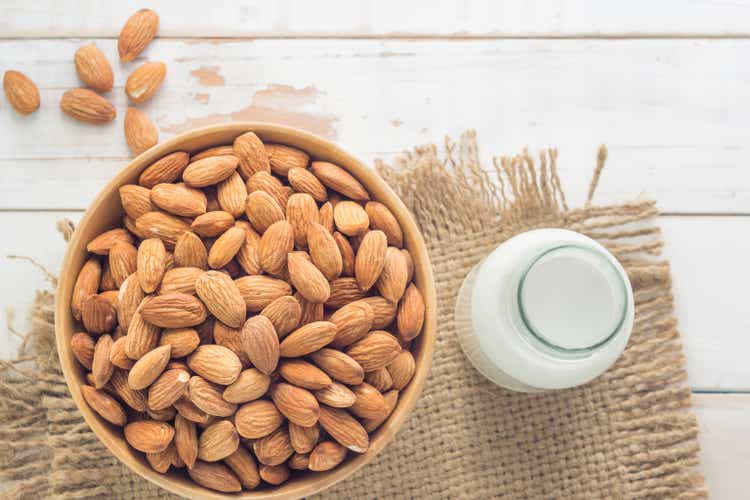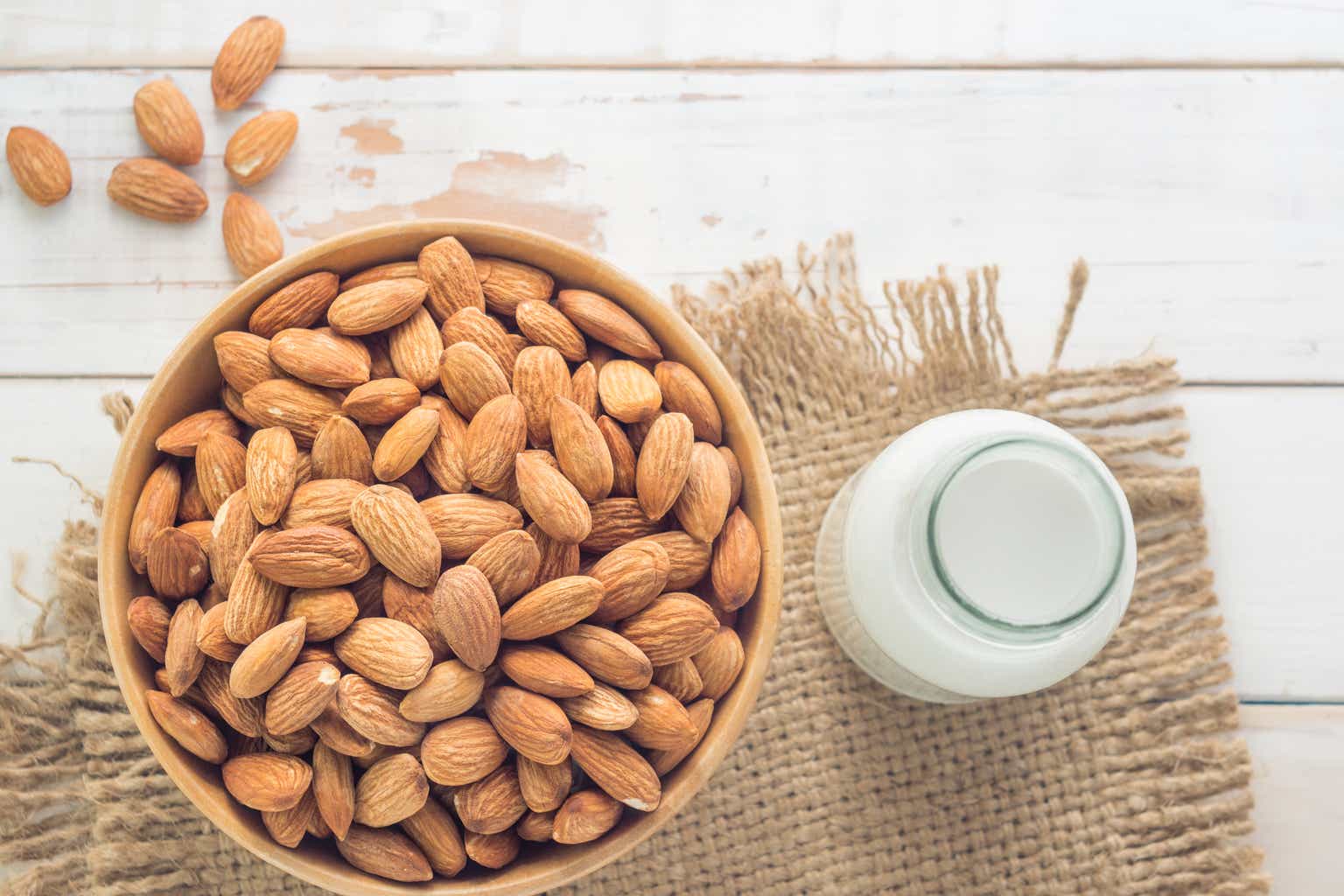 Introduction
Acomo (OTCPK:ACNFF), previously known as Amsterdam Commodities, is a Dutch company focusing on the sourcing, trading, processing and distribution of food products. With in excess of 600 products (including spices, tea and oil), Acomo comes pretty close to what the Dutch East India company did in the 17 th and 18 th century.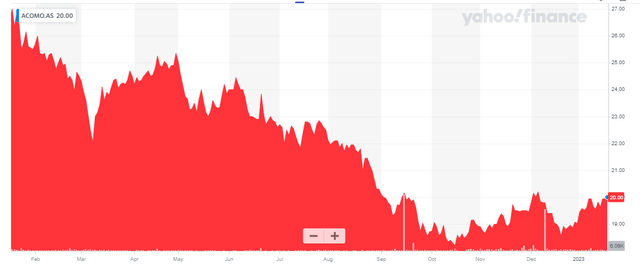 Acomo's main listing is on Euronext Amsterdam where it is trading with ACOMO as its ticker symbol. As the average daily volume in Amsterdam is almost 40,000 shares per day, I would strongly recommend to use the company's Dutch listing to trade in its shares.
Acomo is a cash cow
Back in 2020, I was surprised at how resilient Acomo was during the COVID pandemic. As you can see below, the revenue in 2020 actually increased while the EBITDA only slightly decreased and that was very comforting to see as Acomo got through the pandemic without too many issues.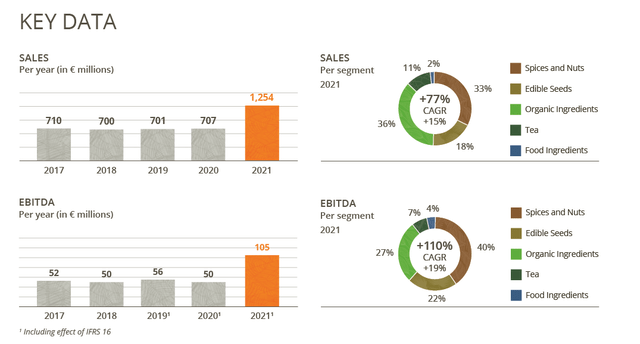 The sudden bump in revenue and EBITDA in 2021 was caused by the acquisition of Tradin Organics from SunOpta in December 2020. Acomo funded the all-cash transaction with a combination of equity (through a capital raise priced at 19.50 EUR) and debt.
Unfortunately the company does not publish quarterly results, and except in unforeseen circumstances, there are no interim trading updates either. While the most recently available financial data stems from H1 2022 and may seem outdated, I'd like to think that considering no profit warning has been issued yet, the H2 results would have been more or less in line with the expectations.
During the first half of 2022, Acomo reported a 15% revenue increase, which jumped to almost 712M EUR. And as the company was not immune for margin pressure, the EBITDA increased by just 5% to 56.1M EUR for an EBITDA margin of just under 7.9% compared to 8.6% in the first half of last year.

This doesn't mean the results were bad, and the income statement below the EBITDA result were pretty decent, as you can see below. The net income was 31.2M EUR of which 31.1M EUR was attributable to the shareholders of Acomo, resulting in an EPS of 1.05 EUR.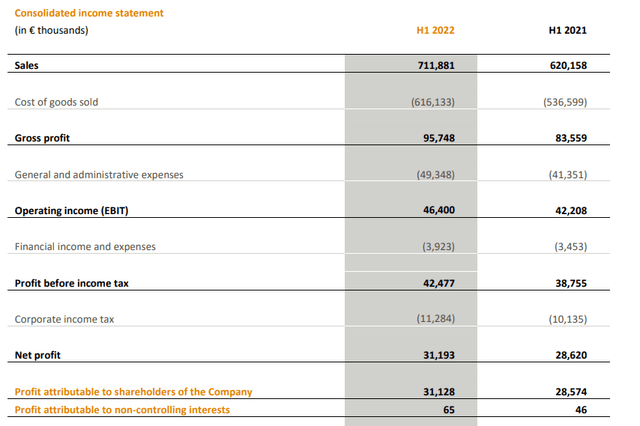 While the bottom line isn't increasing as fast as the revenue is, I'm still encouraged to see a net income increase of 8.7%.
The interest expenses increased, not because of higher interest rates (which weren't too noticeable yet in the first semester of 2022) but because the company borrowed more cash to fund its working capital investments. As you can see below, the reported operating cash flow was a negative 5.9M EUR, but this was mainly caused by the 47.8M EUR investment in the working capital position.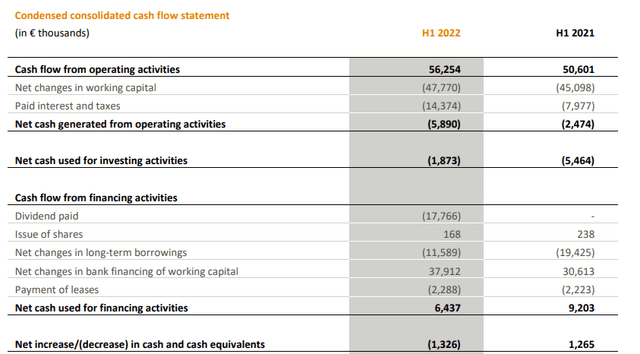 On an adjusted basis, and after also including the 2.3M EUR lease payment, the underlying operating cash flow was 39.6M EUR. And as the total capex was just 1.9M EUR, the underlying free cash flow was 37.7M EUR or 1.27 EUR per share based on the current share count of 29.6M shares outstanding.
Seeing how the free cash flow is higher than the reported earnings is not a surprise as the sustaining capex is substantially lower than the depreciation and amortization expenses. In 2021, for instance, the annual report confirmed the total depreciation and amortization expenses came in at 24.6M EUR while the capex (7.8M EUR) and lease payments (4.1M EUR) on a combined basis were just over half the depreciation and amortization expenses.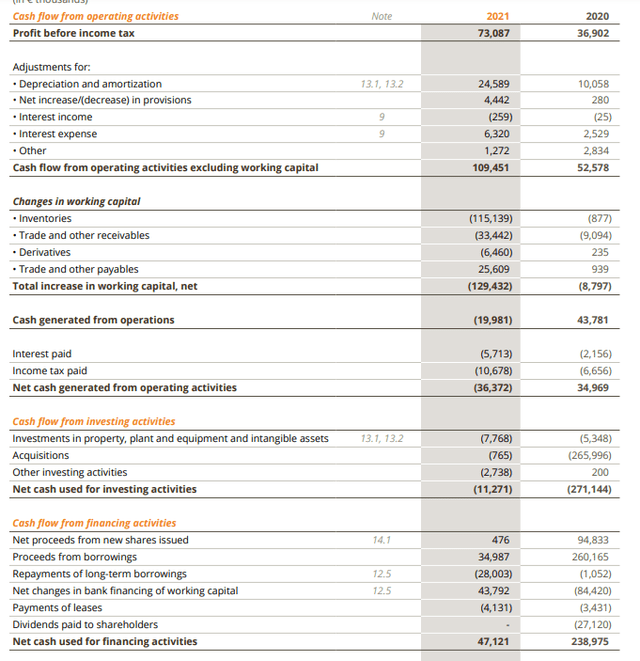 The adjusted operating cash flow in FY 2021 was 79.9M EUR and after deducting the capex, the underlying free cash flow result was even in excess of 72M EUR or 2.43 EUR per share.
I'm not sure Acomo will be able to keep its full-year free cash flow result stable. While I expect the full-year EBITDA to beat last year's 105M EUR in EBITDA, I'm mainly concerned about the impact of higher interest rates on the interest expenses. As of the end of June, Acomo had 362M EUR in gross debt and a 200 basis point interest increase would result in a 7.3M EUR increase in interest expenses and a subsequent decrease of the adjusted free cash flow by 5.5M EUR or 19 cents per share. Fortunately Acomo was able to amend its financing agreements with its lenders, so there is no near-term pressure on the group.
Investment thesis
The increasing interest rates make debt management more important than ever. And while Acomo's underlying free cash flow (excluding working capital changes) are very strong, we can't deny those WC investments are a drag on the financial performance and debt levels. That being said, the company had a positive working capital position (current assets minus current liabilities) of 245M EUR thanks to a high inventory level (439M EUR). While increasing inventory levels could be a reason to be concerned, the financial statements clearly show Acomo's inventory levels are increasing in line with its revenue increase. As of the end of 2021, inventories represented 31% of the revenue while that percentage has remained stable based on the annualized H1 revenue. It's a drag, but not a concern.
I currently have no position in Acomo, but I may go long in the next few weeks.
Editor's Note: This article discusses one or more securities that do not trade on a major U.S. exchange. Please be aware of the risks associated with these stocks.