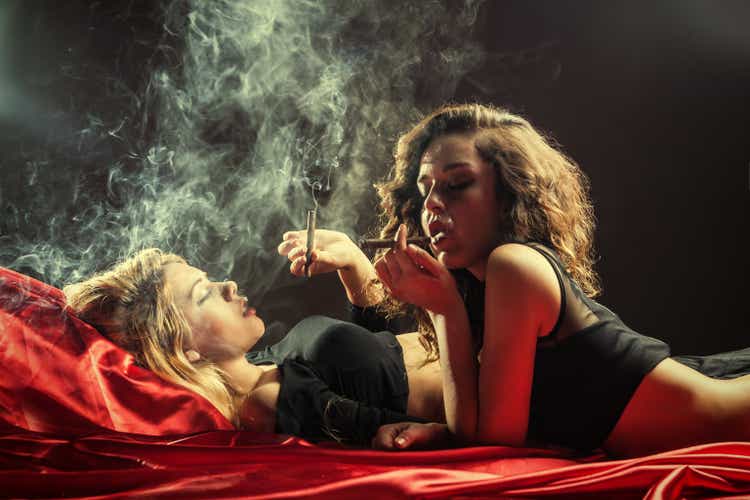 When the facts change, I change my mind. What are you doing, sir? John Maynard Keynes.
By Sam Kovacs
an introduction
Some time ago, tobacco companies realized that in developed countries, adults were giving up cigarettes at an astounding rate.
This was a problem for their revenue.
The big question these companies had to ask was: How can we continue to sell addictive nicotine products in a future where we can't sell cigarettes?
Let's not encourage users to ResignedBut let's encourage them to do so Transformation.
Since then, a variety of products have been tried by all the major tobacco companies, from oral nicotine pouches, to electronic cigarettes, to heated tobacco sticks.
E-cigarettes have taken off, and heated tobacco has a real chance of being the "next big thing" in tobacco.
An oversimplification may indicate that new and younger nicotine consumers gravitate towards vapor-based e-cigarettes, while existing tobacco users are more likely to shift to heated tobacco, as it still contains tobacco and mimics the experience of a combustible cigarette, with fewer risks as shown in the slide Prepared by Philip Morris (PM) below.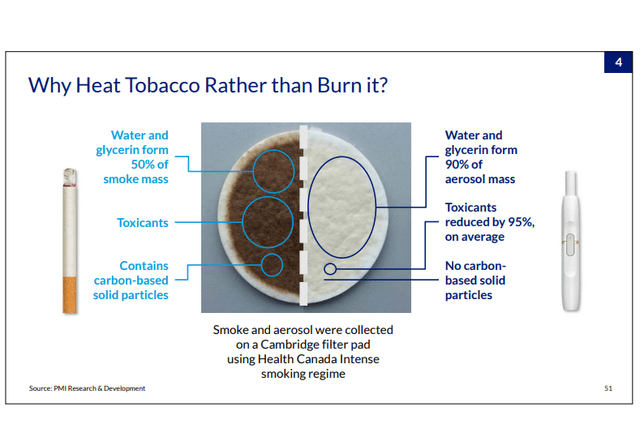 This has paid off for Philip Morris, as IQOS is now 12% its size, and not smoking in general contributes 30% of the company's revenue.
lachla (New York Stock Exchange: BTI) and Altria (New York Stock Exchange: MO) behind PM in this regard, with 14% and 10% of revenue coming from smokeless products, which is one of the reasons why PM has been and remains my favorite tobacco stock.
In this article I will review BTI and MO, both of which produce much more than PM, and pick a winner. I'll walk you through the top and bottom results, separate the combustible and non-combustible parts of each company, and take a look at their dividend policies.
Top and bottom results
Altria's revenue fell 2.15% year-over-year in the third quarter. This follows a 2.2% year-over-year decline in the second quarter, and a 3.2% decline in the first quarter.
However, as is almost always the case with Altria, they've managed to minimize the damage to revenue by increasing prices.
This one way or another consistently leads to a 4-5% increase in EPS.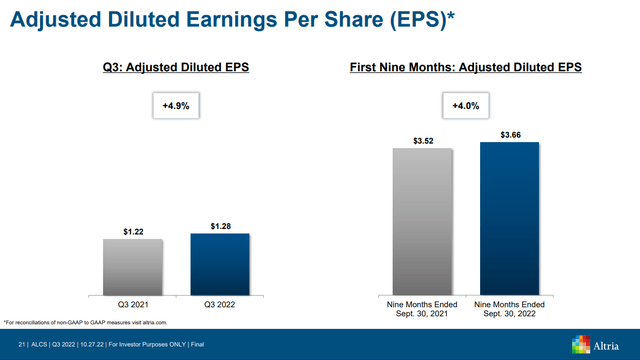 While the EPS numbers are comfortable, as we'll see later, the Altria's botched execution in the nonsmoking classes leaves a lot to be desired.
BTI increased revenue by 3.7% and earnings per share by 5.7% if you exclude writedowns in Russia.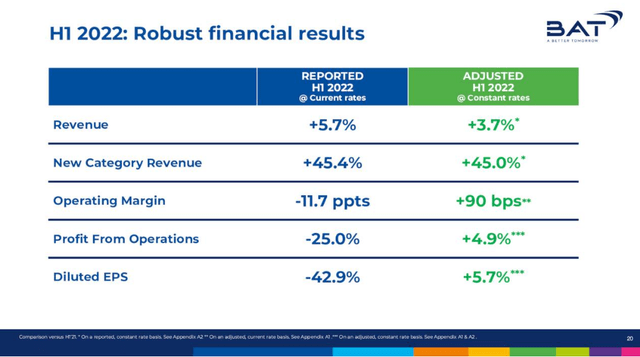 The Russian exposure was a one-time hit, which could not have been planned.
I think it's reasonable to look at the adjusted numbers, MO is also adjusting their numbers.
At a glance, BTI wins on this front. Not only is the company growing its top line, but it's growing its dividend faster than its MO.
burning
Altria's ploy was to increase prices, with no flexibility in bank prices for cigarettes to ensure income growth in a declining market.
But since 2021, that has reduced revenue even though it continues to drive earnings.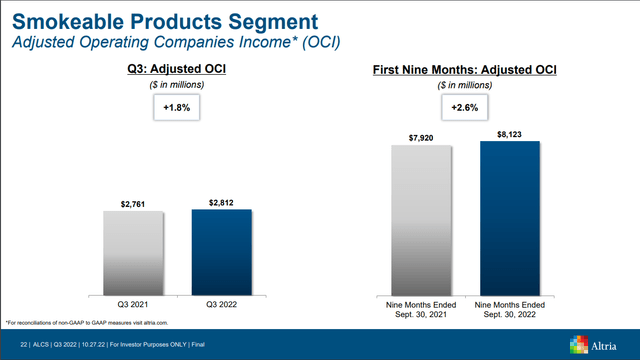 As MO continues to see its cigarette decline rates outpace the industry, one notes how important it is for the company to have smokeless alternative products to replace cigarettes.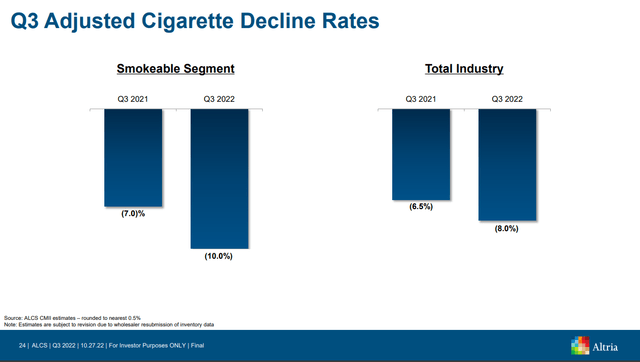 BTI does not expressly provide combustible and non-combustible data. But we can tell from the lower volumes in the table below (which includes hot products) that the smokeable segment is also experiencing lower volumes in its end markets.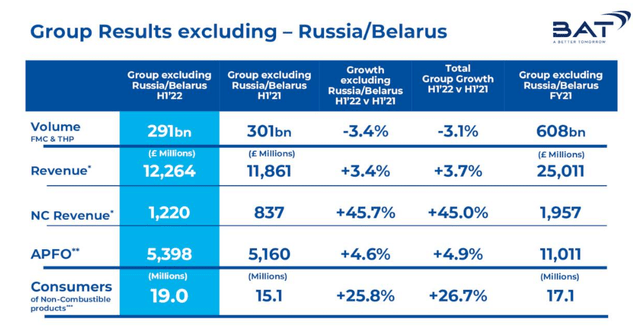 Like MO they make up for it by higher prices.
In the first half of 22, combustible sales were flat compared to the previous year.
The company is in a phase where its combustible sales are still flat, giving non-combustibles a growth platform.
I would say the companies are tied here, although there is a slight advantage going to BTI that remains exposed to the markets with some combustible growth allowing revenue to remain flat for the time being rather than decline.
Not combustible
Altria has been a mess in the non-combustible sectors.
Its 35% stake in JUUL was made at an inflated price and was a very bad mistake by the management. I crossed it out because it was unlikely to go anywhere for years.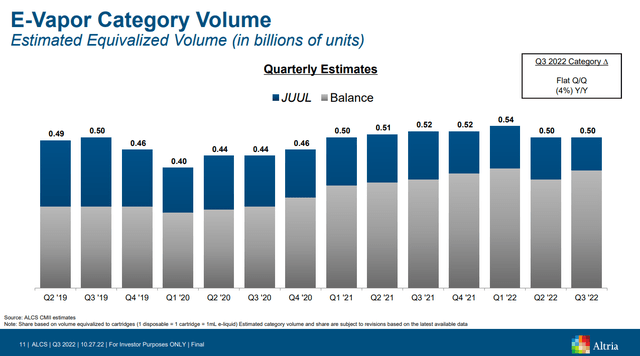 Altria has finally owned it, blazing its way out of a non-compete clause in the vapor e-cig segments. They are now developing other products and are not counting on Juul to get ahead.
This sloppy investment and poor execution from JUUL has caused the company to stabilize in terms of volumes over the past three years in the e-cig segment, despite the industry growing at double-digit rates.
They missed here.
The company is trying to propel its success with On! Oral tobacco gained market share in its segment, but those gains were not enough to offset the company's loss of market share from MST and Snus products.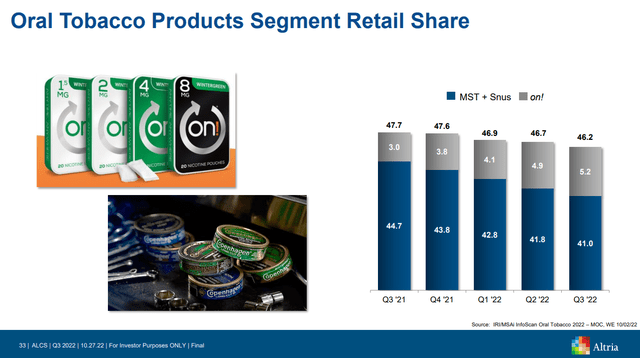 This is without mentioning that after a few years of mid-single-digit growth, the oral tobacco industry in the United States has plateaued, raising questions about future profitability and demand for this segment.
Then there is the IQOS fiasco.
Altria teamed up with PM to bring IQOS to market in 2019. Since Altria owns the rights to the Marlboro brand in the US, this made sense.
The show was supposed to be slow at first, then expanded. It had expected to expand its presence just as Covid hit, which reduced the possibility of doing so. After that, the sale of the product was banned in the United States due to patent infringement.
In the last quarter, the company decided to resell the rights to IQOS to Philip Morris, which will be able to bring the product back to the US market within 18 months, but without access to the Marlboro brand, leaving a gap in the market.
Altria has decided to partner with Japan Tobacco to bring the Ploom X, a hot competitive tobacco product, to the United States.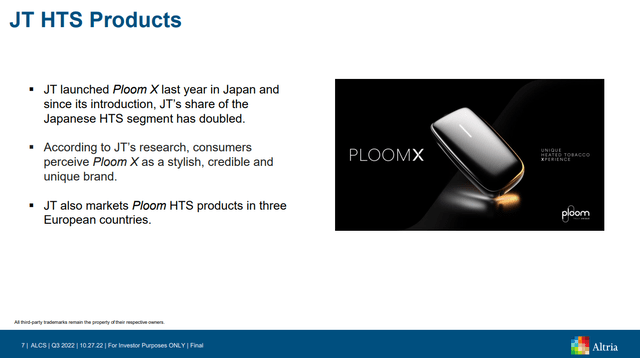 However, PMTA is not expected to exist before 2025, which means that both PM and MO will not enter the heated tobacco sector for another two years.
This suggests that BAT could bring back the heat-burning Eclipse (now called Neocore) device that has been around since 2014 but was shelved in 2015, as it is the only product to receive FDA approval in the category following the ban of IQOS in the US. . .
However, it seems that management is in no hurry to enter the market in this segment in the United States, where steam products lead the market.
We assumed 3 years ago that IQOS had the same potential to succeed in the US as in other markets. We are now getting an indication that this may not be the case, and there may not have been much competition in the space a couple of years ago.
BAT has yet to enter the market in the US, but it has found success abroad, with its GLO HnB product second only to IQOS with a 20% market share in the category.
The company has been most successful with its e-cigs, with the Vuse brand seeing a lot of success in the United States, Canada, and the United Kingdom among other markets.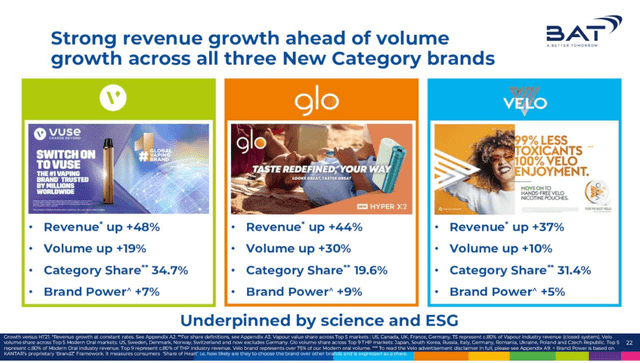 While Altria has been floundering at every turn in the non-combustible segment, BTI has made a solid lead, and is at least competitive in the field.
BTI wins the race to smokeless here, though it's still second only to PM.
Period
For both stocks, I would look at 5-year MAD charts rather than 10-year charts, as valuations in the tobacco sector have deteriorated sharply over the past 5 years, and historical comparisons will shed little light on current valuations from these two stocks.
Altria currently yields 8.6%, against an average return of 7% over the past five years. The primary yield 50% of the time was between 6% and 8%, which is represented by the pink and light blue regions below.
(For more information on MAD charts, click here).

The dividend grew at a compound annual growth rate of 7% over the past year, and it grew 4.4% this year.
On the other hand, BTI achieves 7.6%. The dividend also increases every year, but you don't necessarily see that on the chart below because of the currency differentials coming from the fact that it's a UK stock and the chart shows the ADR dividend.
It has been growing much less despite the GBP growing by 0.5% annually over the past five years, and only 1% this year.

You may ask why does Altria have a higher yield even though it has shown better earnings growth?
The answer, of course, is that the market continues to price in the risks in the MO that we outlined above.
And I have to say that I question MO's ability to compete in the smokeless category given its continuing string of failures in the space.
conclusion
It's been our opinion in the past few years that investing in MO is a good contrarian bet.
If you look at our coverage of the stock here in Search of Alpha, it beat the S&P 500 in total returns in 6 of our 9 articles thanks to the big dividend, which contributes greatly to Altria being a good investment.
However, I question the company's ability to grow profits at this rate unless it can create a killer product in the e-cig category, or be successful in marketing a non-burning thermal device.
In 2020, I said the following:
Depending on the future number [price] This effectively gives the company a runtime of 3 to 5 years before a price increase results in lower revenue.

Unfortunately, I think the reality is probably on the shorter end of that range.

That's why Altria needs one of its new segments to really take off in the next five years.
Now it's 2022. Revenue is going down, but it doesn't look like any segment will be the next "it" product.
The Prime Minister succeeded in doing so. BTI is also seeing some success.
As a result, I've decided to move half of my MO position to BTI, and will likely use any MO share price increases or new bad news in the coming quarters to move the position further.
The lower dividend growth and dividend yield came as a hit, but I think doing so ultimately lowers the risk for investors, as the MO has some unanswered questions regarding its future.