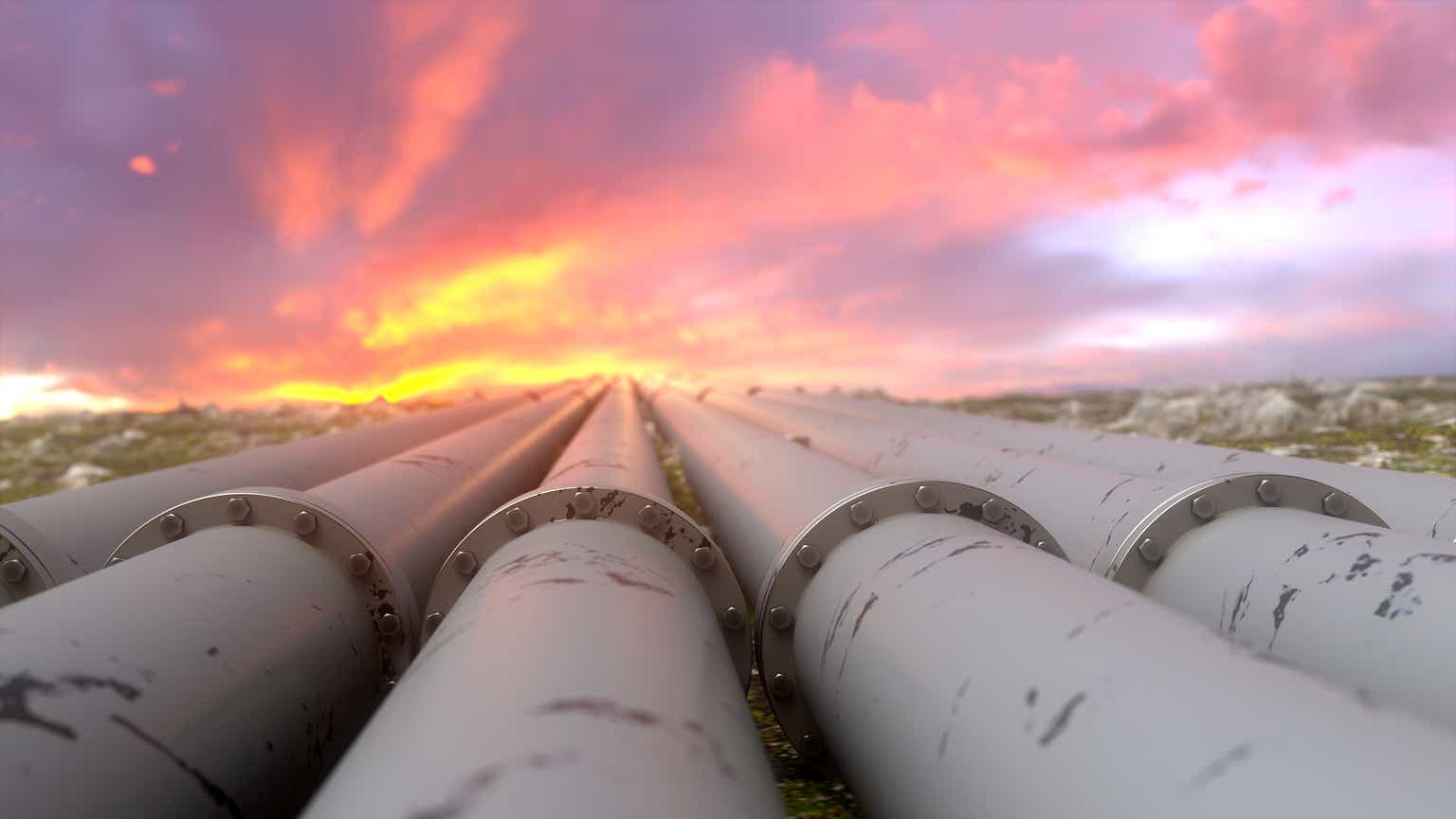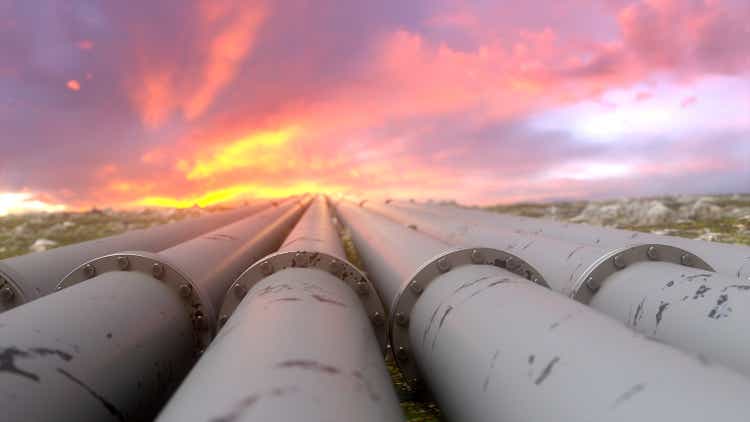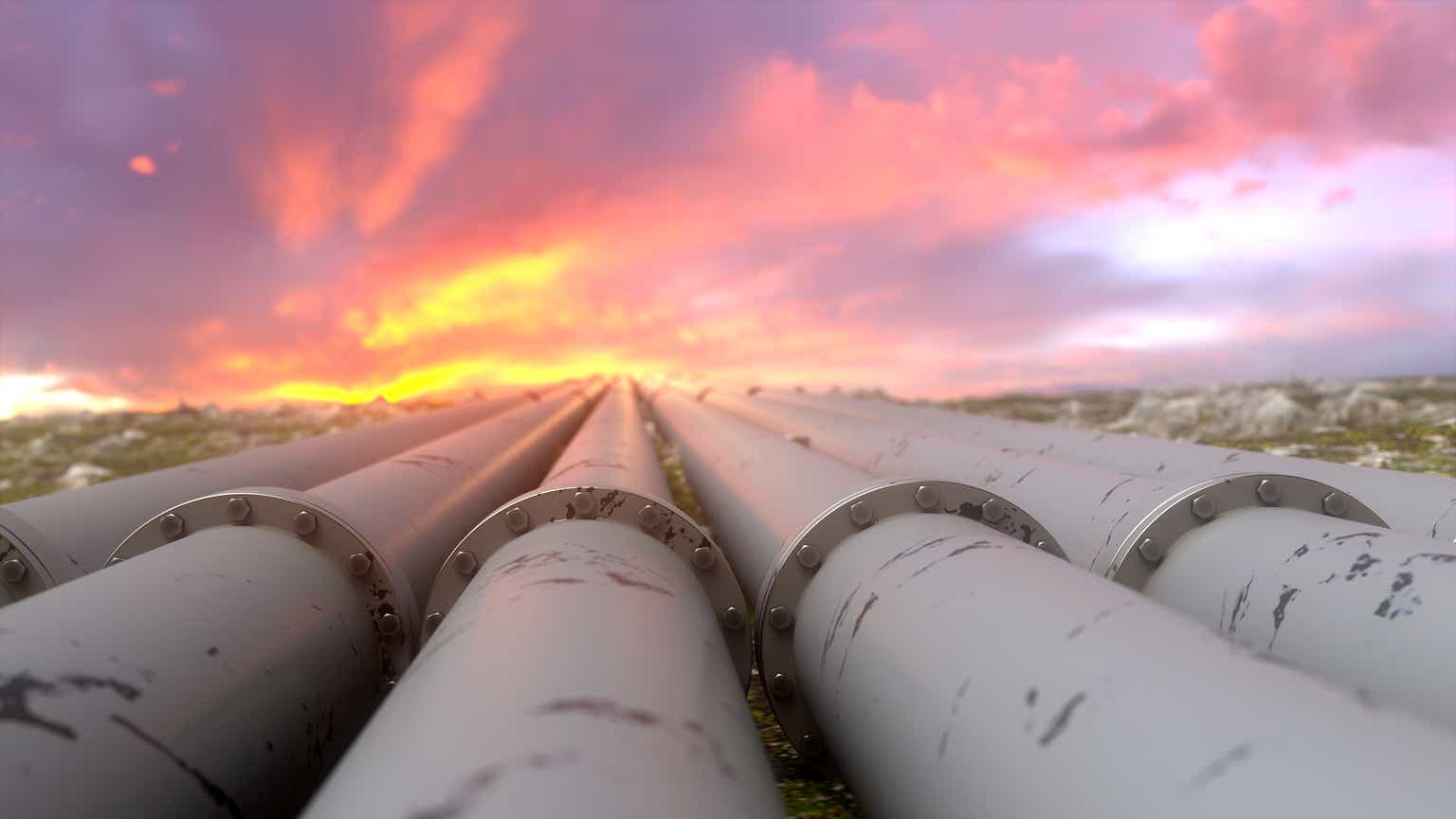 For income-oriented investors that like the high-yield of master limited partnerships (MLPs), but hate the idea of K-1s, the Alerian MLP ETF (NYSEARCA:AMLP) is the perfect way to get exposure to the sector. The ETF currently has a yield of just under 8%.
To judge the ETF, let's look briefly at its top-5 holdings, which make up over 50% of its portfolio and thus will drive the ETF's performance: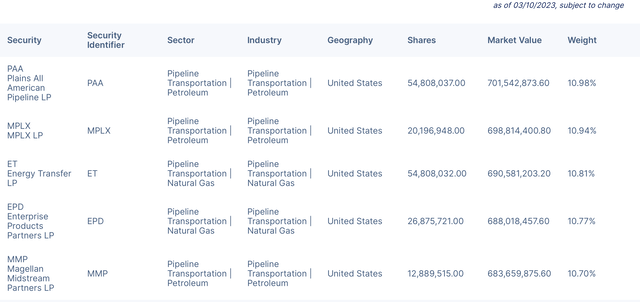 Plains All American (PAA) – 10.98% Weighting
PAA is a bit of surprise to be the #1 holding in the AMLP. The company is a liquids transportation company that has run into issues in the past. First it had a large Supply & Logistics segment that took advantage of crude arbitrage opportunities, but those eventually dried up and the unit was folded into its Crude segment in 2021 and its purpose going forward was to just drive utilization, not profits anymore. Then, it was part of an infrastructure overbuild in the Permian that left its pipes underutilized.
Today, the company has an opportunity to take advantage of Permian growth without having to spend any additional Capex, since its pipes are underutilized. The overbuilt capacity of the basin also looks like it is starting to improve given strong Permian production growth, and the company is starting to see some improved tariff rates on these pipes.
The stock trades at one of the lower valuations in the space at under 8x EBITDA and has low leverage of 3.5x. Despite its past missteps, I like the stock.
MPLX (MPLX) – 10.94%
MPLX is a diversified midstream company that operates in two segments: Logistics & Storage and Gathering and Processing. The L&S segment is focused on gathering, transportation, storage of crude and refined products. The G&P segment, which is a little more than half the size of the L&S segment, is focused on the gathering, processing and transportation of natural gas. It operates in a variety of basins, including the Marcellus Shale, Permian Basin, Utica Shale, STACK Shale, and Bakken Shale.
Refiner Marathon (MPC) is its sponsor and main customer, representing 47% of revenue. MPC owns 65% of MPLX.
The company has a solid balance sheet with 3.5x leverage. Meanwhile, it was able to grow its distribution 10% in November, while keeping a 1.6x coverage ratio. Growth Capex for 2023 is going mostly towards smaller expansion debottlenecking projects.
MPLX is a solid company that has been doing well, both increasing its distribution and buying back stock the past few years. It does have some exposure to processing volumes in natural gas basins such as the Marcellus and Utica that could see a slowdown due to the collapse in natural gas prices. However, it also should benefit from increased oil pipelines tariffs that are tied to inflation.
Overall, it is a solid holding.
Energy Transfer (ET) – 10.81%
ET has one of the largest and most diversified midstream footprints in North America. In the past, however, the interests of founder Kelcy Warren and unitholders haven't always aligned, as the GP previously took advantage of its limited partner ETP and its unitholders through aggressive distribution growth, high-split IDRs, and using LP units to fund growth. Given this dynamic and the belief that Warren has been more interested in building an empire than helping the stock price, ET has generally traded at a discount to its peers.
That said, these past conflicts of interest are no longer present since the ETE-ETP merger. As such, I don't think ET's valuation is warranted given the strength of its assets and its integral role in energy transportation. As the world's largest energy arbitrageur in the U.S., ET has a lot of growth opportunities ahead of it.
Its results have been good and its balance sheet has improved, which should help drive the stock forward. AT 7.5x EBITDA, it's one of the best all-around values in the MLP space.
Enterprise Products Partners (EPD) – 10.77%
Like ET, EPD also has a large diversified midstream footprint across the U.S. where it takes advantage of arbitrage opportunities. Unlike ET, EPD is known to have one of the best and most shareholder friendly management teams around.
EPD has been one of the best-run MLPs around with an unmatched track record. It's increased its distribution for 24-straight years (2023 will be 25 years), and have kept its coverage ratio at 1.5x or above since 2017.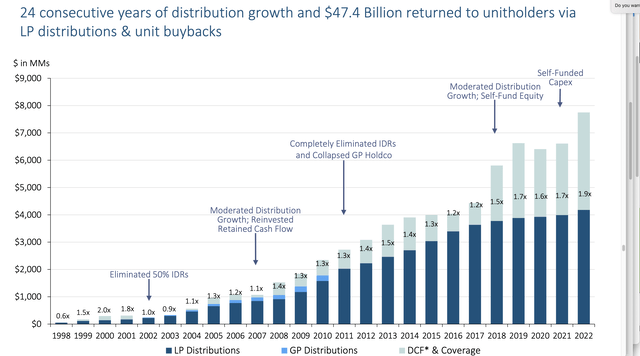 The balance sheet is good shape with 2.9x leverage, it has some nice growth projects on tap, and it should benefit from the Waha (near Permian)-Gulf Coast differential as it has a lot of open capacity.
I consider EPD a core MLP holding.
Magellan Midstream (MMP) – 10.70%
MMP has historically been one of the most disciplined MLPs, keeping its leverage low and coverage ratio high. As such, like EPD it's been able to consistently raise its distribution even during more difficult periods in the energy patch.
Right now, the company has very low capex and is looking to increase its distribution by a modest 1%. Instead its focus has been on buying back shares.
The company should see solid growth from tariff increases this year, with MMP planning to take an all-in 8% tariff increase on July 1st. Overall, it's just a nice steady company. I have a more in-depth write-up here.
MLPs and Energy
The MLP structure along with the prospects of the companies in the midstream space have changed for the better over the past several years. The days of IDRs, low-return projects, and frequent equity raises are largely in the review-view mirror. However, the stock prices have generally not reflected this change for the better.
Just look at EPD, which is the granddaddy of MLPs, and you can see the multiple compression MLPs have experienced over the years, despite being better overall companies.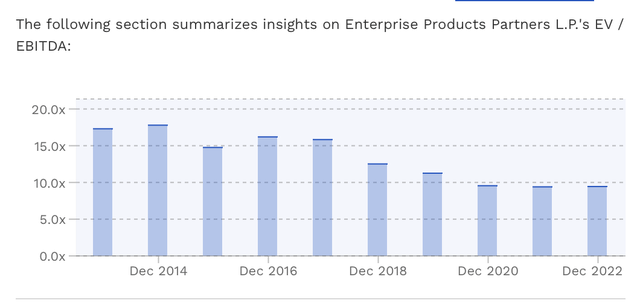 Meanwhile, U.S. energy producers (E&Ps) have also learned valuable lessons the past decade and now care more about cash flow and their balance sheets than production growth. I've looked at a couple of Appalachia natural gas producers over the past month – Antero (AR) and Range Resources (RRC) – and the recurring theme has been balance sheet first, with slow steady production growth second. None of these companies chased at gas prices higher and aggressively ramped up drilling.
So, despite a possible looming recession, energy looks to be in good shape in my view. The transition to renewable fuels is an eventual risk, but still appears decades away. In fact, natural gas has been gaining share in U.S. electric generation, while renewables haven't gained as much ground as you might expect.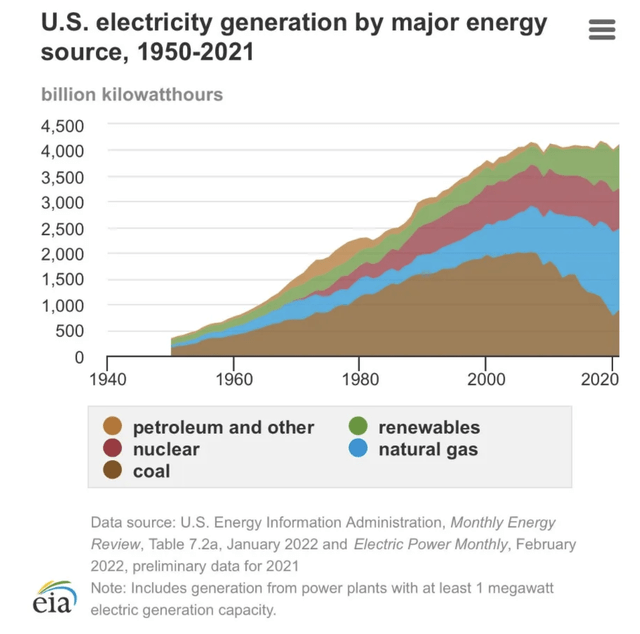 Conclusion
I think the midstream sector that AMLP tracks remains undervalued. The companies are in better shape, yet trade at lower multiples than in the past. The holdings make-up of the AMLP is pretty solid in my view. While I wouldn't have PAA as my top MLP holding, I do like its prospects as a turnaround story. I'd also like a little more juice in my top-5 than a name like MMP, but it's a nice steady stock to throw in there.
Meanwhile, ET and EPD I think have some terrific assets that should be valued higher, while MPLX is a strong company all around that I like. As such, I think AMLP is a good option if you like MLPs but hate K-1s.