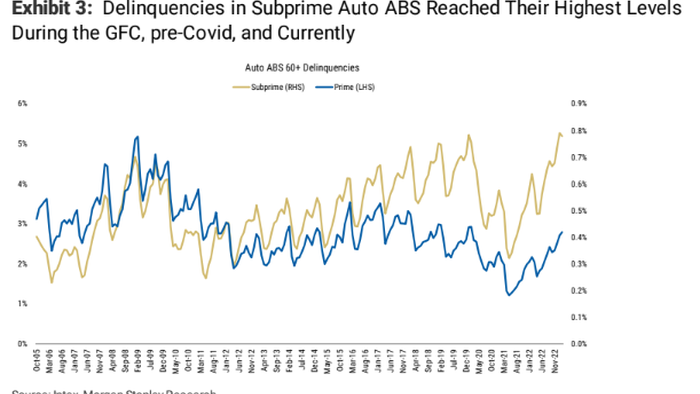 Lending standards are going to be tightening in the auto market, according to a new note by Morgan Stanley auto analyst Adam Jonas and his time.
Responding to the events of the last few days, the analyst published his latest thoughts early this week, arguing that: "auto investors should prepare for light vehicle supply to rise and financial institution willingness to lend to fall at the same time."
He wrote that the "aftermath of events over last week is unclear but we note fincos were already dialing back exposure to auto prior to last weekend."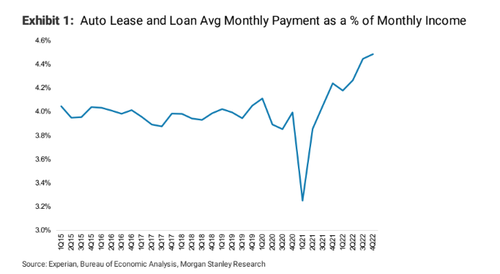 Jonas points out that auto loans and consumer credit are obviously intertwined, writing: "Our Banks team (led by Betsy Graseck) noted that even before the events of last week, we expected NIMs to peak at a lower level than the prior cycle, and move down starting 2Q23. More deposit competition, more longer term wholesale funding, less duration risk/more liquidity means that NIMs will be even lower than previously forecasted. Further, our Banks team has been getting more concerned about the consumer credit performance, with bank loan auto delinquency rates now nearing pre-COVID levels, while aggregate subprime ABS data is seeing DQ rates near GFC levels."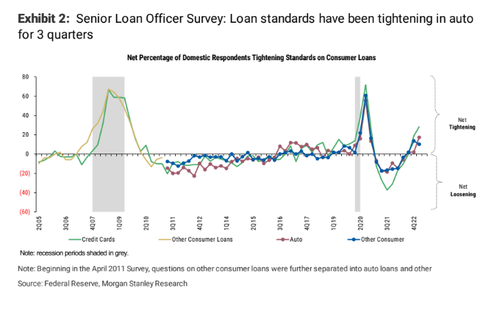 The crunch has prompted Jonas to recommend keeping a closer look on channel checks and showrooms through the rest of the month:
"We'd encourage clients to up the channel checks with dealers asap and keep a close eye on showroom traffic through the rest of March. Leading up to last weekend the big story of 2023 was surprisingly strong demand for new and used vehicles including a very strong bounce in wholesale used car prices at the core. Our Banks team recently highlighted that in the Fed's Senior Loan Officer Survey for 4Q22, banks reported both weaker demand and tightening standards for the first time since 1Q09."
Regarding lending standards, he wrote: "Bank auto lending standards have been tightening for 3 quarters, and outside of the sharp pullback seen in 2Q20, are at their tightest levels since the survey began tracking auto in 2011. Our banks team has been looking for total loan growth to slow in 2023as banks tighten their credit boxes."
"Last week's ABS dashboard suggested further tightening in response to delinquencies remain above pre-Covid levels at 5.2%, while prime delinquencies remain below,at 0.42%. Delinquencies in Subprime Auto ABS reached their highest levels during the GFC, pre-Covid,and currently," the note continues.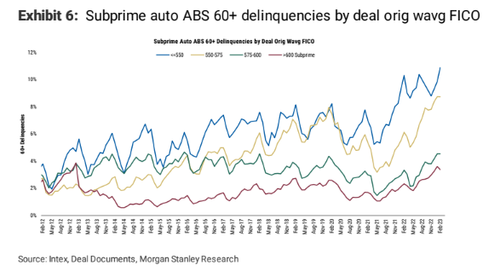 And then, the coup de grace: the note says that "a potential further pullback coincides with all-time high monthly auto payment, rising interest rates and a substantial recovery in auto supply."
As a result, Jonas' team reiterated underweight on all 6 franchise auto dealers it covers. 
Loading…