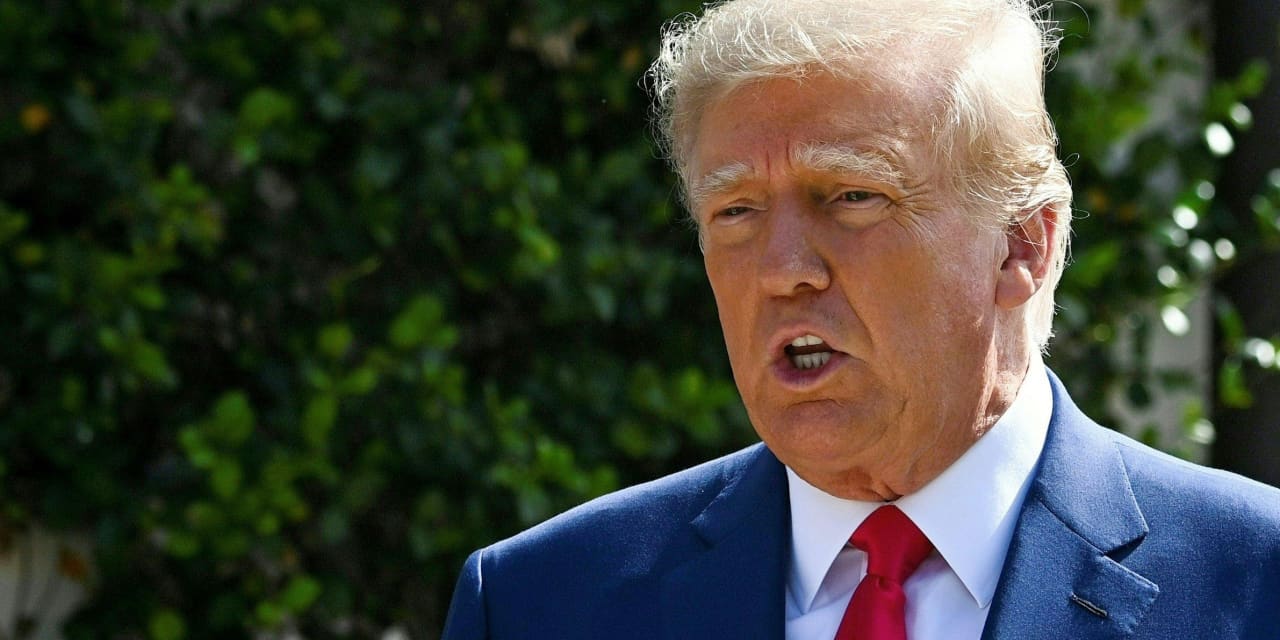 Facebook parent Meta Platforms Inc.
META,
-1.15%
will restore former President Donald Trump's Facebook and Instagram accounts after the social-media platform banned him following the Jan. 6 riot at the U.S. Capitol in 2021, the company said Wednesday.
The reinstatement of those accounts is set to happen "in the coming weeks," Nick Clegg, Meta's president of global affairs, said in a statement late Wednesday. He added that the safety risk in the wake of the riot had "sufficiently receded," and that the company had added new standards to "deter repeat offenses."
"As a general rule, we don't want to get in the way of open, public and democratic debate on Meta's platforms — especially in the context of elections in democratic societies like the United States," he said. "The public should be able to hear what their politicians are saying — the good, the bad and the ugly — so that they can make informed choices at the ballot box." 
A representative for the former president, when reached via email for comment, linked to a post from Trump on his own social-media foray, Truth Social. In that post, Trump said of his ban and reinstatement: "Such a thing should never again happen to a sitting President, or anybody else who is not deserving of retribution!"
The decision by Meta comes after Elon Musk, who owns Twitter, restored Trump's account on that platform last year. However, no new posts have appeared on that account since. Truth Social, meanwhile, has suffered from an array of technical, legal and financial issues since its launch last year.
Meta has dealt with thousands of layoffs amid a pullback in digital advertising, and its stock has tumbled 53% over the past 12 months. The company has faced criticism over its efforts to curb misinformation on its platforms, and the Wall Street Journal in 2021 reported that the company enforced its rules more lightly on higher-profile users.
Meta's suspension of Trump took hold on Jan. 7, 2021. Clegg, in Wednesday's statement, said Trump's suspension was "an extraordinary decision taken in extraordinary circumstances." That decision arrived after the former president appeared reluctant to condemn the rioters, and framed the storming of the Capitol as a something of a predictable response to the baseless notion that the 2020 election was rigged.
But Clegg said that an oversight board criticized the ban on Trump's accounts as being too open-ended and vague, and said it lacked specific guidelines on how to handle the suspension and eventual restoration of accounts on the platform. In response, he said, the company set a suspension time frame of two years for Trump, and added more guidelines surrounding curbs on activity from public figures during civil unrest.
Company management also told the oversight board that it would "assess whether the risk to public safety has receded" before making any decision on whether to restore Trump's accounts.
"To assess whether the serious risk to public safety that existed in January 2021 has sufficiently receded, we have evaluated the current environment according to our Crisis Policy Protocol, which included looking at the conduct of the U.S. 2022 midterm elections, and expert assessments on the current security environment," Clegg said. "Our determination is that the risk has sufficiently receded, and that we should therefore adhere to the two-year timeline we set out."
He said Trump could face suspensions ranging from one month to two years for any future violations of any posting guidelines, depending on how far he runs afoul of those rules. Meta may also "limit the distribution" of posts that circulate conspiracy theories, and take steps to limit access to advertising. Those steps could leave material visible on Trump's accounts, but off of other users' feeds.
In its guidelines surrounding restricting posts from public figures during any upheaval, updated on Wednesday, Meta said it would consider that figure's history on Facebook or Instagram, their influence on people who might cause violence, and the severity of that violence. But most violations, it said, would land within the one-month restriction range.
"For most violations, a public figure will have a one-month restriction from creating content," the policy said. "More serious violations, such as sharing a link to a statement from a terrorist group in the aftermath of an attack, will merit either a six- or 12-month restriction from creating content. In cases where a violation is severe, we'll restrict the account for two years."
Shares of Meta slipped 0.2% after hours on Wednesday