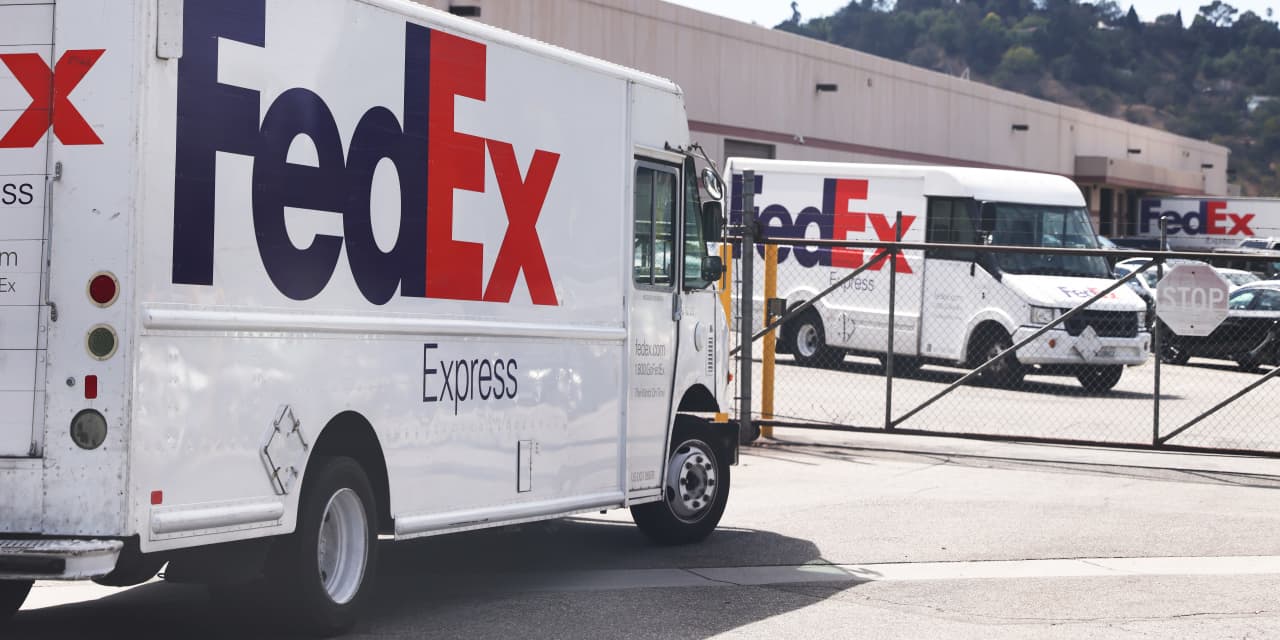 Package deliverer FedEx Corp. is targeting more than $4 billion in cost cuts in the months ahead. But investors, after pummeling the stock in September, catapulted it higher in after-hours trade on Thursday, as those efforts to slash expenses and keep prices higher start to make their way into financials despite continued weakness in shipping demand.
Chief Executive Raj Subramaniam said on the company's third-quarter earnings call late Thursday that FedEx
FDX,
+4.48%
had saved $1.2 billion year over year in that quarter. He also signaled more restraint up ahead — potentially at the expense of staffing.
After announcing last month that FedEx would cut its executive ranks by 10%, Subramaniam said the company will "continue to aggressively manage headcount." He expected U.S. headcount to be 25,000 people lower by the end of its fiscal year, set to wrap up by the end of May. FedEx plans to hold an "update event" on its cost reduction campaign on April 5.
During the call Thursday, executives said they would cut flight hours and other costs, and park or phase out more jets. Chief Customer Officer Brie Carere said that the company had started to see "some moderation" in a more difficult demand backdrop characterized by falling package volumes and sales.
Services in Europe improved while business in Asia remained uneven. At FedEx Ground — FedEx's ground-shipping business in the U.S. and Canada — results were helped by an 11% increase in revenue per package, along with cost cuts. Carere said FedEx was getting more for "getting more for peak surcharges," or delivery fees used to offset oscillating fuel costs.
Shares jumped 11.4% after hours on Thursday.
FedEx reported fiscal third-quarter net income of $771 million, or $3.05 a share, compared with $1.11 billion, or $4.20 a share, in the same quarter last year. Revenue fell to $22.2 billion from $23.6 billion in the same quarter last year.
Adjusted for "business optimization" and other costs, FedEx earned $3.41 a share, compared with $4.59 a share in the prior year. Analysts polled by FactSet forecast adjusted earnings per share of $2.71, on revenue of $22.72 billion.
For the full year, FedEx said it expected full-year earnings per share of $14.60 to $15.20, up from a prior forecast.
"We've continued to move with urgency to improve efficiency, and our cost actions are taking hold, driving an improved outlook for the current fiscal year," Subramaniam said in FedEx's earnings release published earlier Thursday afternoon.
FedEx has raised shipping prices and cut air and ground shipments following weaker demand for e-commerce and deliveries, after a boom in demand during pandemic lockdowns.
However, those efforts have emboldened analysts. Stifel Nicolaus analyst Bruce Chan, in a research note dated Wednesday, said FedEx's efforts to cut costs made for a "compelling investment opportunity at the current, deeply-discounted valuation." Still, he noted that a wobbly economy presented "material risks" to the company.
Stephens analyst Jack Atkins, in a note late Thursday, was upbeat following FedEx's results.
"While we believe FDX has largely been a consensus hedge fund long in recent months and a solid quarter was expected, we believe the magnitude of the beat and the upward revision to guidance should translate into meaningful outperformance tomorrow," he said.
Shares of FedEx have fallen 12.4% over the past 12 months. By comparison, the S&P 500 Index
SPX,
+1.76%
has fallen 10% over that period.