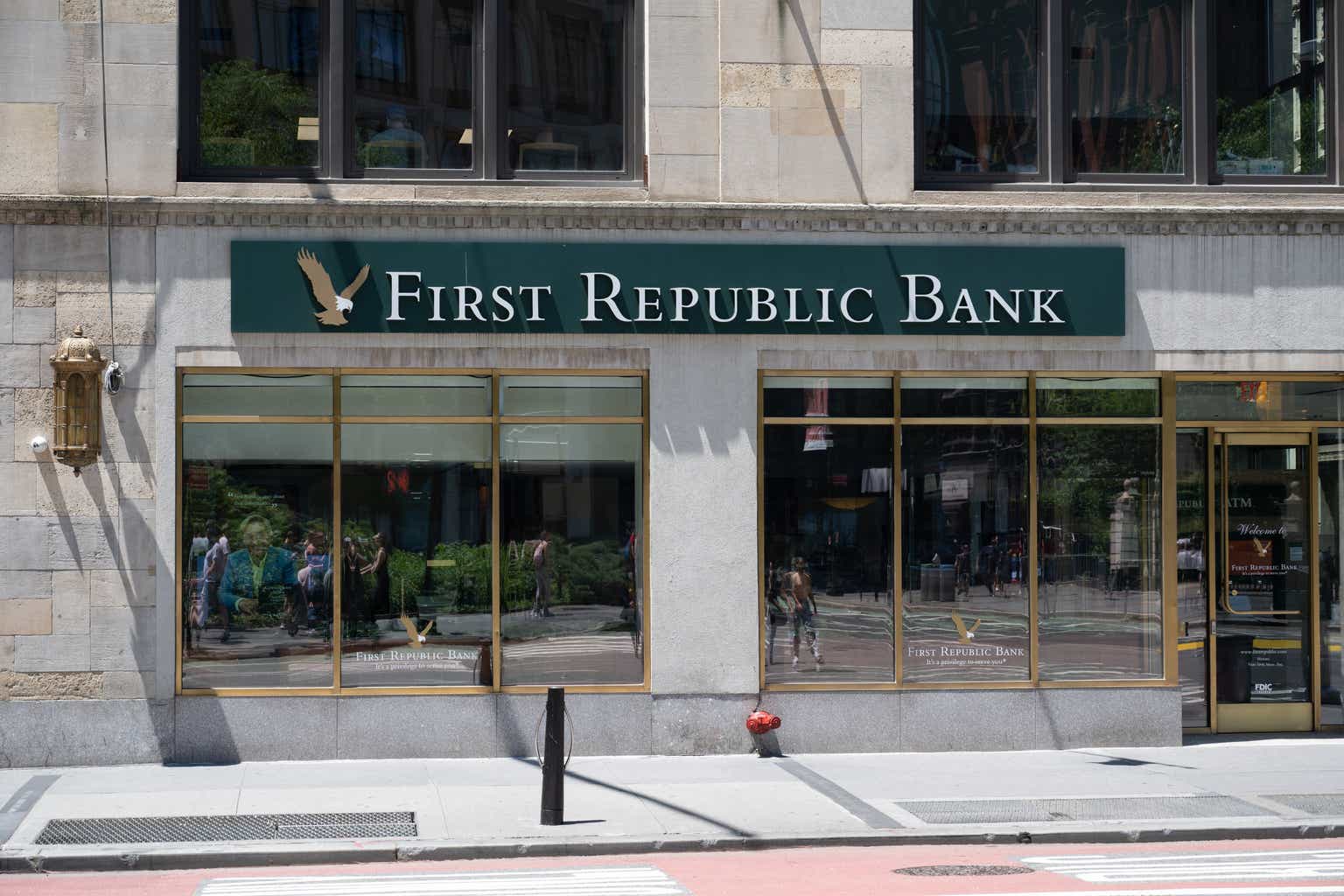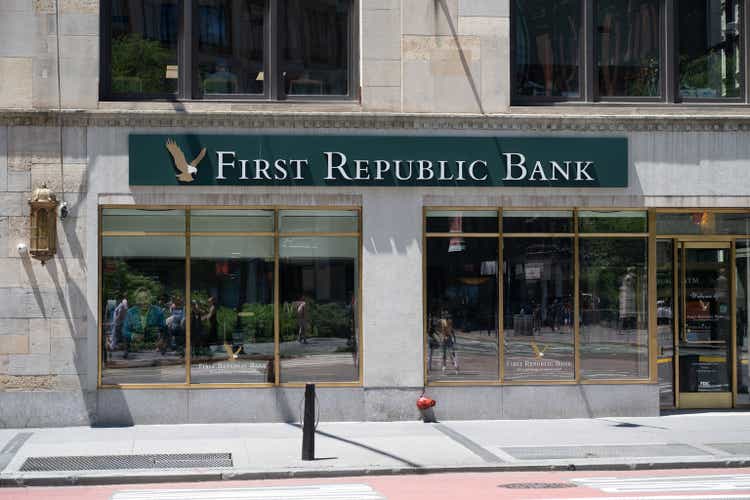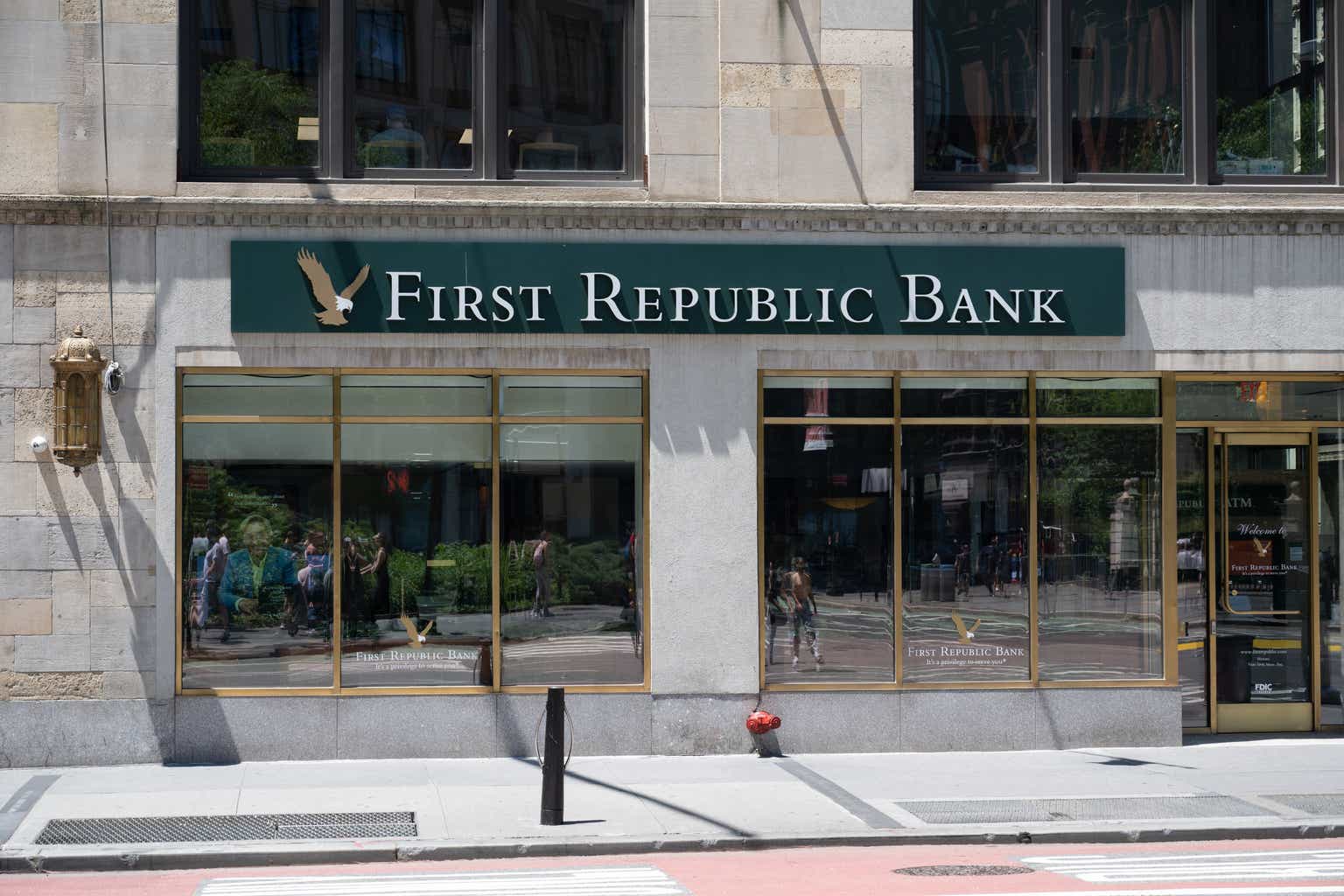 Background
The press release (on 3/16) headline reads: "Reinforcing Confidence in First Republic Bank – $30 Billion in Uninsured Deposits Committed from America's Largest Banks"
The headline certainly reads bullish, yet FRC stock price was down 20% after-hours.
While many First Republic Bank (NYSE:FRC) bulls attributed the sharp drop to the board's decision to cut dividends, I think the root cause is a lot more concerning. In this article, I will take you to go through the 8-K filing in detail, and explain my thoughts on why this is a thesis-changing filing to First Republic Bank's investors.
The 8-K Filing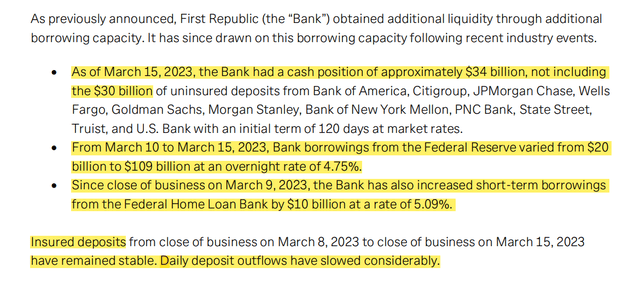 The filing disclosed a lot of data, but in the meantime also left out some critical information. We will examine what was said, and equally importantly what was not said.
Borrowing From Fed Reserve
From March 10 to March 15, 2023, Bank borrowings from the Federal Reserve varied from $20 billion to $109 billion at an overnight rate of 4.75%.
This refers to Fed lending to depository institutions (aka Fed Borrowing via Discount Window) with the primary purpose to relieve banks' liquidity strains by providing short-term funding in times of need. It usually takes place when normal market funding can't meet its needs.
Let us put the number into perspective: the tweet below underscores the magnitude of this $20B to $109B borrowings in less than a week. It is nearly unprecedented, the only time we have a comparable number was during the GFC crisis when the total lending to all domestic banks peaked at $1.4 Trillion in 4Q18, and ~$150B in its peak week.
Fed discount window borrowing during GFC was operated under the Term Auction Facility (TAF), a new process that indicates what was done is far beyond SEC's regular statuary framework.
Now the unanswered question is what is the outstanding borrowing amount today? Why the filing didn't say it? Why it needs $30B extra liquidity from America's top Banks?
Let us first look for clues from Federal Reserve Act Section 10B (which regulates the discount window borrowing)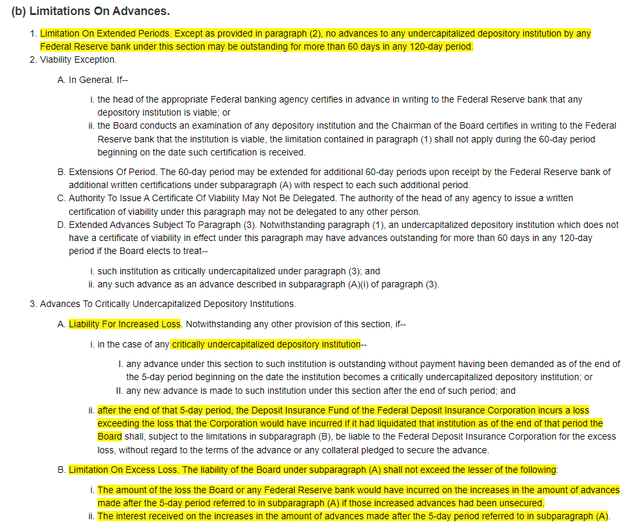 There are a lot of nuances, here are my key takeaways:
1. Fed borrowing can't be more than 60 days at a time. Without external liquidity injection, my guess is Fed doesn't see a clear/viable path for First Republic Bank to close the discount window within 60 days timeframe limited by Fed Reserve Act.
2. 5 days after that happens (FRC couldn't pay back in 60 days), FDIC must use a bank liquidation scenario to calculate and incur a loss. I speculate no Fed Reserve board member wants to be the first one that declares a Fed discount window loss under their watch. (Since 1913 when the Federal Reserve was established, it has never lost a cent on its discount window loans to banks).
3. This is where the $30Bn liquidity injection kicks in, now let's examine it. What first caught my attention is it is not a loan from the banks, it is classified as an uninsured deposit. It makes no difference from a liquidity perspective, whether in the form of customer deposits or inter-bank loans. The difference is depositors have a priority of claims in liquidation over creditors.
4. Why is it classified as uninsured deposits? I guess this is per FDIC's request to avoid any additional liability in the event of liquidation.
These are my speculations, if true, they show both FDIC and Banks are prepared for a 'liquidity-driven insolvency' scenario.
Assess the Bank's Solvency
Its Y2022 10-K filing shows its tangible book value at $13.5B, ($74 per common share, 183Mn outstanding shares), considering its $4.8B Held-to-maturity unrealized loss, its adjusted TBV for common shareholders in the event of liquidation is ~$8.7B.
Where does the solvency concern come from?
Let us examine its $167B loan portfolio, and note that 62% of its loan has >15Y duration.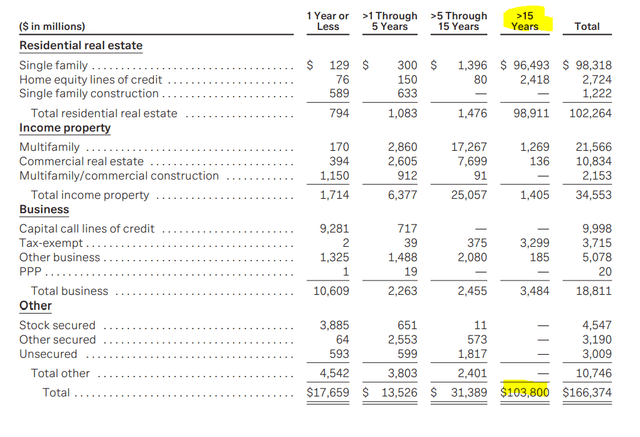 $61B is on a fixed rate, $74B is on a hybrid rate (rate fixed for 1 to 10 years then adjustable rates), and ~20% of its loan is on an adjustable rate.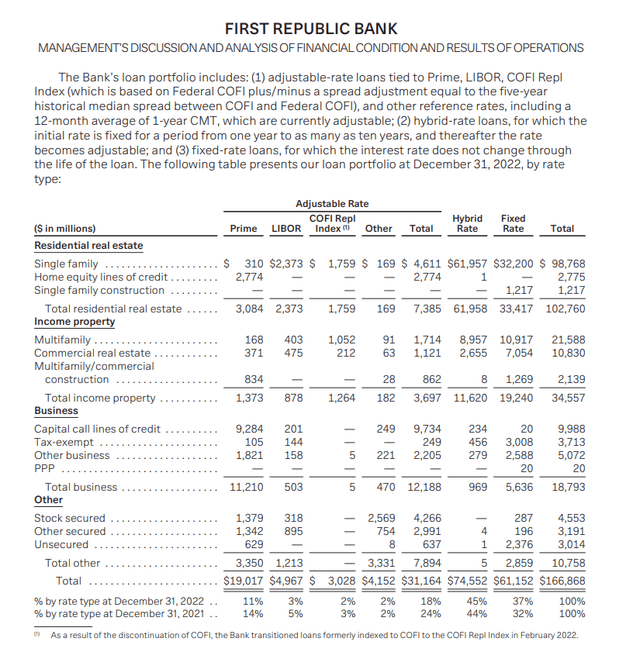 Here is roughly its asset book breakdown:
Cash ($4B as of 12/31/2022)
$3.3B AFS (Asset-for-Sales)
$28.3B HTM (Held-to-maturity) (with 4.8B unrealized loss)
$31B Adjustable Rate Loan
~$75B Hybrid Rate loan
$61B Fixed Rate loan
Under a hypothetical liquidation scenario:
Liquidating its AFS+HTM generates ~$27B liquidity (taking $4.8B unrealized loss into consideration).
Liquidating its $31B adjustable rate loan won't incur a duration-driven unrealized loss, however, once the liquidation touches Hybrid Rate/Fixed rate loan, the unrealized loss could be significant.
As a basis for napkin math, for a 10Y duration loan portfolio, a 1% interest rate increase will decrease the portfolio value by ~10%.
If we assume an average 2Y fixed rate for its $75B hybrid rate loan portfolio, a 1% interest rate difference from its corresponding benchmark results in roughly $1B unrealized loss (Take $10B out of $75B for unrealized loss calculation)
Its average yield for residential RE is 2.89%, if we use 6% (the current average interest rate for 15Y residential RE loan), a 3% IR difference equates to ~$3B loss in the event of a liquidation.
That leaves $5.7B remaining Tangible Book Value.
Once it touches fixed rate loan (a 60%+ of it is 15Y duration loans), the unrealized loss would be a lot more significant (I would estimate a ~20% haircut), thus it would deplete all its equities before liquidating half of its fixed rate loan.
It is worth noting the above model is quite forgiving (bank-friendly), assuming liquidation takes place in an orderly fashion.
Certainly, it is also a hypothetical exercise, as regulatory ratios (e.g. CET1) would hit the threshold before liquidation is allowed to go that far (barring Fed coming out with new rulings)
Assess Current Deposit Outflow
Let's look at liquidity. We know it borrowed $10B from FHLB, and the Fed borrowings ranged from $20B to $109B in 4 day period. Given the nature of the deposit outflow, I would model Fed borrowings in an incremental fashion, thus I estimate at least 3/4 of the discount window borrowing is already used for deposit withdrawal, which equates to ~$90B (~109*0.75 + 10).
If we look at the deposit side, we know the total is ~$176B and ~1/3 are FDIC insured (~56B), and 2/3 are uninsured (~120B). If I model* 10-20% outflow for FDIC-insured deposits, and 50%-70% outflow for uninsured deposits, its total deposit flow over the last 4 days would be estimated between $65B to $95B range.
*As a reference to my model, Silicon Valley Bank, with a similar size deposit and a slightly higher % uninsured deposit, endured a $42B deposit withdrawal (~25% of its total deposit) in 1 day
If we look at the press release, it has a cash position of $34Bn as of Mar 15, 2023, considering its $4B cash (as of the latest filing), it indicates ~$90Bn deposit outflow (20+109+10+34-4) assuming none of the $109Bn Fed borrowings have been paid back.
Combining all 3 perspectives together, my best estimate is a $90B deposit outflow already took place as of Mar 15, 2023. In other words, in a hypothetical liquidation scenario, we are already halfway into the Hybrid Rate Loan tier.
Connect the Dots
A large-scale deposit outflow (my estimate at $90B up to date and counting), coupled with relatively small high-liquid assets (~30B ATS+HTM), while First Republic Bank is currently on life support from Fed discount window borrowing, the funding, by its design, is for short-period emergency use only (up to 60 days unless viability exception is granted).
In a liquidation scenario, its remaining loan portfolio (with a decent % of the fixed-rate mortgage loans) is unlikely to withstand the mark-to-market loss, thus the bank's solvency is legitimately called into question.
Its survivorship as a bank largely depends on its ability to stabilize in short term, in my estimate, a minimum of 70B deposit base (e.g. $45B insured + $25B uninsured) plus $30B deposits from other Banks, and maintain its deposit base at $100B range after $30B liquidity initial term expires in 4 months.
If my $90B deposit withdrawal estimate (as of 3/15) is by and large accurate, I think the bank is very close (if not already) to a complete equity wipeout in a real-world liquidation scenario today.
A $30Bn liquidity injection buys some time, but shall not be confused as a vote of confidence. If the deposit withdrawal continues, unless they continue to find additional liquidity or takeover from external parties (banks), it will force Fed's hand to prioritize consumer deposit safety via FDIC receivership, similar to what takes place in Silicon Valley Bank.
Conclusion
In my opinion, this is not a time to evaluate First Republic Bank using any of the typical banking ratios (such as MktCap/EBT or MktCap/TBV) or be excited about a bargain deal 80%+ off the ATH.
Its survivorship as a Bank is on the line, despite unprecedented support from both the Fed and major banks, and its equity wipeout is still a real possibility.
Watch its deposit withdrawal (or other liquidity injection) like a hawk.