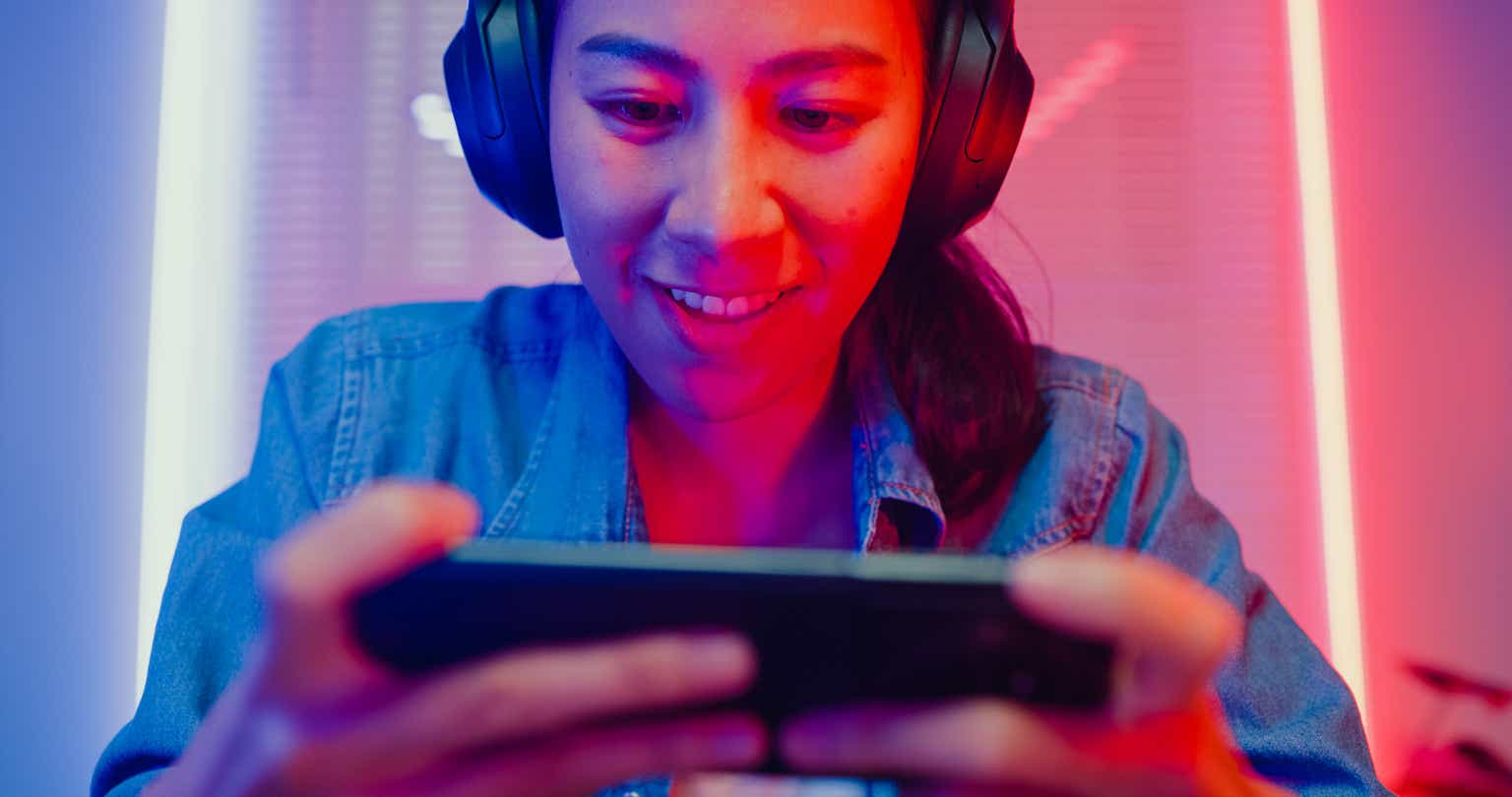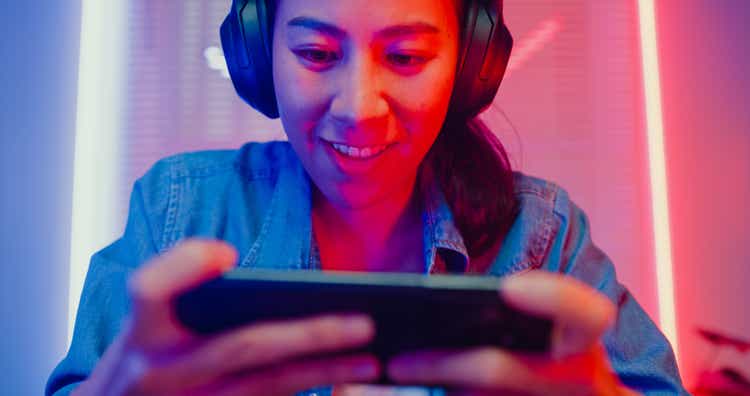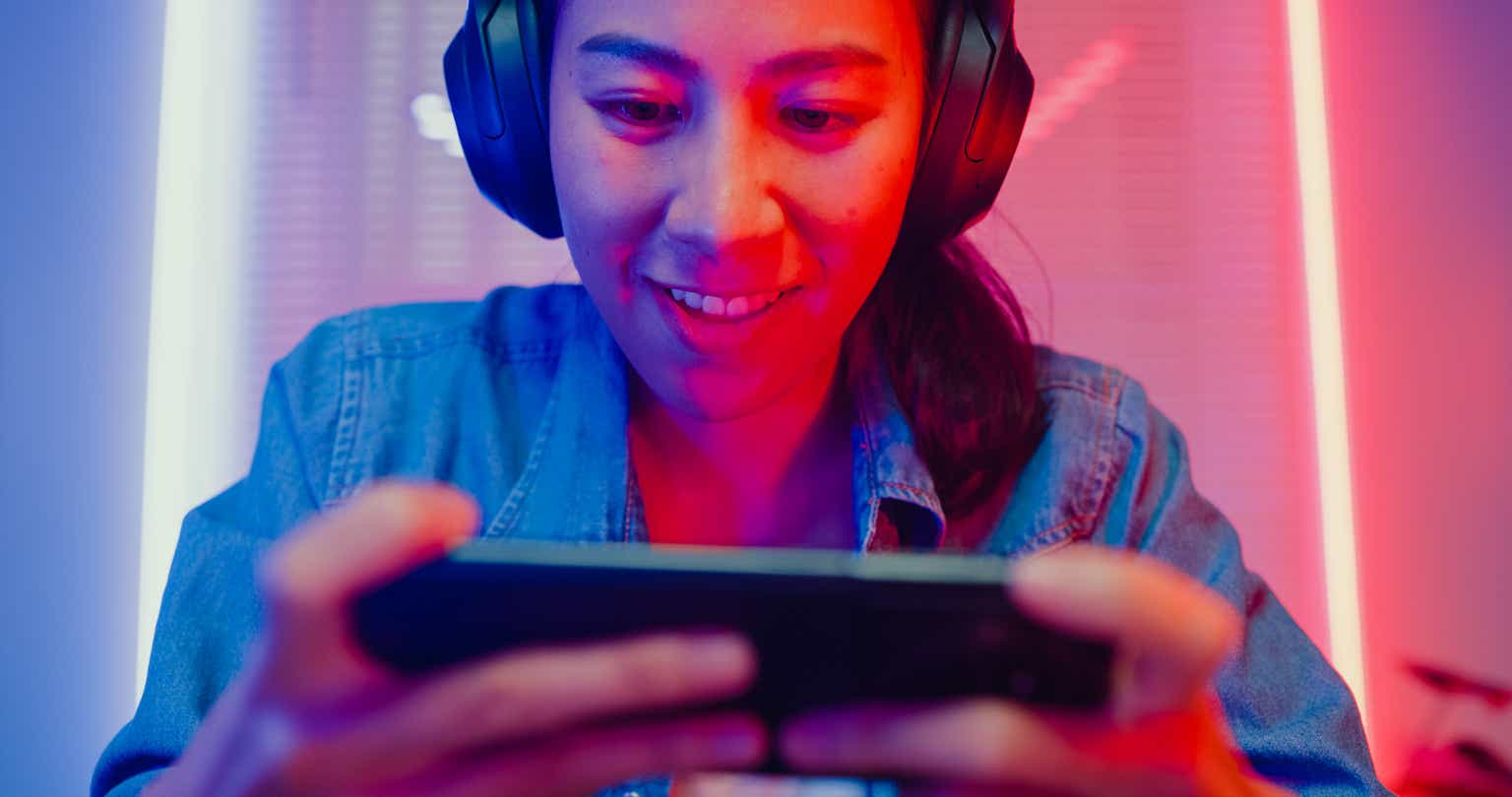 Gravity Co., Ltd. (NASDAQ:GRVY) is a company that has a pretty well-known IP called Ragnarok, which has been around for years since before mobile gaming. The older versions of the property have some nostalgia pull, and those games are actually performing better than expected, but the bigger part of the revenue comes from mobile games, usually published by third-parties under the license to use the Ragnarok IP. These are mostly gacha games with pay-to-win (P2W) models, and the continued sequential decline in profits tells you that there's not that much stick and value in this mix change, and the only way to sustain profits is to keep releasing new games. The problem is that may not work for long when it's all tied to one brand whose value is in decline, since it's both old and being milked heavily. While new releases in several geographies of Ragnarok Origin should give some sequential boost to earnings – and Ragnarok Origin is certainly not the worst offender in the slew of recent mobile game releases by GRVY – we suspect the cash flows here will start to peter out with a timeline that at least somewhat justifies the low multiple below 10x. This company is unlikely to be undervalued.
Quick Q3 Look
The Q3 results were a little underwhelming. While everyone expected that gaming would see a come-down in late 2021, after a mammoth year for gaming in 2020 and early 2021 on account of lockdowns getting lots of new people into gaming, YoY declines in revenue are continuing, with the sequential growth in revenues being small and the gross profit declines damning in terms of the likely GRVY mix profile going forward.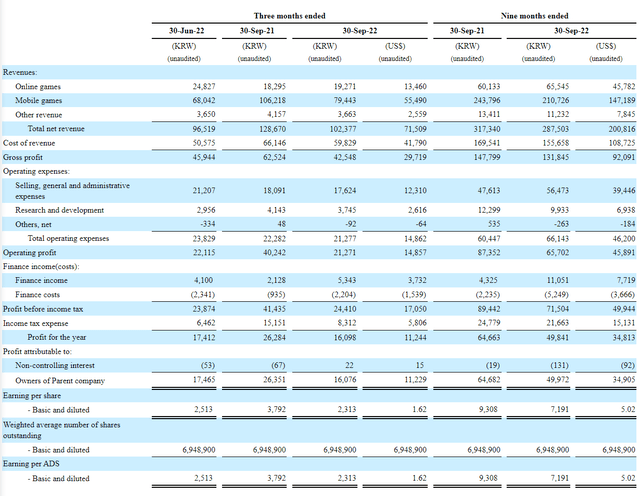 The more traditional online games segment saw some sequential decline, but YoY they were more solid. Sequentially, mobile gaming managed to grow quite nicely in the mix by almost 20%, but this has had quite an adverse impact on the gross profits, which declined sequentially almost 10%. YoY, mobile gaming saw about 20% decline in revenue as Ragnarok Online launched in Japan in June 2021, but improved YoY mix effects actually mitigated that impact on gross profits as online held up. YoY declines are partially expected. While well out of the mega-boom of the pandemic, which basically forced people to game, late 2021 was still a better environment for gaming in general, although the peak had already passed.
The sequential increases this quarter in mobile gaming are a continuation from Q2 results, which also saw mobile gaming increases, but because of falling online gaming revenues in Q3 unlike Q2, gross profit improved in Q2 sequentially but not in Q3.
The continued sequential growth comes from the almost continuous release of new games under the Ragnarok IP. Releases of some game or another happens almost monthly in the mobile segment, and the launch of Ragnarok Origin has been incorporated into Q3 results for about two weeks after initial launch.
Dynamics
Ragnarok Origin doesn't seem to be the worst offender in terms of P2W and gacha game mechanics, but it is by no means a super quality game either. The market for mobile gaming, especially Asian mobile gaming RPGs and MMORPGs is extraordinarily saturated, and the dynamics are generally bad.
In our last article on GRVY we saw how launches of new titles bring peaks, but then those peter out suddenly the very next quarter showing substantial churn. While there has been net progress in mobile gaming revenue on a sequential basis since Q2 2021, which is admittedly a tough comp, the uneven picture shows that it's a matter of keeping the rate of releases high in order to produce growth. Moreover, the continued growth of mobile gaming of ageing titles is quite bad for gross margin and gross profit development.
With the releases of Ragnarok Origin we expect strong results next quarter, but then it will be followed by sharp sequential declines, and gross margin accretion will be low from the added mobile sales anyway.
With the release of a new title all the time under the same IP almost every month, we are concerned that the IP is becoming continuously tainted as it takes a quick-buck strategy, licensing the IP out to any third party willing to release a mobile game. It is normal for gaming companies, taking CD Projekt Red (OTCPK:OTGLF) as an example, to have blockbuster years and then see things slow, but the problem is we think the value of their properties will grow with time, as the games they make are to the brands' credit. We do not think GRVY demonstrates this quality at all as they take a pretty clear Ragnarok milking strategy.
The GRVY multiple is pretty low at 9.66x PE, which is much less than a typical gaming company, but it's not so below the market average which we peg around 14x PE in the current environment. Where there are genuine concerns about the sustainability and value creation that comes from this approach with a company with only one IP to rely on and where now markets are lower margin, the multiple will continue to be capped because of questions on quality, and we think long-term capital appreciation here will be difficult to achieve.