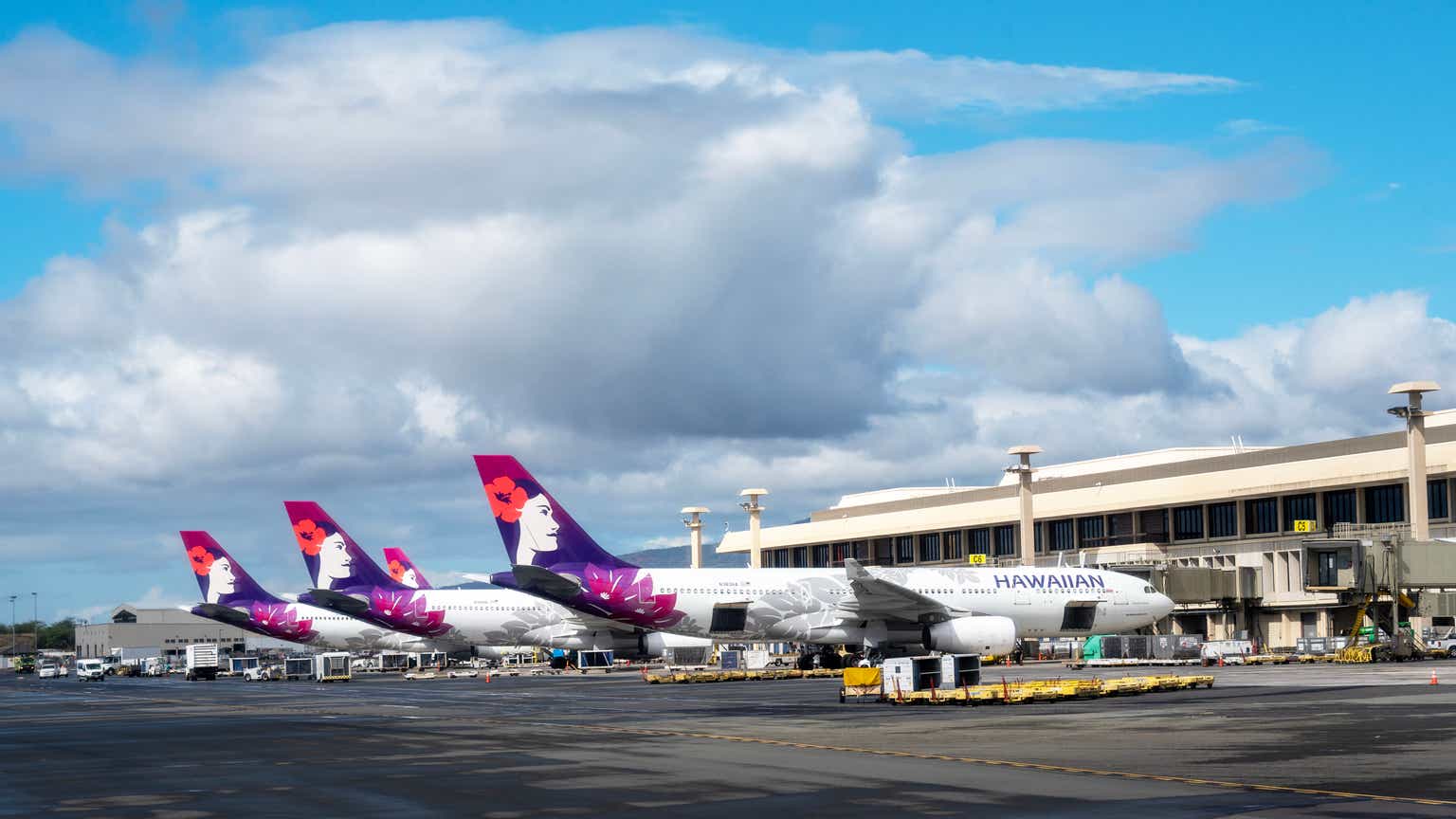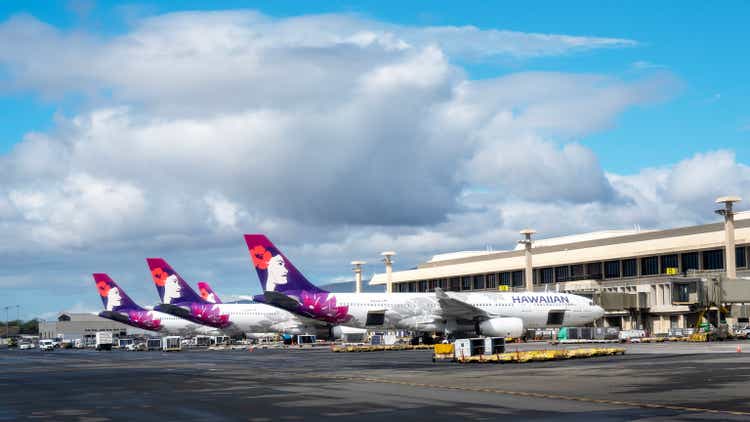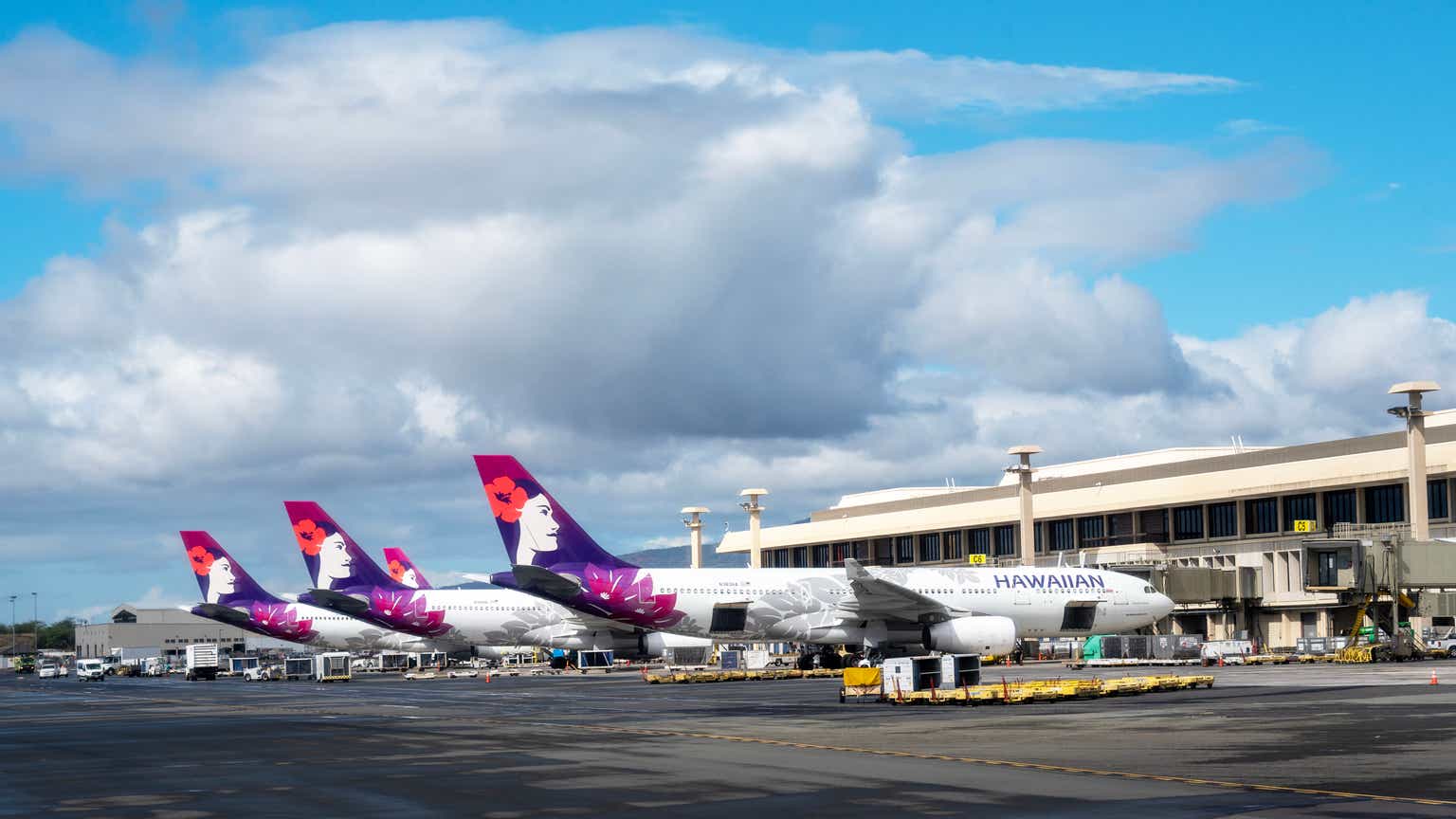 Like most other airlines, Hawaiian Holdings, Inc. (NASDAQ:HA) has been struggling to regain growth momentum after the fallout from the pandemic that basically shut down much of domestic and international travel for a time.
While HA was already struggling, dropping from a 5-year high of approximately $44.00 per share on August 20, 2018, to a recent 52-week low of $9.64 per share. But even before the pandemic hit it was declining, trading at about $30.00 per share before falling off the cliff to approximately $7.50 per share.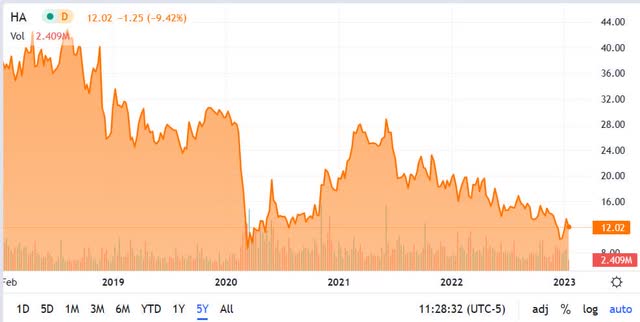 From there the stock has shot up to as high as about $31.50 per share before once again plummeting to its above-mentioned 52-week low.
The company continued to struggle with profitability as it works on recovering to pre-pandemic levels, and that is about to get worse for at least a couple of quarters as a competitor has decided to compete on price in its important Neighbor Island segment, which will put further downward pressure on earnings.
After Japan took the cap off of arrivals in October 2022, it has opened the door for HA to expand its schedule in that market, but the temporary downside is it's going to take a measured approach because of pent-up demand in the domestic Japanese market.
By the second quarter of 2023 HA expects to schedule many more flights to meet the expected demand to travel internationally by Japanese consumers.
In this article we'll look at some of its recent numbers and the headwinds it faces in 2023.
Some of the numbers
Revenue in the third quarter of 2022 was $663.1 million, compared to revenue of $454.00 million in the third quarter of 2021. Revenue in the first nine months of 2022 was $1.91 billion, compared to revenue of $1.1 billion in the first nine months of 2021.
Passenger revenue accounted for $663.1 million of revenue in the reporting period, while Other accounted for $78.00 million.
Operating expenses in the third quarter were $744.5 million, resulting in an operating loss of $3.4 million in the quarter, compared to operating expenses of $465.4 million and operating income of $43.5 million in the third quarter of 2021.
Operating expenses in the first nine months of 2022 were $2.09 billion, resulting in an operating loss of $177.3 million, compared to operating expenses in the first nine months of 2021 of $1.11 billion, resulting in a loss of $11.2 million.
The major increase in the expenses for the third quarter and first nine months of 2022 came from aircraft fuel, wages and benefits, commissions and other selling, maintenance and aircraft and passenger servicing. The largest expense by far was from aircraft fuel.
Net loss in the third quarter of 2022 was -$(9.27) million, or -$(0.18) per share, compared to net income of $14.67 million in the third quarter of 2021. For the first nine months of 2022 net loss was -$(190.00) million, or -$(3.70) per share, compared to a net loss of -$(52.2) million, or -$(1.03) per share, in the first nine months of 2021.
Cash and cash equivalents at the end of the third quarter of 2022 was $275.1 million, compared to cash and cash equivalents of $490.6 million at the end of calendar 2021. Including short-term investments and its undrawn revolver, it has over $1.7 billion in liquidity at the end of the third quarter.
The company held long-term debt of $1.17 billion at the end of the third quarter of 2022, compared to long-term debt of $1.11 billion at the end of calendar 2021.
With high fuel prices and uncertainty concerning the impact of the weak economy on travel, the company is going to continue to maintain a high level of liquidity.
Two major headwinds
Neighbor Island
Aggressive pricing in its Neighbor Island routes have forced the company to compete on price, which will put downward pressure on margin and earnings, at a time when they were already under pressure.
As management said, while Neighbor Island accounts for slightly over 20 percent of passenger revenue, its importance to the company goes beyond that. It considers the segment to be the foundation of its overall business, as it empowers the company to scale its North American and International operations.
The company further stated that when competitors attempted to take market share from HA in inter-island travel in the past, it has been able to emerge as victor each time based upon its ability to serve the needs of Hawaiian travelers better than the competition.
With that said, a recent competitor of HA boosted capacity while lowering fares to $39, which included federal taxes. According to HA, that means its competitor is receiving $26.05 per each ticket it sales.
Taking into account the importance of Neighbor Island to its long-haul network, the company said it's going to aggressively respond by offering $39 fares on most (not all) seats of the flights.
Management said it'll continue to compete as long as the fare discounts continue. The impact will be a slowdown in HA recovering its bottom line, which as the numbers show, remains under pressure.
The company guided for Neighbor Island to fly at approximately 80 percent of capacity in comparison to 2019.
Japan international
The other major headwind the company faces is the recovery of demand from Japan.
On an international basis, recovery in the North American and Australian markets in particular have been strong, but the drop in business from Japan represents the biggest opportunity for international growth in the near term.
Japanese leaders lifted its cap on daily arrivals on October 11, 2022, and according to management, it has resulted in an increase in demand after the cap was lifted.
The company sees it taking longer for the Japanese market to ramp up in comparison to other international markets, seeing it taking longer for Japanese travelers to start traveling abroad in larger numbers, as "certain prominent travel retailers continue to focus on domestic leisure travel, taking advantage of government incentives."
For that reason, HA is going to take a more methodical approach in the next couple of quarters. The strategy is to gradually restore capacity in the first half of 2023, offering a full schedule by the second quarter of 2023.
Management stated it's not going to reduce its current schedule in Japan but add to it at a slower pace. By doing so it should have better results from the increase in flights once internal travel demand in the Japanese market is assuaged.
Again, in the near term the largest growth opportunity is to recover travel from Japan to Hawaii.
Conclusion
While the headwinds for HA are very visible, there remains the potential impact of a recession if it goes deeper for longer, which would disrupt the growth trajectory and plans of HA.
The labor market is another issue, as numerous companies have been laying off people, bringing about the reprioritizing of household spending. If that accelerates in 2023, that should have a significant impact on the performance of airlines in general, and HA specifically.
But with the clarity we have at this time, it still looks like HA is going to struggle to gain momentum, especially if its major competitor continues to offer cheap fares that compete with its Neighbor Island segment.
It's already going to put further downward pressure on margins and earnings in the fourth quarter of 2022 and first quarter of 2023. If the price competition continues for a prolonged period of time, it's going to significantly set back the company's attempt to recover its bottom line.
Taken together, it's not looking particularly optimistic for HA in 2023. I don't see it necessarily collapsing in performance, unless there is a major economic downturn, but it's going to take some time to return to growth on the top and bottom lines.
With that in mind, it's going to be important to successfully recover the business from Japan, with progress being shown by the second calendar quarter. If that doesn't happen in a meaningful way, it's going to get even tougher for HA going forward.