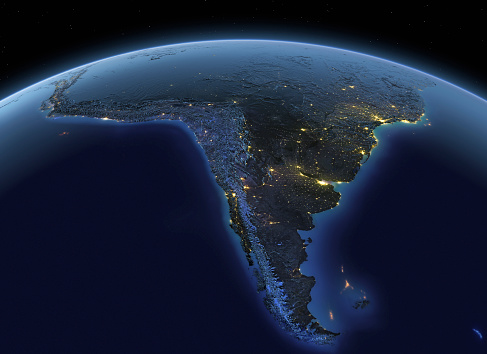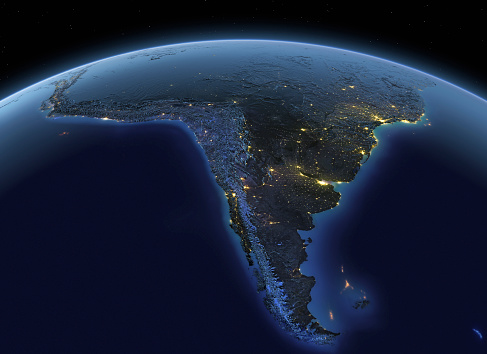 I last covered the iShares Latin America 40 ETF (NYSEARCA:ILF) this past April. In that article, I argued that ILF's significant commodity price exposure and strong dividend yield could lead to outperformance. ILF has outperformed since, as expected.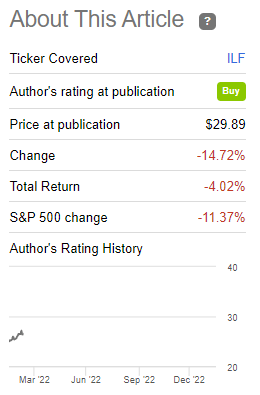 Since I last covered the fund, economic and market conditions have evolved in ways which are detrimental to the fund's performance: commodity prices have decreased, while investors turn bearish on emerging markets. On a more positive note, fund fundamentals have significantly improved and with the fund's dividends growing over 40%, the fund is now yielding 11.4%. ILF remains significantly undervalued relative to U.S. equities as well.
In my opinion, ILF's improved fundamentals more than outweigh recent unfavorable macroeconomic trends. ILF's strong, growing 11.4% dividend yield and cheap valuation make the fund a buy.
ILF – Basics
Investment Manager: BlackRock
Underlying Index: S&P Latin America 40 Index
Expense Ratio: 0.47%
Dividend Yield: 11.44%
Total Returns CAGR (Inception): 8.13%
ILF – Quick Overview
A quick look at the fund before a more in-depth look at how conditions have changed these past few months. I have a more in-depth analysis of the fund itself here.
Strategy and Holdings
ILF is an equity index ETF, tracking the S&P Latin America 40 Index. The index includes the 40 largest Latin American stocks, subject to a basic set of liquidity, trading, etc., inclusion criteria. These securities encompass over 70% of the region's total market-cap, as Latin American public equity markets are relatively small and underdeveloped.
ILF has some diversification, with investments in 40 different securities from five different countries and most relevant industry segments. ILF is significantly overweight Brazil and Mexico, the region's largest economies. ILF is also significantly overweight materials and financials, two large regional industries.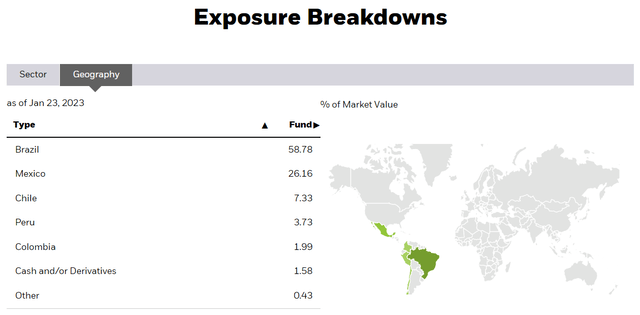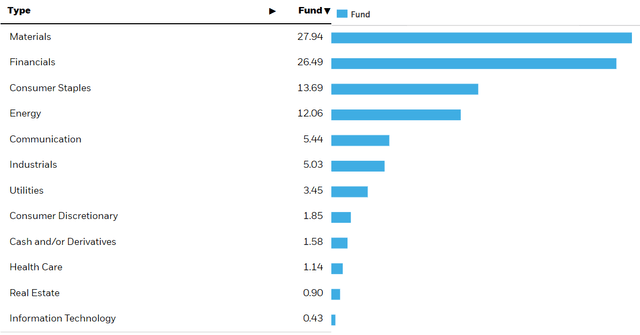 Risk Analysis
ILF is riskier than the average equity fund, due to focusing on emerging markets and being overweight commodities.
Emerging markets are riskier, due to their comparatively weak economies, corporate governance issues, and foreign currency risk. Sentiment and perception matters too: investors know emerging markets are riskier, so they tend to sell emerging market securities when times are tough, compounding their losses.
Expect above-average losses for ILF during downturns and recessions, as was the case during 1Q2020, the onset of the coronavirus pandemic.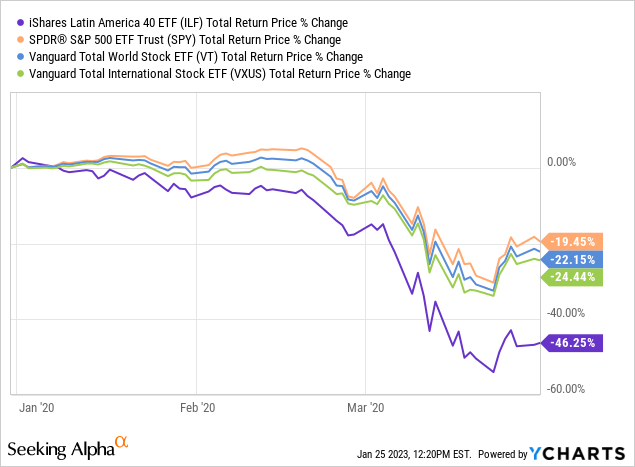 Valuation Analysis
Emerging market equities are riskier than average, and so tend to trade with a discount vis a vis U.S. equities. As per ETF.com, ILF sports a PB ratio of 1.6x. and a PE ratio of 5.8x. Both are incredibly low figures on an absolute basis, and significantly lower than the ratios on the S&P 500 (17.4x PE, 3.8x PB).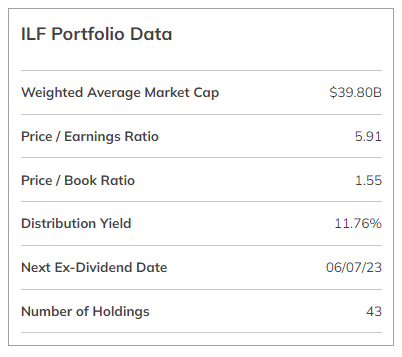 ILF's cheap valuation could lead to significant capital gains and market-beating returns moving forward, contingent on valuations normalizing and investor sentiment improving.
Dividend Analysis
ILF offers investors a whopping 11.4% dividend yield. It is an incredibly strong yield, and significantly higher than average for an equity index fund.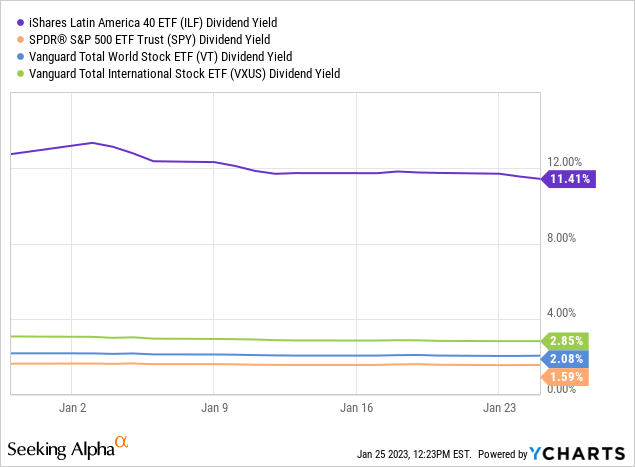 On a more negative note, ILF's outstanding dividend yield seems to be partly due to dividend volatility and an uncharacteristically large 4Q2022 dividend payment. As per the fund's managers, ILF currently generates around 9.5% in income, as per its SEC yield, after accounting for recent losses. Still an incredibly strong figure, although lower than the fund's 11.4% TTM dividend yield.
ILF's dividends have also seen outstanding growth since inception, and for all relevant time periods. Growth would remain strong if the fund's yield retreated to 9.5% too, at least by my calculations.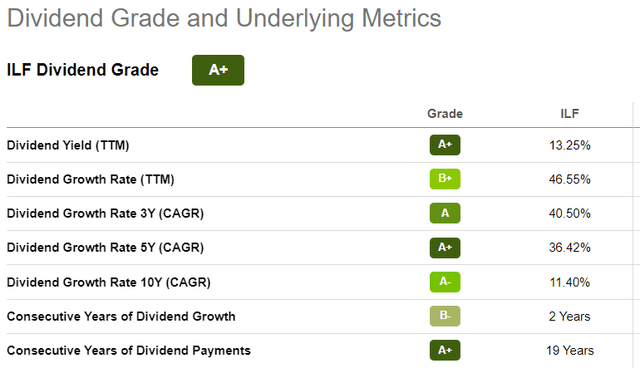 Performance Analysis
ILF's performance track-record is reasonably good, but extremely volatile. The fund has matched, very slightly outperformed, relative to the S&P 500 since inception.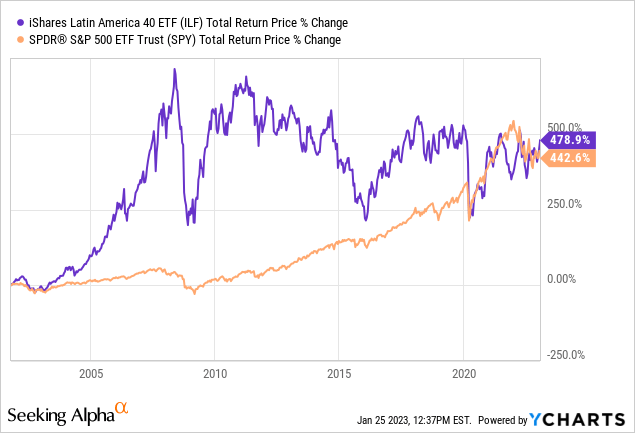 As can be seen above, ILF's performance sometimes markedly differs from that of the S&P 500. In my opinion, the fund's performance can be broken down in two sections.
In the 2000s, the fund significantly outperformed the S&P 500, due to a cheap valuation, high yield, and strong commodity prices.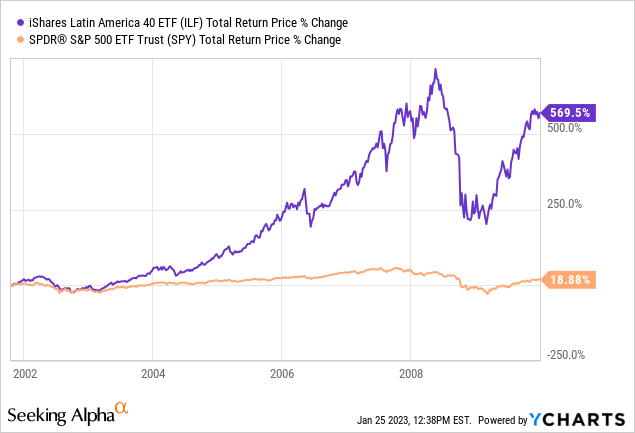 In the 2010s, the fund significantly underperformed the S&P 500, for the opposite reasons.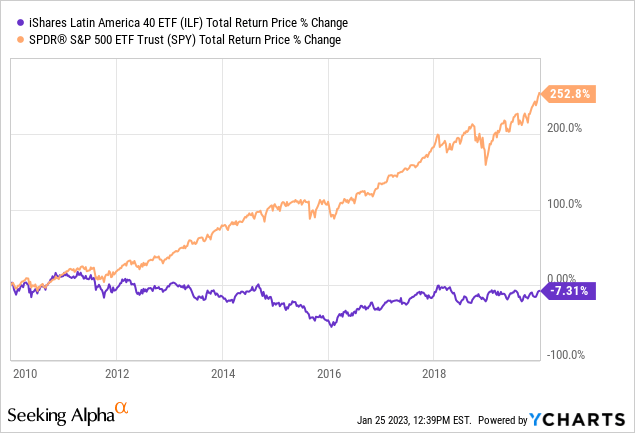 As an aside, I originally wanted to analyze the two time periods above, to argue that the 2020s are looking to be another decade of significant Latin American outperformance. The signs are definitely there, with Latin American stocks looking very cheap, and commodity prices looking somewhat elevated. The issue is, two decades was a long time ago, and I'm not 100% certain or knowledgeable about some aspects of Latin American economies and markets at that time, at least not that far back.
ILF – Improved Fundamentals
ILF's cheap valuation, strong 11.4% dividend yield, and outstanding dividend growth track-record are all significant benefits for shareholders, and, in my opinion, make the fund a buy. I thought the same last year, and the fund has outperformed since.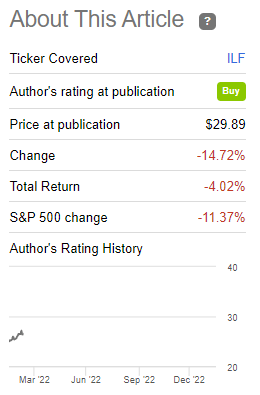 Importantly, ILF's fundamentals have markedly improved these past few months, making the fund an even stronger investment opportunity now than in the past.
Specifically, ILF yields a lot more now, with the fund's dividends growing a massive 46.6% these past twelve months. As per my calculations, the fund's underlying generation of income, as measured by its SEC yield, has grown by a slightly more modest 30%-35%. As an aside, as the fund's dividends have grown by more than its income, dividends should decline in the coming months, although growth should remain positive on net. Much will depend on how earnings evolve from here on out, though.
ILF's share price has declined by over 14.6% since I last covered the fund, which also serves to boost its yield.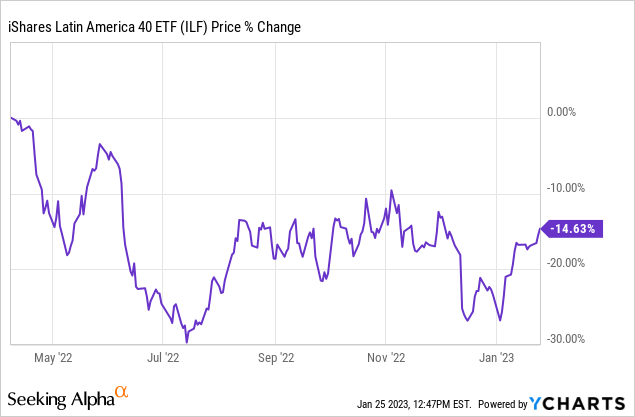 ILF's strong, growing dividends are a significant benefit for the fund and its shareholders, and key to its investment thesis. ILF would have underperformed relative to the S&P 500 without these dividends, all else equal.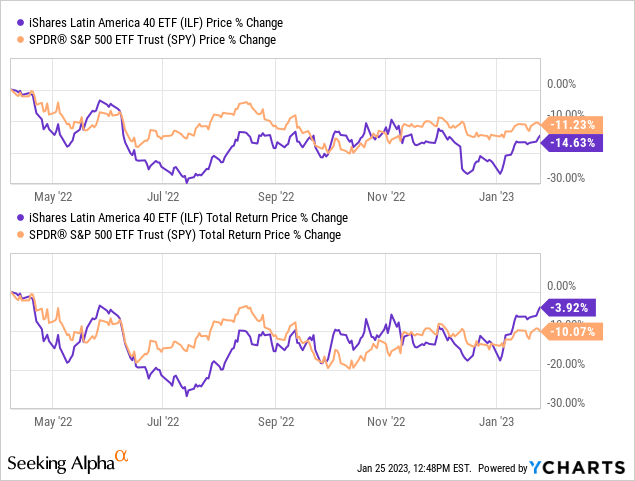 As a final point, ILF's dividend growth was almost entirely due to earnings growth on the fund's underlying holdings. Earnings growth combined with a plummeting share price, see above, means a lower valuation, another significant benefit for the fund's shareholders.
In my opinion, and considering the above, ILF's fundamentals have significantly improved since last year, which should boost the fund's performance moving forward.
ILF – Recent Macro Trends
ILF's fundamentals have improved as of late, but the overall macroeconomic context has developed in ways which are detrimental to the fund's expected returns and risks.
Commodity prices have softened these past few months, with the Invesco DB Commodity Index Tracking ETF (DBC), a commodity futures index ETF, down 6.5% since April.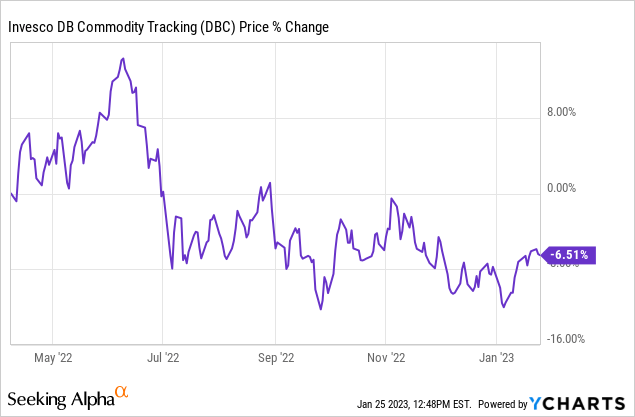 ILF's underlying holdings, and Latin American economies more broadly, are somewhat dependent on commodities for their revenues, earnings, and broader financials. As an example, lower iron ore prices means lower revenues for the fund's largest holding, Vale (VALE), with lower energy prices having a similar effect on the fund's third largest holding Petrobras (PBR). Although a 6%-7% drop in commodity prices is not all that significant, the impact remains negative, and prices could always go lower too.
Investor sentiment has also worsened these past few months, especially sentiment surrounding emerging markets. Sentiment has worsened due to increased inflation, higher interest rates, and worsening economic fundamentals. Investors fear a recession is imminent, and so have sold their riskier investments, including emerging market/Latin American stocks. Prices are down, and by a lot.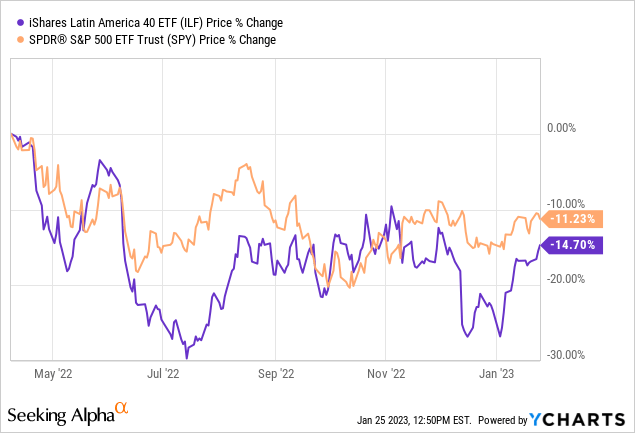 Worsening investor sentiment led to significant capital losses for ILF and its investors in the recent past, and could lead to further losses moving forward. Sentiment is dependent on many factors, some irrational, but I believe that recession fears are currently the most important factor. I expect significant losses if there is a recession in 2023, none otherwise.
On a more positive note, ILF's strong dividends somewhat reduce the impact from the above. Dividends are not dependent on investor sentiment, and so ensure some returns to shareholders even if sentiment worsens, contingent on fundamentals remaining strong. Remember, ILF outperformed the S&P 500 these past few months despite significant capital losses, due to its dividends. The same could be true the next few months.
Conclusion
ILF's strong, growing 11.4% dividend yield and cheap valuation make the fund a buy.