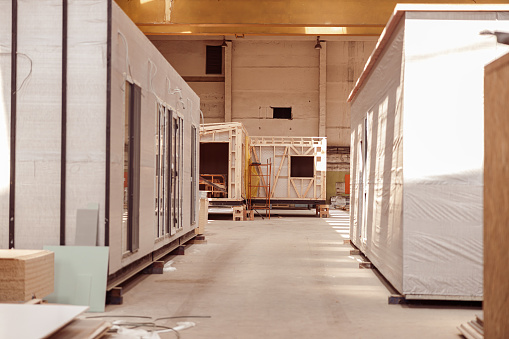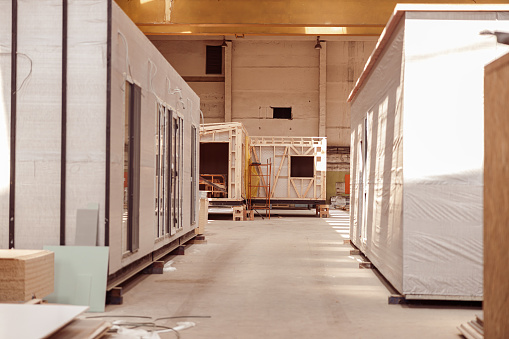 For some strange reason that I can't explain, I've always been drawn to unique businesses. The more peculiar the company is, the more it piques my interest. One firm that meets this criterion is a company called McGrath RentCorp (NASDAQ:MGRC). Operationally speaking, the company has four different segments. But at the end of the day, they all center around renting assets to customers who need them. Examples include modular structures for the construction of restroom buildings, sales offices, healthcare clinics, and more. It also rents and sells electronic test equipment such as fiber optic test equipment, amplifiers, and more. And it's responsible for providing liquid and solid containment tanks and boxes to customers who need them. Operationally speaking, the company has been doing really well for itself. Sales, profits, and cash flows have roared higher in recent quarters. Despite this, shares of the enterprise are still trading at levels that should be considered affordable. And because of that, I have decided to keep the 'buy' rating on the stock even though shares have moved materially higher in light of recent developments.
Performance continues to impress
Back in early June of last year was when I first stumbled across McGrath RentCorp. I immediately found myself intrigued by the firm's business model and decided to dig in. What I found was a company that had done well to grow its revenue and cash flows over the prior few years. Based on my understanding of the company and its industry, I felt as though the trend would likely continue for the foreseeable future. This, combined with the fact that shares looked attractively priced, led me to rate the company a 'buy', a rating that states my assessment that shares of the company should outperform the broader market moving forward. And what a call that was on my part! While the S&P 500 is down about 4% since the publication of that article, shares of McGrath RentCorp have generated upside for investors of 19.7%.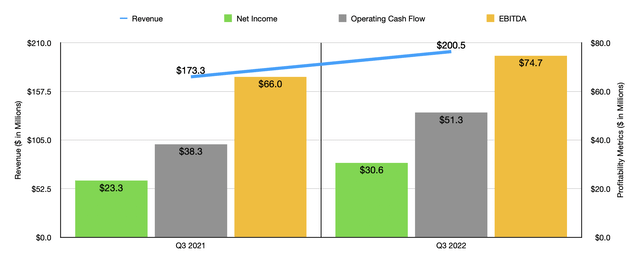 This return disparity can really be chalked up to robust financial performance achieved by management. Consider the third quarter of the company's 2022 fiscal year. During that time, revenue came in at $200.5 million. That's 15.7% higher than the $173.3 million reported one year earlier. From a dollar perspective, the greatest growth for the company came from its Rental operations, with sales shooting up 17% year over year. This was due largely to an 11% increase in the average amount of rental equipment on rent, followed by a 5% increase in average monthly rental rates. Rental Related Services for the company grew a more modest but still impressive 12%. Higher amortization of modular building delivery and return delivery and dismantle revenues, combined with increased delivery and return delivery revenues at Portable Storage, all played a role here.
With the rise in sales also came a rise in profitability. Net income, for instance, shot up from $23.3 million to $30.6 million. Operating cash flow fared even better, rising from $38.3 million to $51.3 million. And finally, EBITDA for the company expanded from $66 million to $74.7 million. In addition to benefiting from the increase in sales, the company also benefited from selling and administrative costs falling in respect to revenue. This number declined from 23% of sales to 22%, as increased headcount and employees' salaries and benefits costs, combined with higher marketing and administrative costs, were not enough to cancel out the rise in sales. The company also saw its gross profit margin rise from 43.7% to 44.6% thanks to higher equipment utilization and pricing.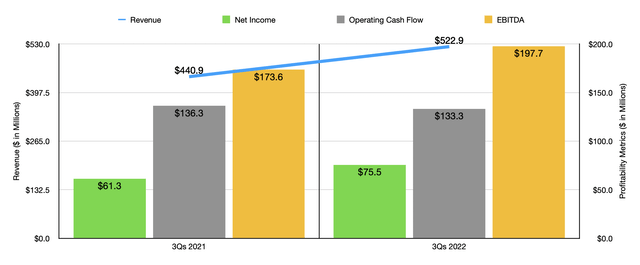 For the first nine months of 2022 as a whole, the company generated sales of $522.9 million. This stacks up nicely against the $440.9 million in revenue generated the same time one year earlier. The same factors I mentioned for the third quarter were instrumental in pushing up sales year over year like this. But it's also important to keep in mind that its acquisitions of Design Space and Kitchens To Go also occurred at such a time that McGrath RentCorp's 2021 sales do not benefit from an entire year of those entities under its belt. Had these assets been purchased at the start of 2021, the sales increase would have been more modest from a base of $472 million instead. In terms of profitability, the picture looked much the same as it did for the third quarter on its own. Net income increased from $61.3 million to $75.5 million. Operating cash flow did decrease some, dipping from $136.3 million to $133.3 million. But EBITDA for the company expanded from $173.6 million to $197.7 million.
For 2022 in its entirety, management has forecasted sales of between $720 million and $735 million. This is actually higher than the prior expected range of between $695 million and $720 million. Also with the increase in guidance for revenue came an increase in guidance for profitability. The only metric here that the company provided info on was EBITDA, with the expectation that it should come in for the year at between $274 million and $280 million. Previously, the company thought it would be between $266 million and $276 million. These guidance adjustments were also certainly a factor in pushing shares of the company up in recent months. No guidance was given when it came to other profitability metrics. But if we annualized what we saw so far for the year, we should anticipate net income of $100.8 million and operating cash flow of $219.8 million.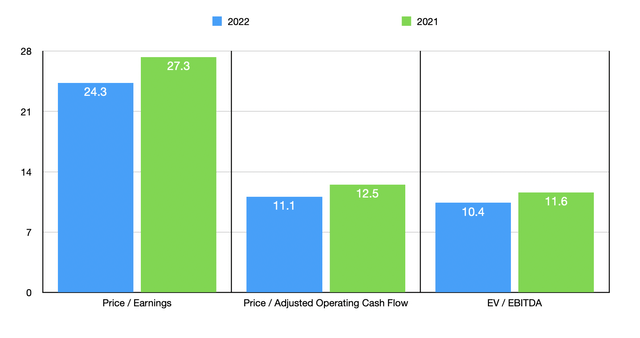 Based on these numbers, the company is trading at a price-to-earnings multiple of 24.3. Although lofty, the price to operating cash flow multiple is considerably lower at 11.1. And finally, the EV to EBITDA multiple should be 10.4. By comparison, if we were to use the data from 2021, these multiples would be 27.3, 12.5, and 11.6, respectively. As part of my analysis, I also compared the company to five similar firms. On a price-to-earnings basis, the four companies with positive results had multiples of between 5.4 and 14.1. In this case, McGrath RentCorp was the most expensive of the group. Using the price to operating cash flow approach, the range was from 2.1 to 60.8. And using the EV to EBITDA approach, we get a range of between 5.2 and 28.4. In both of these cases, four of the five companies were cheaper than our target.
| | | | |
| --- | --- | --- | --- |
| Company | Price / Earnings | Price / Operating Cash Flow | EV / EBITDA |
| McGrath RentCorp | 24.3 | 11.1 | 10.4 |
| FTAI Aviation (FTAI) | N/A | 60.8 | 28.4 |
| Textainer Group Holdings (TGH) | 5.4 | 2.1 | 9.7 |
| United Rentals (URI) | 14.1 | 7.2 | 7.1 |
| U-Haul (UHAL) | 12.2 | 8.0 | 6.4 |
| GMS (GMS) | 6.9 | 6.4 | 5.2 |
Takeaway
By pretty much all accounts, McGrath RentCorp seems to be doing really well for itself. Sales and profits are moving higher, as is cash flow. The company still looks attractively priced even though shares have moved up significantly relative to the broader market. On top of this, management is now more bullish than they were previously. Put all of these factors together, and I do believe that a 'buy' rating is still certainly appropriate at this time.