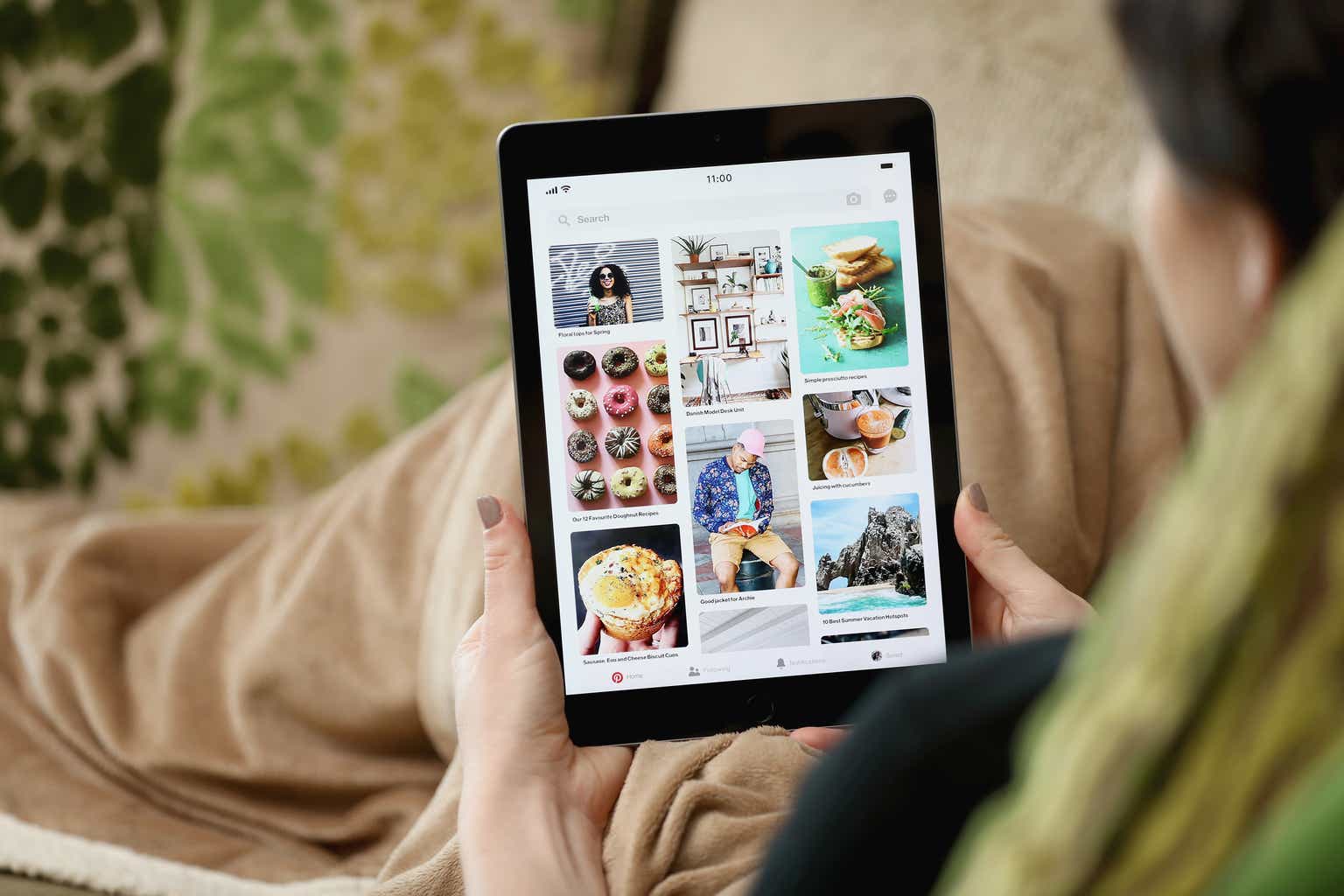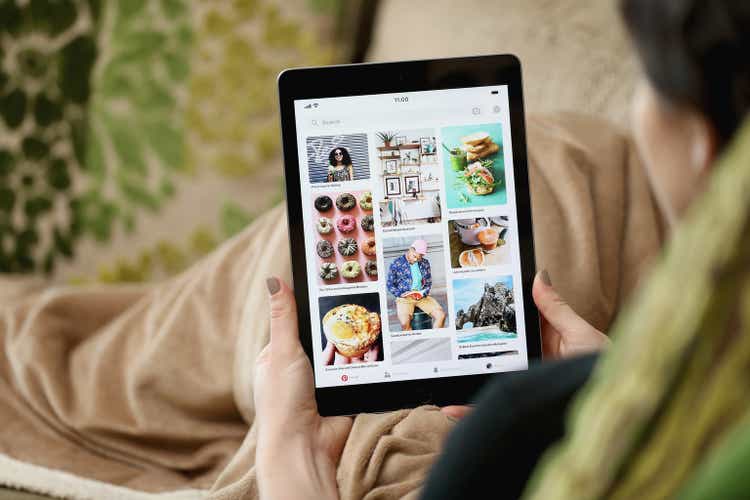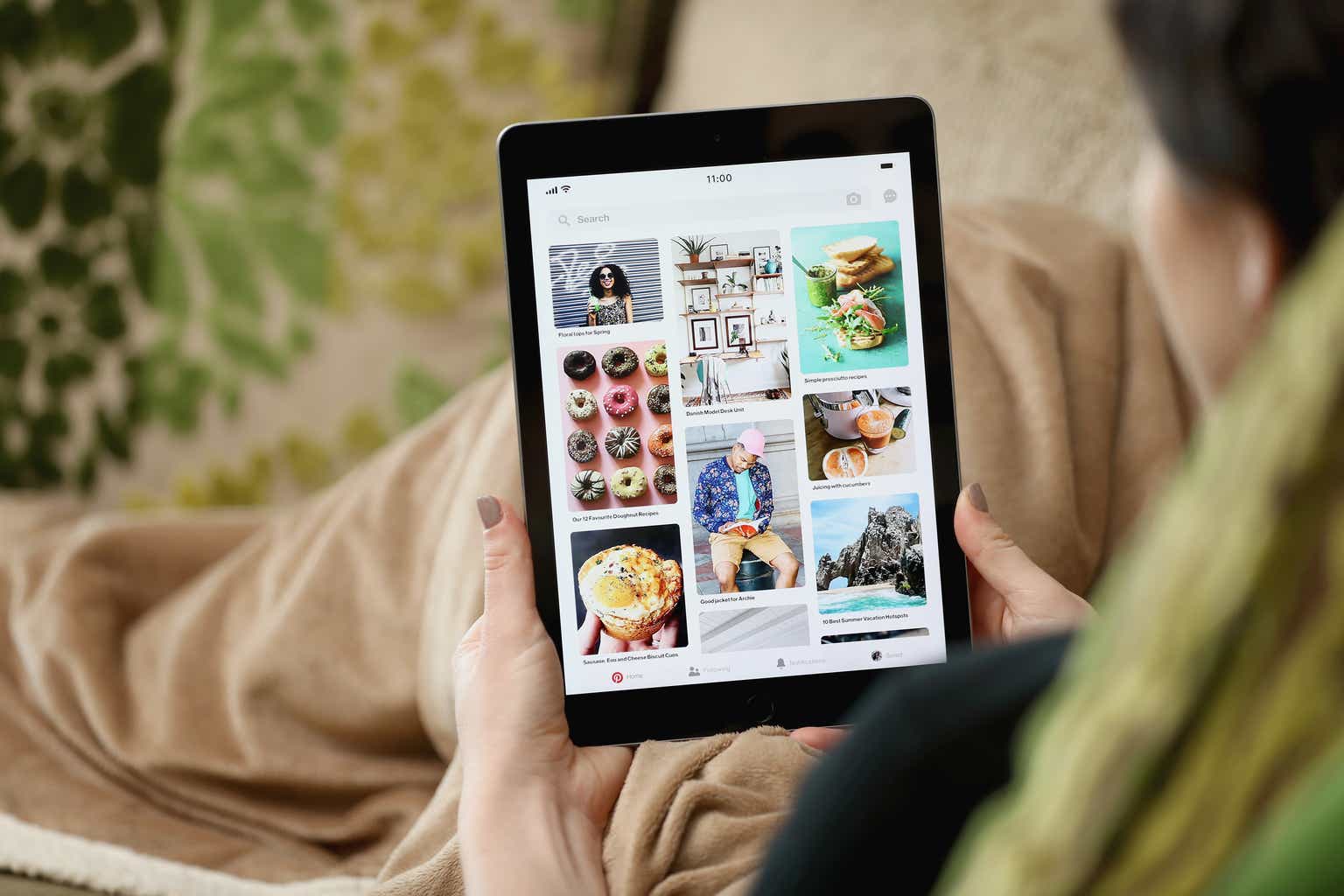 Pinterest (NYSE:PINS) may be an ideal tech stock to buy amidst a recovery in the sector. Growth came to a stand-still in 2022 as the company lapped tough comparables, but valuations have been reset courtesy of the crash in the stock price. PINS has garnered the attention of activist investors, making it possible that the company will have a stronger focus on boosting profitability over the coming years. The company maintains a net cash position equivalent to 15% of the market cap and trades at compelling valuations. The stock remains highly buyable here.
PINS Stock Price
PINS peaked around $90 per share in early 2021 amidst the tech bubble. In addition to trading at rich valuations, the underlying growth rates proved unsustainable.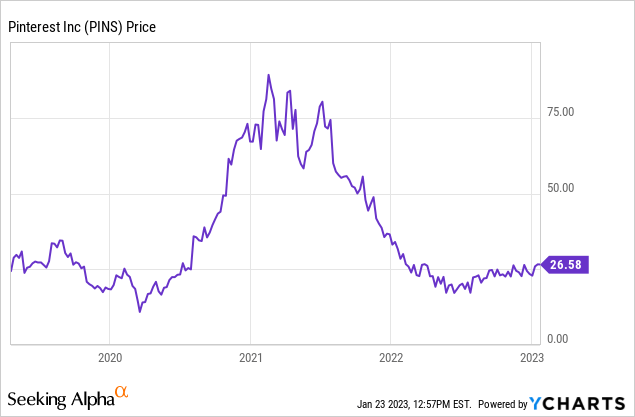 I last covered PINS in August where I rated the stock a strong buy. PINS has since returned 12%, in part due to strong fundamental results as well as a broader tech recovery. This stock has more room to run.
PINS Stock Key Metrics
In its most recent quarter, PINS delivered 8% revenue growth (10% constant currency) in spite of ongoing headwinds in Europe.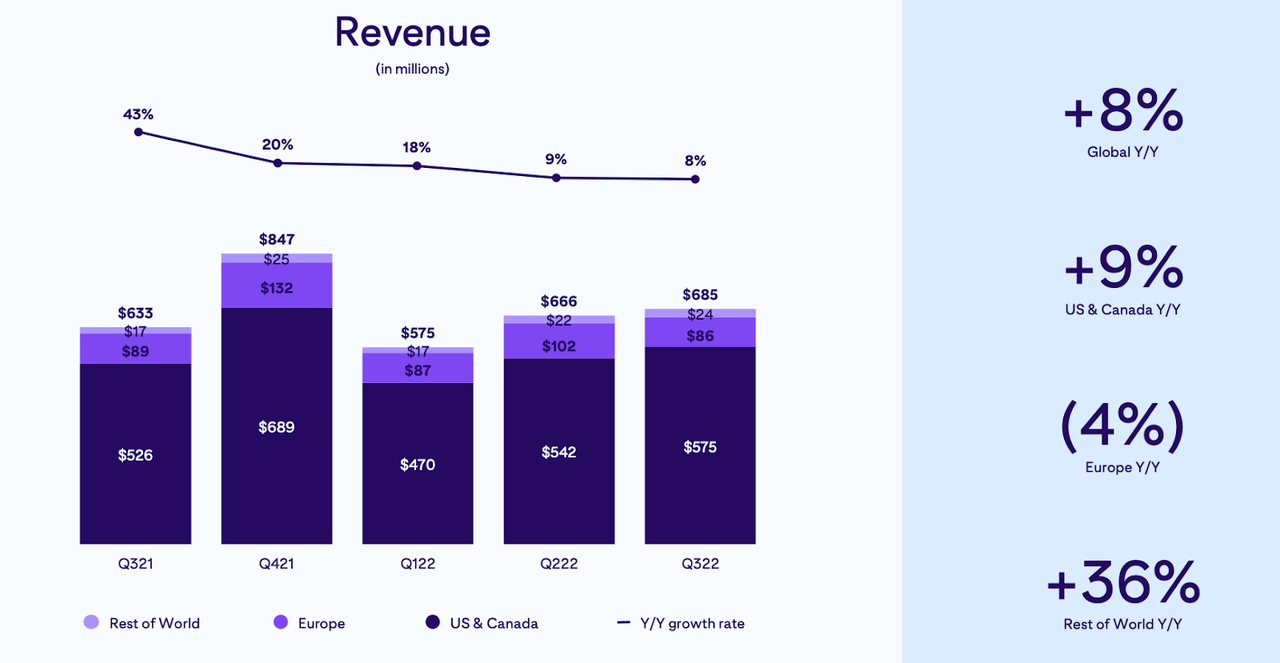 That revenue growth continued the steep deceleration in growth rates as the company lapped tough pandemic comparables. Yet there was a glimmer of hope in the growth of monthly active users ('MAUs'). MAUs grew sequentially and remained steady YOY, ending a series of sequential declines. In particular, MAUs in the U.S. and Canada increased 3% sequentially to 95 million – the first time the company has grown such users sequentially since the first quarter of 2021.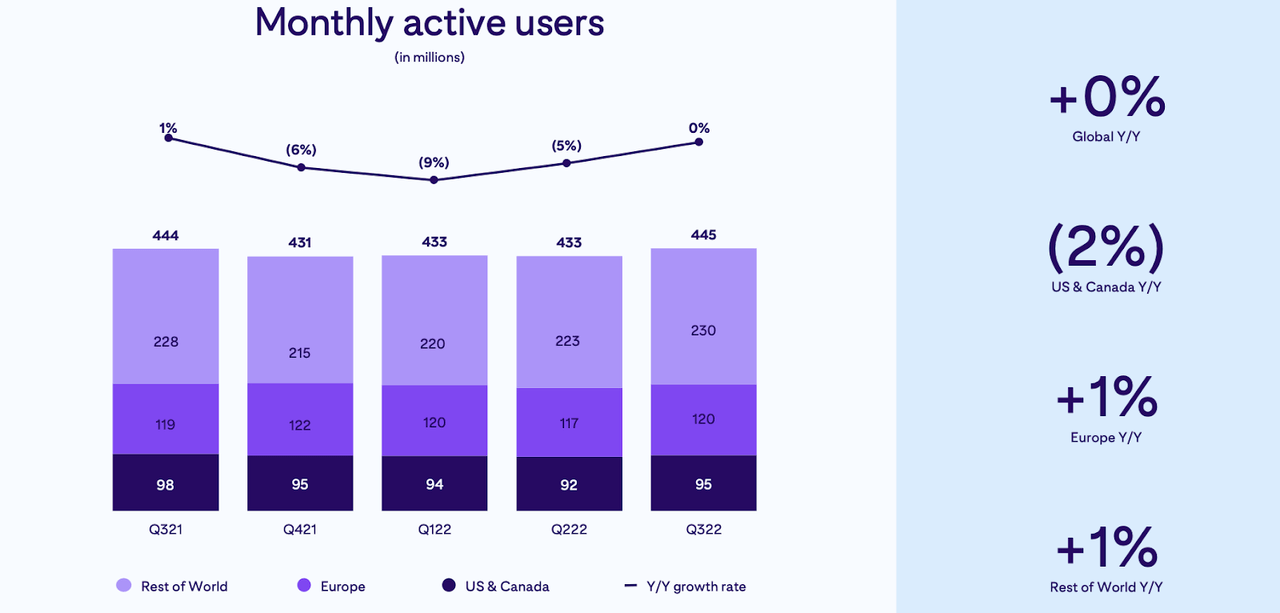 What drove that strength? On the conference call, management credited investment in "machine learning to recommend highly relevant content to users" as being the main driver of growth. That investment has led to an improvement in engagement, as growing sessions are expected to lead to "reducing user churn, improving overall monetization and growing revenue per user."
The long term thesis for PINS stock has largely centered around growing average revenue per user ('ARPU'). ARPU grew by 11% – again in spite of headwinds in Europe. Management noted that they have completed lapping the tough pandemic comps and are now set to work towards meaningfully growing ARPU.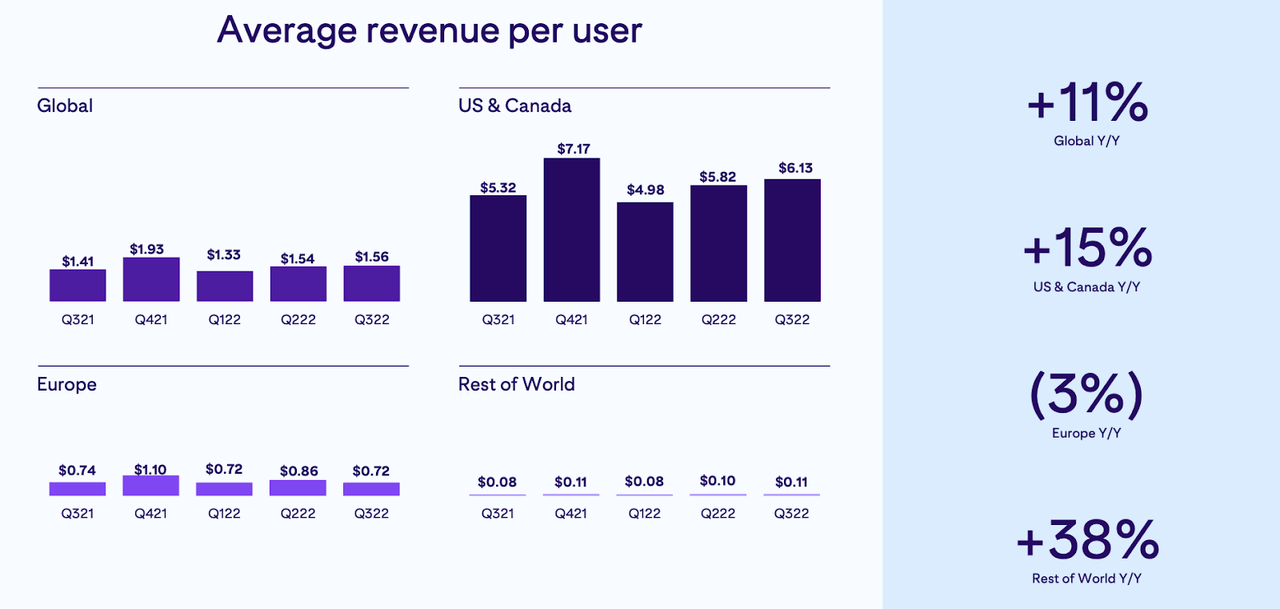 The adjusted EBITDA margin came in at 11% – down significantly from the 30s-40s range posted in 2021. Like many tech companies benefiting from e-commerce tailwinds during the pandemic, PINS overestimated its future growth rates when planning headcount growth. Management expects margins to expand in 2023.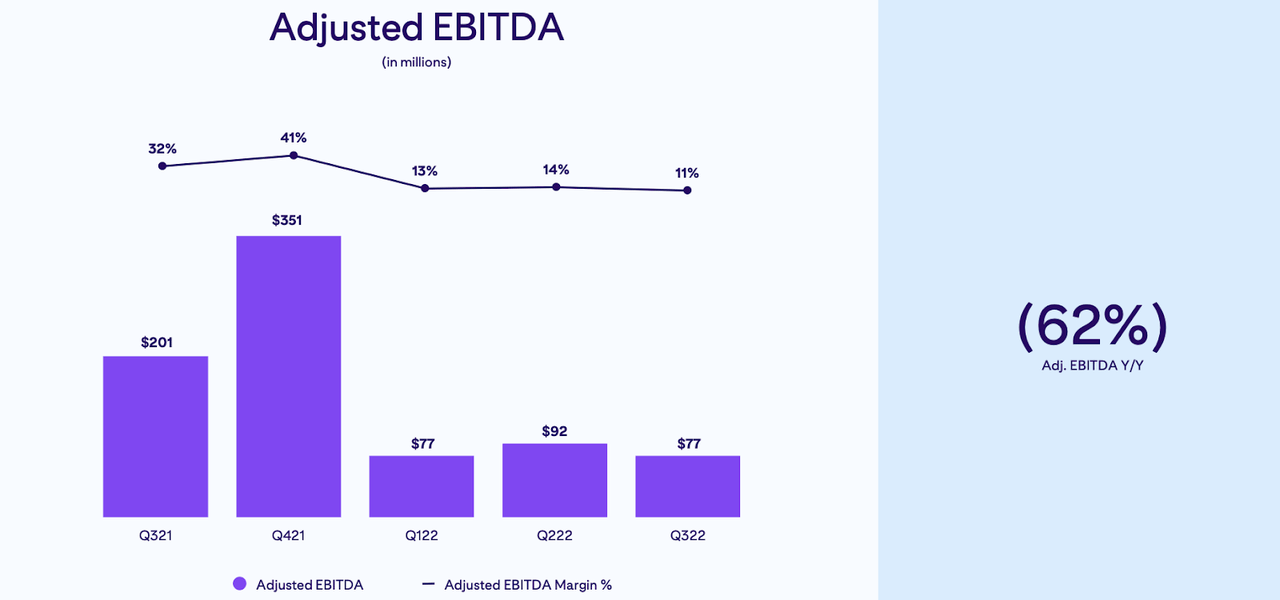 The company ended $2.7 billion of cash, making up 15% of the current market cap. Looking forward, management expects revenue to grow in the "mid-single digits percentage range" in the next quarter – that includes three percentage points of foreign exchange headwinds.
Management did note that due to inflation and weakening consumer demand, there is greater downside risk to that outlook, especially due to their fourth quarter revenues being back-end weighted.
Is PINS Stock A Buy, Sell, or Hold?
At recent prices, PINS was trading at 45x earnings and 6.4x sales. Growth is expected to return to the double-digit range over the next few years.

I can still see PINS sustaining 30% net margins over the long term. Based on 14% growth and a 1.5x price to earnings growth ratio ('PEG ratio'), I could see PINS trading at 6.3x sales, implying that stock returns may match the underlying growth rate. There may even be upside to those estimates.
In particular, PINS is one of the many tech companies to have done a round of layoffs, with that occurring in December. It is no coincidence that it happened the same day that the company announced a standstill deal with activist investor Elliott Investment Management. I see margin expansion, or at least investor confidence in the company's commitment to boosting profitability, as being a key catalyst to unlocking a significant recovery in valuations across the tech sector. Longer term, PINS remains a compelling investment based on its potential to increase ARPU. Management has stated goals to "make every product that the user encounters on Pinterest shoppable, even when that product may be in a scene or other user-generated content." As the company continues to innovate, I can see it sustaining above-market growth for many years.
What are key risks? Growth rates may come below consensus. While many investors are hoping for a rebound in growth rates as the company has finished lapping tough comparables, it is possible that such a recovery might not occur. This might be due to tough economic conditions as well as company-specific issues. Another risk is that of valuation. Likely due to the presence of Elliott Investment Management, the stock does not look as cheap as tech peers. In particular, Snapchat (SNAP) trades at around 3.5x sales in spite of the potential for higher growth rates. PINS does have solid free cash flow generation to help support the multiple, but the stock may prove volatile. As discussed with subscribers to Best of Breed Growth Stocks, the best way to take advantage of the tech stock crash is by investing in a portfolio of undervalued tech stocks. PINS fits right in with such a basket, offering both secular growth and solid profitability.