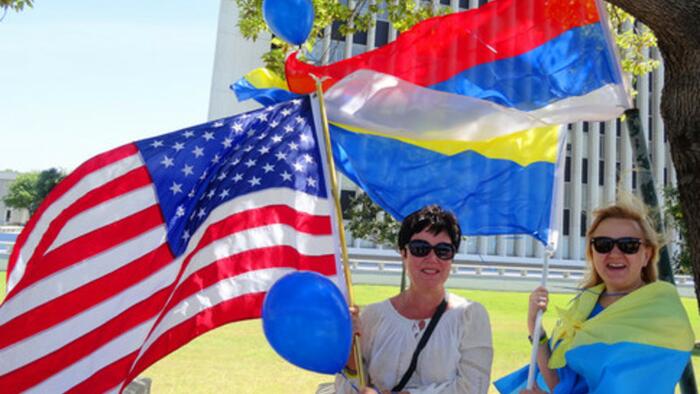 A new IPSOS-Axios poll shows a divide on Ukraine policy among conservatives, with the debate and momentum clearly shifting in favor of those who want to avoid deeper US involvement in the war.
"Four in five Republicans want the U.S. to remain the world's leading power — but fewer than half support giving Ukraine weapons and financial support to try to save itself from Russia, according to the latest wave of the Axios-Ipsos Two Americas Index," the research finds.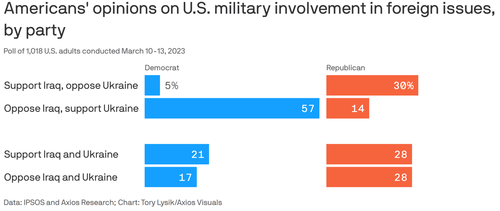 Popular Fox News host Tucker Carlson has already for months been hammering a message of US non-intervention in Ukraine, given the looming possible spiral into WW3, as also the fact that billions are being taken from struggling American taxpayers and sent abroad to a government historically known for its corruption.
Former President Trump too has been urging Washington to cut off its involvement in the conflict. But it is Florida Gov. Ron DeSantis who really came out swinging this week, and this inevitably is tilting public opinion among conservatives further into the non-intervention camp, given these will be the two GOP frontrunners for next presidential nominee. 
DeSantis went so far as to dismiss that Washington should be pouring billions into a quagmire that's at the end of the day a "territorial dispute" – in reference to the war in Donbas that goes back to 2014. 
Other polling sources are showing the same trend of more and more Republicans getting deeply critical of America's involvement in the grinding proxy war with Russia…
Interesting analysis of Americans' attitudes to wars, the war in Ukraine, and what is/isn't worth fighting for.

It shows why the Marco Rubios, Bill Kristols and Liz Cheneys are freaking out about DeSantis: younger Republicans are increasingly opposed to foreign interventions: https://t.co/SnScAYHrvv

— Glenn Greenwald (@ggreenwald) March 15, 2023
"Just 42% of Republicans surveyed now say they support sending U.S. weapons and money to Ukraine — compared with 79% of Democrats and 60% of independents," Axios observes of its new poll.
GOP leadership is nervous…
Sen. Roger Wicker, ranking Republican on Senate Armed Services, says DeSantis' Ukraine comments are "troubling."

"I would prefer to have a president that understands that what happens in Europe vitally affects us, particularly among our allies," he told me pic.twitter.com/VBuHWW9RWt

— Manu Raju (@mkraju) March 16, 2023
And the Biden administration bloviates meaninglessly with no indication of an end-game to their escalatory policies…
.@VP Kamala Harris shares her thoughts on Gov. Ron DeSantis calling the war in Ukraine a "territorial dispute." #Colbert pic.twitter.com/ig1vPFEXRI

— The Late Show (@colbertlateshow) March 16, 2023
Looming significantly in the background is the fact that this week marks the 20-year anniversary of the US invasion of Iraq, now one of the most unpopular wars in American history.
Loading…