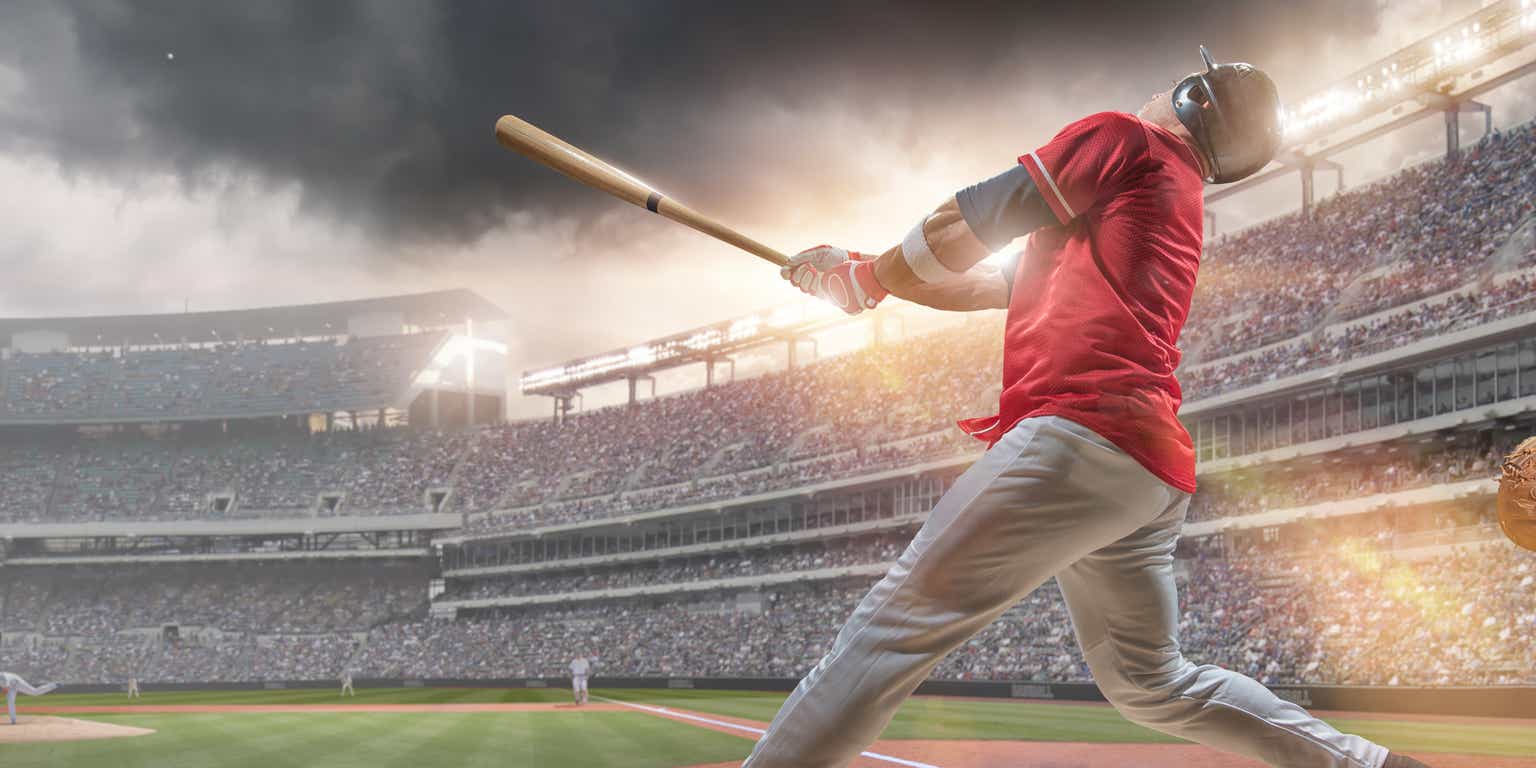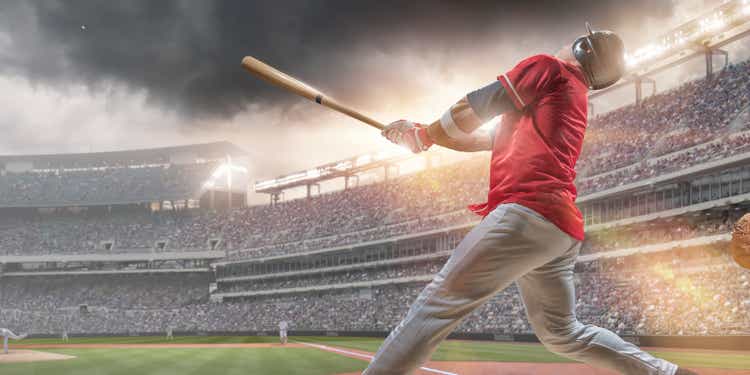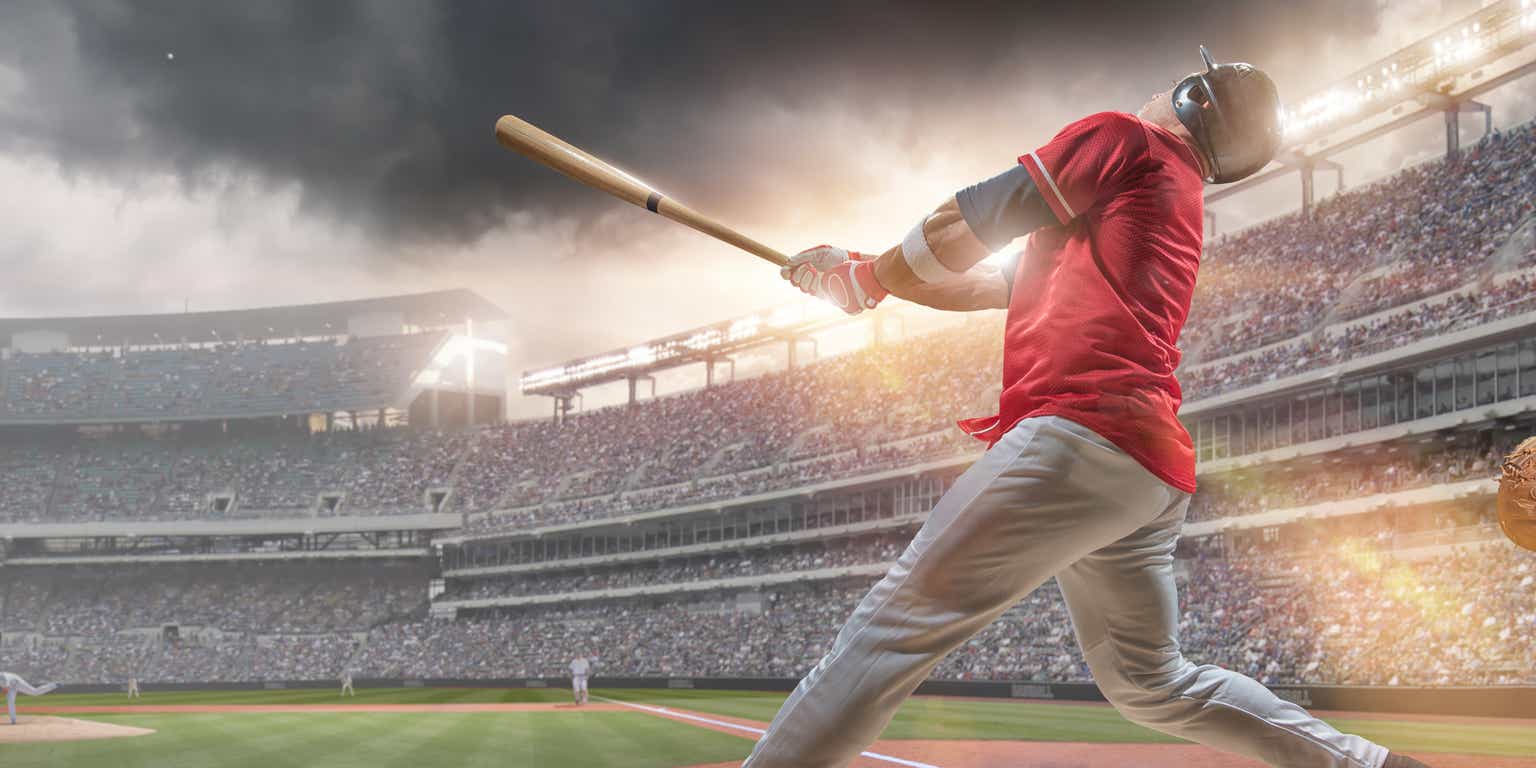 First, some baseball terminology: a batting average is made up of hits divided by official at-bats.
A player's batting average means his ratio of hits to times at bat or the percentage he gets a hit to reach base per every at-bat. The batting average measures a hitter's performance, and a .400 average means a player earned a base hit on four out of every ten at-bats.
Ted Williams was the last professional baseball player to hit at least .400 after finishing with a batting average of .406 in 1941. His season is still considered to be one of the best offensive seasons ever.
George Brett came close with a batting average of .390 in 1980, but the Hall of Famer is better known for the famous pine tar incident and stories of him pooping in his pants.
Then there's Rod Carew, another Hall of Famer, who flirted with batting .400 but ended his best year at .388. Tony Gywnn also came close to beating Williams when the slugger hit .372.
Yet, in over eight decades, no other baseball player has been able to match William's record for a flawless batting record.
Now, I'm sure you're asking, what the heck does baseball have to do with this article?
Okay, for the record, I'm not comparing myself to Ted Williams, although I would like to brag about my skills when I played Little League baseball back in the 70's.
However, I would like to use this analogy to share with you my batting average when it comes to avoiding dividend cuts.
Over the last 13 years – or as long as I've been writing on Seeking Alpha – I've made a few bold calls – some good and some bad – and I'm happy to say that most of them were good. For example, there's the time I warned readers to avoid these real estate investment trusts, or REITs:
CBL & Associates Properties (CBL) – article here
Washington Prime – article here
PREIT (OTC:PRET) – article here
Macerich (MAC) – article here
EPR Properties (EPR) – article here
Diversified Healthcare (DHC) – article here
New Senior – article here
Global Net Lease (GNL) – article here
The Necessity Retail REIT (RTL) – article here.
Now, I can think of a few calls I made which prompted me to HOLD instead of trusting my instincts to recommend a SELL. One of those was American Realty Capital (formerly ARCP) – in which I downgraded to a HOLD before the accounting fraud and eventual dividend cut.
The other one was the more recent downgrade of Broadmark Realty Capital Inc. (BRMK) from a Spec Buy to a HOLD. I did sell my shares, but I do regret not downgrading to a SELL at the time before the eventual dividend cut.
More recently, Gladstone Commercial (GOOD) cut its dividend and, of course, we telegraphed that one ahead of time. In May 2021, I wrote this article: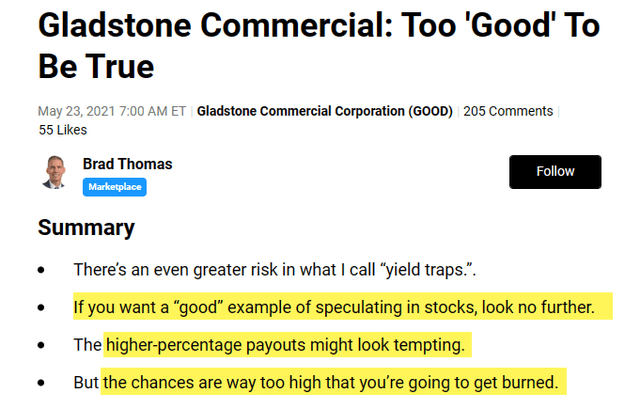 Now, before you call me a "cherry picker" there's always the Tanger Factory Outlet Centers, Inc. Outlet (SKT) recommendation back in 2020, and what perfect timing for this BUY recommendation on March 6, 2020. Shares in the outlet REIT were yielding 12%.
We later upgraded shares to a Strong Buy and Tanger became a top performer for us in 2021, but Tanger's dividend record was over and my batting average went down as a result. My oh My, wasn't this a Strong Buy?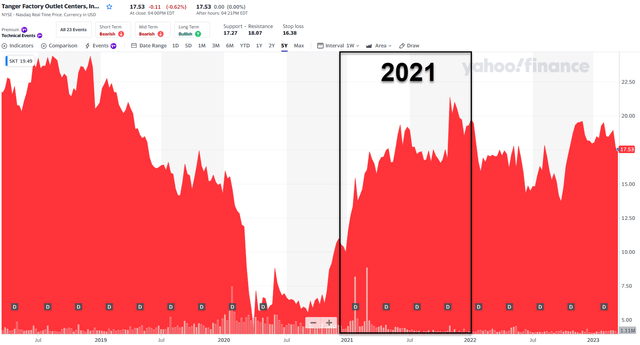 So, it's obvious to see that I'm not Ted Williams when it comes to predicting dividend cuts. However, the older I get, the wiser and more aggressive I get – when it comes to spotting deteriorating fundamentals that could lead to an ultimate dividend cut.
A Few Recent Examples
Yesterday I informed members at iREIT on Alpha that we were downgrading AFC Gamma, Inc. (AFCG) from a Spec Buy to a Sell. As I said, no more softballs (thanks to ARCP). Instead of a Hold, we moved swiftly to double-downgrade to SELL.
It appears that AFCG has no "real" strategy, as the company said it had "not originated any new cannabis debt investments that met its risk-adjusted return thresholds over the past nine months."
So, it's now expanding the "investment strategy to include investing in compelling first-lien and second-lien commercial real estate financing opportunities." What the heck does that mean?
AFCG is now "investing in commercial real estate bridge loans, construction loans, direct loans, leveraging our management team's core competency, in commercial real estate lending and construction." It's now targeting multifamily construction and industrial, a long cry from being a cannabis lender.
AFCG's dividend yield is now sucker-yielding 17%, and we will be watching this one from the press box. AFCG is now on our dividend watch list.
Given Medical Properties Trust's (MPW) latest earnings results and 2023 guidance, we recently downgraded shares to a Spec Buy. While we still believe in the business model (pure play hospitals) and cheap valuation (6.1x P/AFFO) the 13% dividend yield and elevated payout ratio has driven our cautious decision.
On Friday, S&P has also followed suit, with a downgrade yesterday from BB+ to BB. It lowered its issue-level rating on its senior unsecured notes to BB from BBB- with a stable outlook.
Based on data from Ned Davis research it's clear that companies that cut their dividends suffered negative consequences. As seen below, dividend cutters and eliminators (e.g., companies that completely eliminated their dividends) were more volatile (as measured by beta5 and standard deviation) and fared worse than companies that maintained their dividend policy.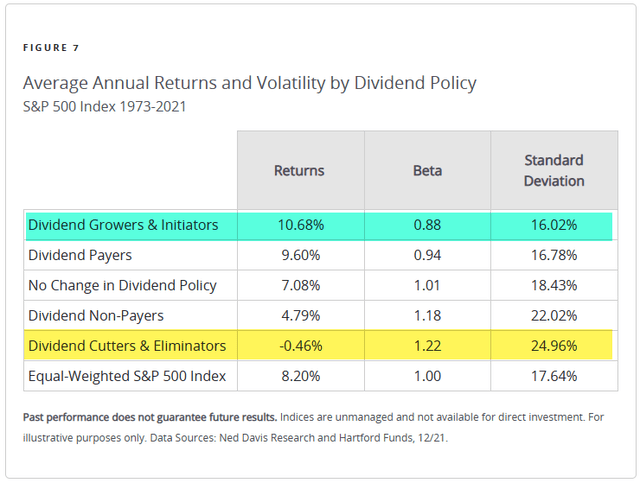 In contrast to companies that cut or eliminated their dividends, companies that grew or initiated a dividend have experienced the highest returns relative to other stocks since 1973—with significantly less volatility.
This helps explain why so many financial professionals are now discussing the benefits of incorporating dividend-paying stocks as the core of an equity portfolio – and why we recommend owning the highest quality REITs in sleep well at night, or SWAN, portfolios.
Avoid the Drama And Buy These 2 SWANs
Alexandria Real Estate Equities, Inc.
(ARE)
Alexandria Real Estate is a life science real estate investment trust and the pioneers of office properties designed for laboratories, biopharma, life science, and technology campuses since it was founded in 1994.
They own, operate, and develop properties in innovation cluster locations with a focus on Boston, San Francisco, New York City, San Diego, Seattle, Maryland, and the Research Triangle. Alexandria has 41.8 million rentable square feet ("RSF") of operating properties, 5.6 million RSF in properties being constructed, 9.9 million RSF of development and redevelopment projects, and 17.3 million square feet of future development projects.
In total, they have an asset base of 74.6 million square feet in North America as of the end of 2022. ARE has around 1,000 tenants that include pharmaceutical, biotechnology, life science, medical device, government research, academic research, and technology companies.
Based on revenue, 90% of ARE's top 20 tenants are either investment grade or large-cap publicly traded companies, and over the past five years they have an 80% retention rate for existing tenants. ARE had an occupancy rate of 94.8% for their North America properties at the end of 2022, compared with their ten-year average occupancy of 96%.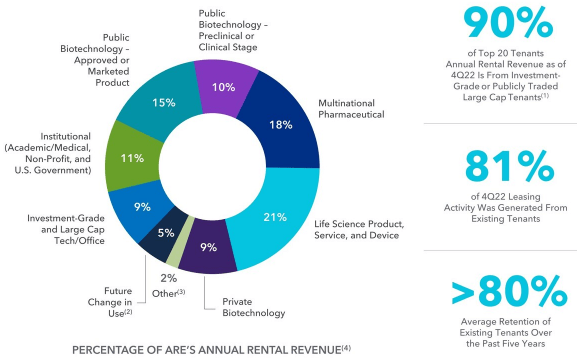 While the vast majority of revenue is derived from rental income, Alexandria also provides capital to companies related to technology, life science, agriculture technologies, and climate innovation through their venture capital platform.
Income from rentals makes up 99.5% of their total revenue, while other income makes up the remaining half percent. The other income category includes construction management fees as well as interest income.

Alexandria has delivered strong consistent growth in their funds from operations ("FFO") over the last 10 years. Over the last 10 years, they have averaged 6.75% growth, over the last 5 years they have averaged 6.94% growth, and over the last 3 years they have averaged 6.55% growth.
The 3 periods combined average out to 6.75% growth in FFO. Analysts expect FFO growth of 6%, 8%, and 5% in the years 2023, 2024, and 2025 respectively.

ARE pays a 3.84% dividend yield and has a growth rate of 6.5% over the last 5 years. Additionally, after paying dividends, ARE was able to retain $1.6 billion for reinvestment over the last 5 years. ARE has been able to retain a large portion of its cash flow due to their conservative payout ratios.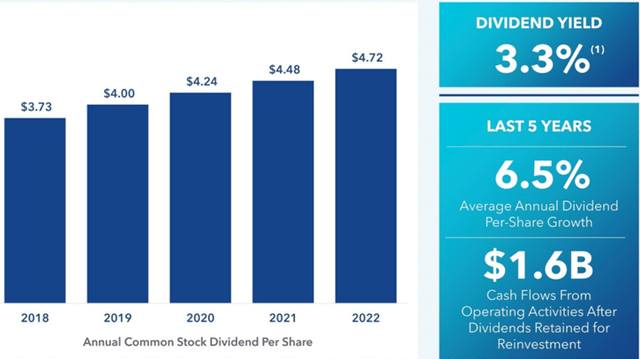 They have a safe dividend with an AFFO payout ratio of 71.30% in 2022. Having a conservative payout ratio has several benefits. It provides safe coverage for the dividend, it allows room for future growth, and it allows more retained cash to be used for investment so ARE is less reliant on external financing.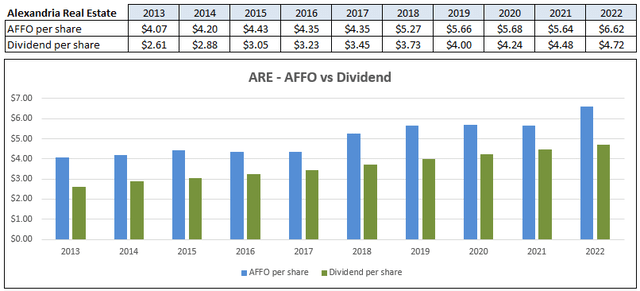 Alexandria has excellent debt metrics with a BBB+ credit rating, a 5.1x net debt and preferred to adjusted EBITDA, and a 5.0x trailing 12-month fixed charge coverage ratio. Additionally, 99.4% of their debt is at a fixed rate, and they have a weighted average debt term of 13.2 years with a weighted average interest rate of 3.53%.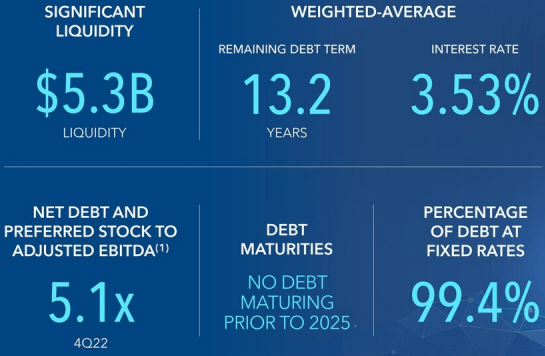 In my opinion, ARE has everything you want when it comes to a REIT. They pay an above average yield, the dividend is well covered, and they have strong growth rates and excellent debt metrics.
They are in the office sector, but I think in this case it provides an advantage to the investor that is familiar with the types of properties ARE owns and leases.
Pretty much every office REIT has been sold off due to the work-from-home concerns, but ARE is not a typical office REIT and, generally speaking, the work its properties facilitate cannot be done from home. For a bonus, ARE is currently trading at a P/FFO yield of 14.79x, which is well below their normal P/FFO of 17.68x. At iREIT, we rate ARE a STRONG BUY.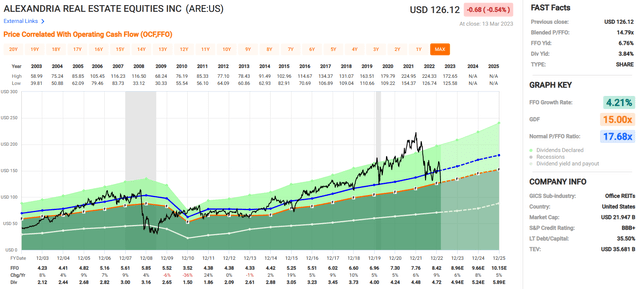 Mid-America Apartment Communities, Inc.
(MAA)
Mid-America Apartment Communities is an apartment REIT that specializes in acquiring and developing multifamily homes in the Southeast, Southwest, and Mid-Atlantic regions, with a particular focus on the sunbelt region.
At the end of 2022, MAA owned or had ownership interest in 296 communities containing 101,986 apartment homes located in 16 states and the District of Columbia. As seen below, MAA's properties are heavily concentrated in the sunbelt region, with their top three markets located in Atlanta, Dallas, and Tampa.

MAA is an S&P 500 company that has been public for 29 years and currently has a market capitalization of $18.14 billion. They are investment-grade rated with a credit rating of A3/A- by S&P Global and Moody's respectively. Since their initial public offering ("IPO") MAA has paid 116 consecutive quarterly dividends and has delivered a 10-year annual compounded total shareholder return of 12.6%.

Over the last 10 years MAA has had strong growth in its funds from operations. Its average growth rate for the last 10 years is 6.02%, its 5-year average is 6.66%, and its 3-year average FFO growth rate is 7.77%. As seen below, MAA's FFO has increased each year except for in 2020, when it decreased by 1%.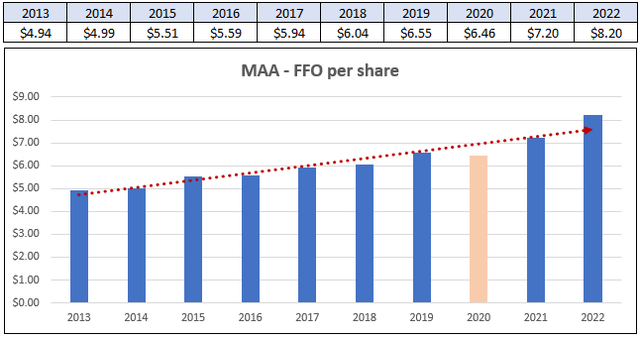 MAA has a good dividend track record as well. Since going public they have never suspended or reduced their dividend, although there have been years without a raise. Over the last 20 years, they have an average dividend growth rate of 3.57%.

While the 20-year dividend growth rate of 3.57% is somewhat modest, it looks much better over the last 10 years. As previously mentioned, there were several years when MAA did not cut the dividend but did not raise it either. This was all before 2010, though.
Since then, MAA has raised the dividend consistently and has an average dividend growth rate of 5.92% over the last 10 years. In December, MAA announced a 12% increase in their quarterly dividend.

MAA's adjusted funds from operations ("AFFO") easily supports the dividend with a 2022 AFFO payout ratio of 60.95%. Over the last decade, MAA has kept a very conservative AFFO payout ratio, with it ranging between 60.95% to 69.57% since 2013.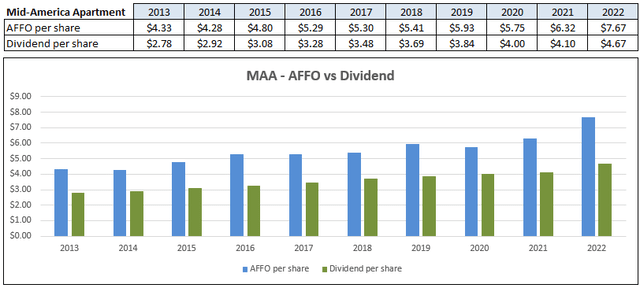 MAA has excellent credit metrics with total debt to adjusted total assets at 28.4%, a net debt to adjusted EBITDAre of 3.71x and debt service charge coverage of 7.2x. Additionally, they have a weighted average to maturity of 7.9 years with a weighted average interest rate of 3.4% and 99.5% of their debt is fixed rate.

Like ARE, in my opinion MAA has everything you want in a REIT. It has strong growth in its FFO, it pays an above-average yield that is very safe with its AFFO payout ratio, and it has excellent credit metrics.
With the ongoing migration to the sunbelt, MAA is well positioned to take advantage of this trend which should enable them to continue their FFO and dividend growth. Currently, MAA is priced at a blended P/FFO of 18.05x, which is slightly above their normal P/FFO of 17.20x. At iREIT, we rate Mid-America Apartment Communities, Inc. a BUY.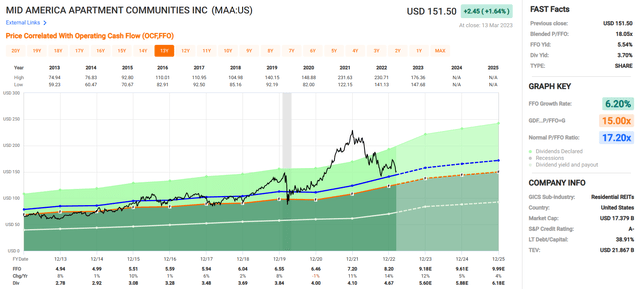 Batter Up…
I would love to know your batting average on Seeking Alpha?
Remember, it only takes one torpedo to sink a ship, so my best advice is to always practice sound portfolio diversification.
"The only investors who shouldn't diversify are those who are right 100 percent of the time." Sir John Templeton.