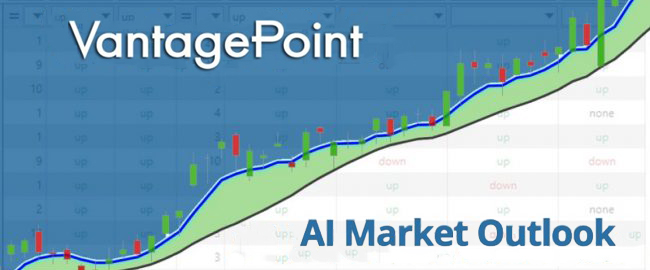 Welcome to the Artificial Intelligence Outlook for Forex trading.
VIDEO TRANSCRIPT
U.S. Dollar Index ($DXY)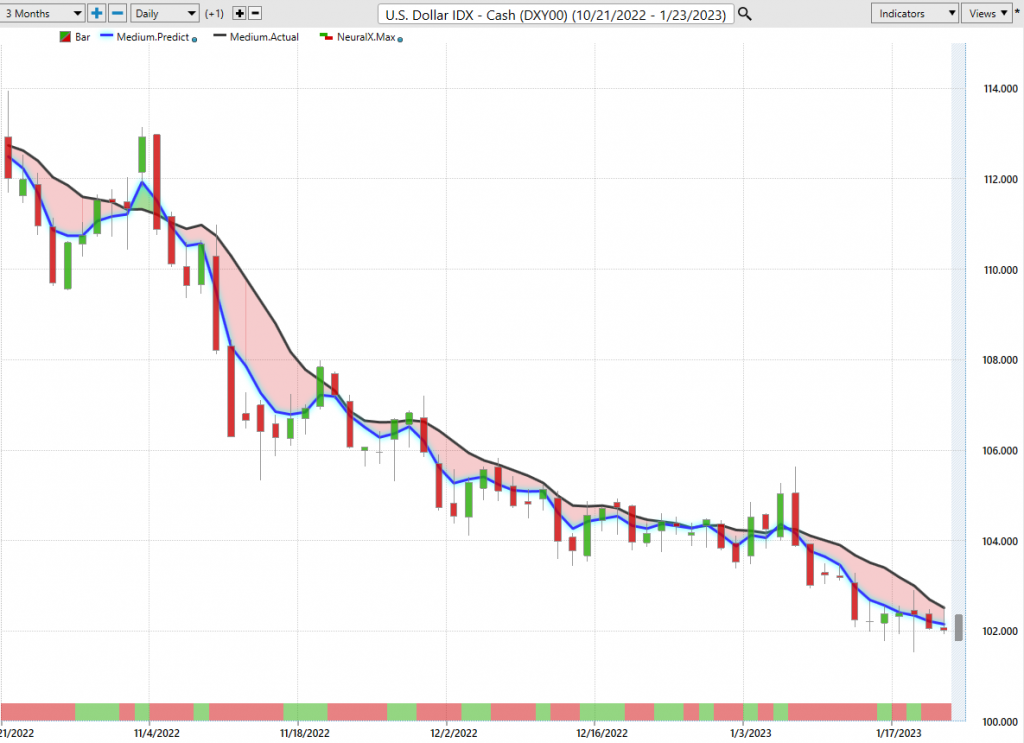 Hello, everyone. Welcome back. My name is Greg Firman, and this is the VantagePoint AI Market Outlook for the week of January the 23rd, 2023.
Now, to get started this week, we'll begin with the Dollar Index, where we always do. Now, the dollar remains under pressure. We're holding below that very important yearly opening price. That price coming in at or about the 103.66 area, the dollar bearish while below this particular level. But the indicators, as you can see, are starting to roll over to the long side here. Now, in most cases, as I've discussed at the VantagePoint seminars and in the VantagePoint live training room, each week there's a period of known dollar buying, usually in the first week of the new month or the very end of the month into the first week of the new month, and then it turns after the non-farm payroll number.
So right now you can see that we've got a series of daily bars that we've got very, very few sellers down here. So we'll watch for a potential turning point next week, but this medium-term crossing the long-term predicted difference is basically the medium-term crossover over the long-term crossover, and that's moving in the opposite direction. The market's moving lower and the medium-term predicted difference is moving higher, warning of a pending reversal.
S&P 500 Index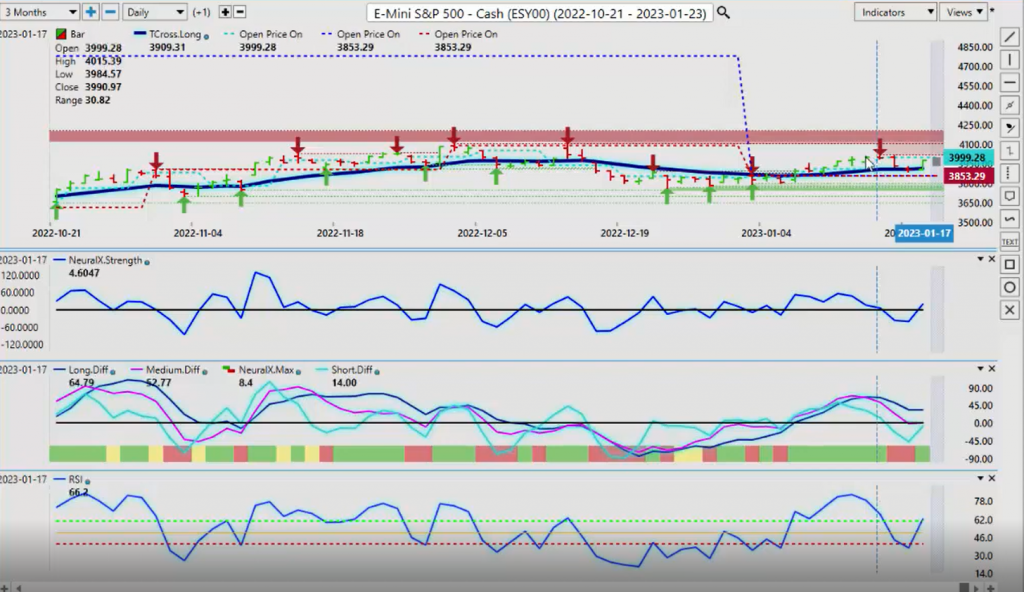 Now, when we look closer at that, once again, this past week in the Vantage Point live training room, of course, we were working on this very exact same setup in reverse with the S&P 500. You can see that the medium-term crossing over the long term predicted difference has absolutely zero lag, and if nothing else, it warns us not to buy equities up here.
We've all heard the pundits on TV talking about we're above the 200-day moving average, stocks are bullish. Then we have this violent selloff moving the index lower. Now we've recovered a bit on Friday and things are looking better, as we've failed to breakdown on the predicted RSI below the 40 level. Now, the breakdown of the 40 level would tell us that we've got momentum building into the downside, but we're not able to hold that momentum.
We can further assess that the market stopped exactly on the TCross long, 3916. And then on Friday we've had a significant rally off that area. But this newly formed resistance high, verified resistance high coming in at 4015, that's the level to keep your eye on. If we break that, then we would look at the additional resistance towards the 4100. But either way, I think this particular index, if we even get to 4100, it's going to struggle up there knowing that seasonal pattern with a dollar will likely kick in in the early part of February.
Bitcoin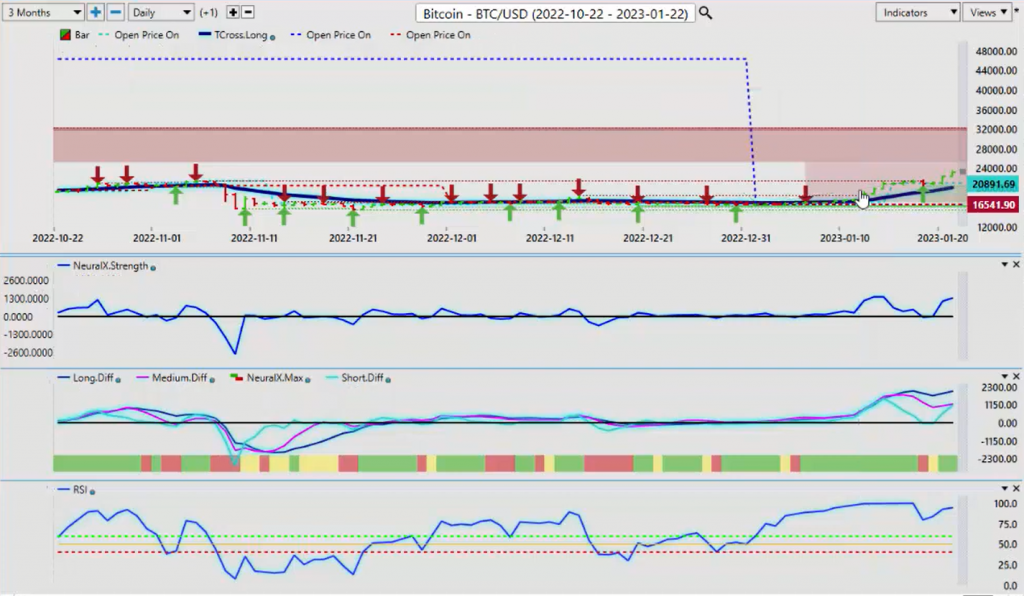 Now, once again here, if we look at Bitcoin, Bitcoin has been already the number one investment, one of the top investments anyway, in 2023, coming out of the gate holding firmly above the yearly opening price and the Vantage Point TCross long. Then you can see the predicted moving average starting to move higher. The market closing above that vantage point TCross long on a daily basis. And then we've seen an acceleration up towards the high of 23,000.
So when we look at Bitcoin on the year, the pundits that make fun of Bitcoin saying it's a scam and everything else, well, let's have a quick look at that, shall we? Because I'm certainly not in that camp.
Bitcoin annualized returns over the last 10 years, 234%. Yeah, we had a down year in 2022, but when you look at it this year, we're up 37% on Bitcoin already this year. So if this is a scam, then it's one heck of a scam is all I can tell you because I've seen this many, many years in a row.
So for now, just remember that the primary inner market correlation, Bitcoin is 98% correlated to the global indexes, the S&P, the Dow, the NIKKEI, all of these major indexes, Bitcoin is following those up and down. So this is telling me that we're probably see a little bit more upside on stocks before they were traced, but if they do, bitcoin is likely to follow. Now the other point of interest here that Bitcoin arch nemesis, or gold's arch nemesis, I should say, has been Bitcoin. So when we look at gold right now, gold holding above positive on the year opening the year, the yearly opening price here, coming in at 1824 at a nice rally up on the dollar weakness. But the question is, can gold extend this rally? In most cases, no. The seasonal pattern we would look for would not to be until closer to April actually.
So you can see we're really struggling up here around this 1930 mark. This is when we want to watch these predicted differences on the neural index for a signal that gold is getting ready to move lower. So much like the S&P 500. Last week we had that MADiff cross and we had a target point. So when the MADiff cross on the S&P 500 cross to the downside, it told us two things. Number one, we don't want to buy the S&P 500 at 4,000. And number two, there's a pending reversal at the very least back to the TCross long.
Gold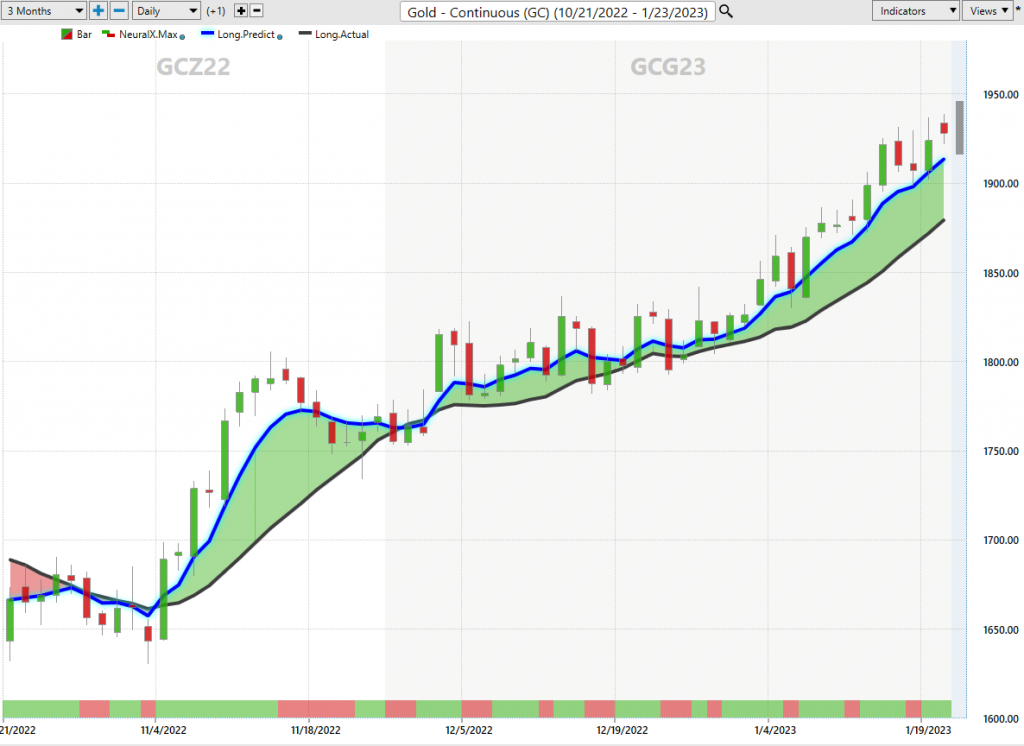 So if we take that same methodology and apply it to gold, I would argue that a retracement to 1880 is very, very likely. This retracement has nothing to do with waves, Fibonacci, any of this. It's strictly you're running out of buyers up here. You've got a known seasonal pattern on the US dollar at the beginning of the month and a longer term seasonal pattern that usually goes from early February to early April. So we'll see if that comes to fruition this year. The dollar did have one heck of a year last year and a pretty good year in 2021 too. So it is due for a significant corrective move lower, but that doesn't necessarily mean in modern times that that will automatically push gold higher. It could be Bitcoin and stocks that go higher.
So that's something we definitely want to keep our eye on. But again, right now with these two, they are both moving up and down together and in my respectful opinion only it will be the S&P 500 and the global stock indexes that ultimately tell us which way Bitcoin and gold are going to go. And the dollar of course.
Crude Oil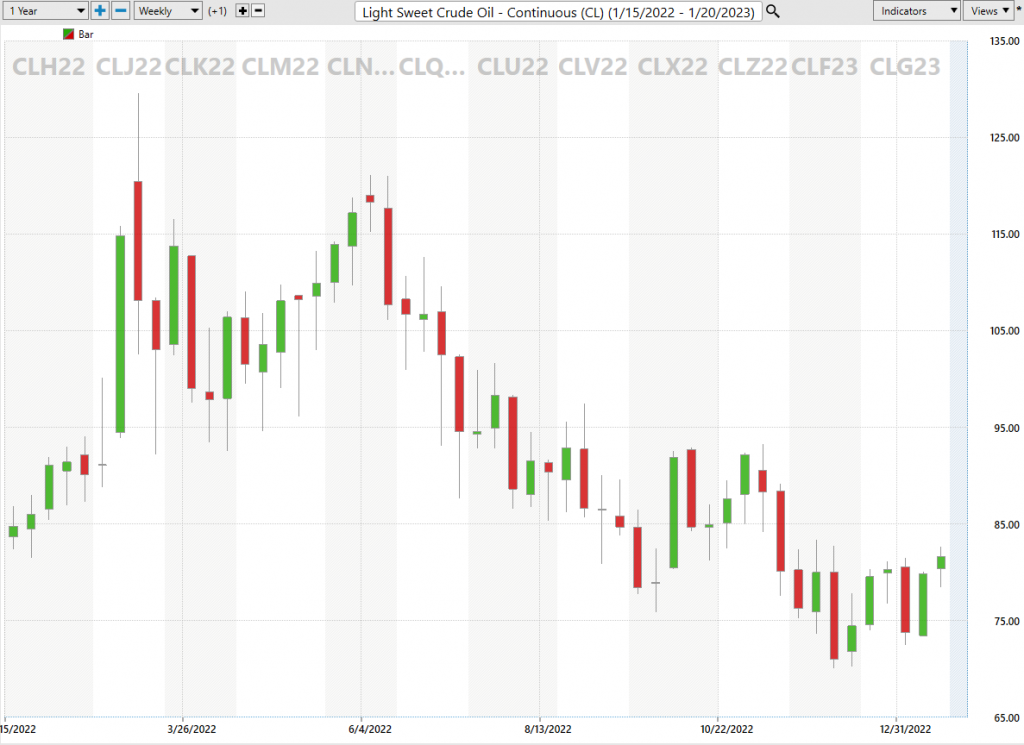 Now, when we look at some of the energy sector for next week with light sweet crude oil, we can see that with light sweet crude oil, we've still got some movement up here, certainly trying to turn bullish. We're closing the week above the yearly opening price. That yearly opening price 80.57 at this time of year. Guys, this is the one you want to really keep your eye on this number. Can we hold above it or below it? If we're holding above it, we look to go long. But if we start maintaining this bearish and so far oil this year has been very, very bearish and you can see we're not seeing, not a lot of buyers up here. So watch this level very closely.
The VantagePoint TCross long also currently remains below the yearly opening price that TCross long 78.52. This is the level you also want to, if we break down below the yearly opening price, watch the TCross long at 78.52 for a potential long. But if we break both of these levels, we would be looking at oil to move considerably lower, and if the US does move or globally we move into a recession here, that probability of it moving lower is very, very high.
Euro versus U.S. Dollar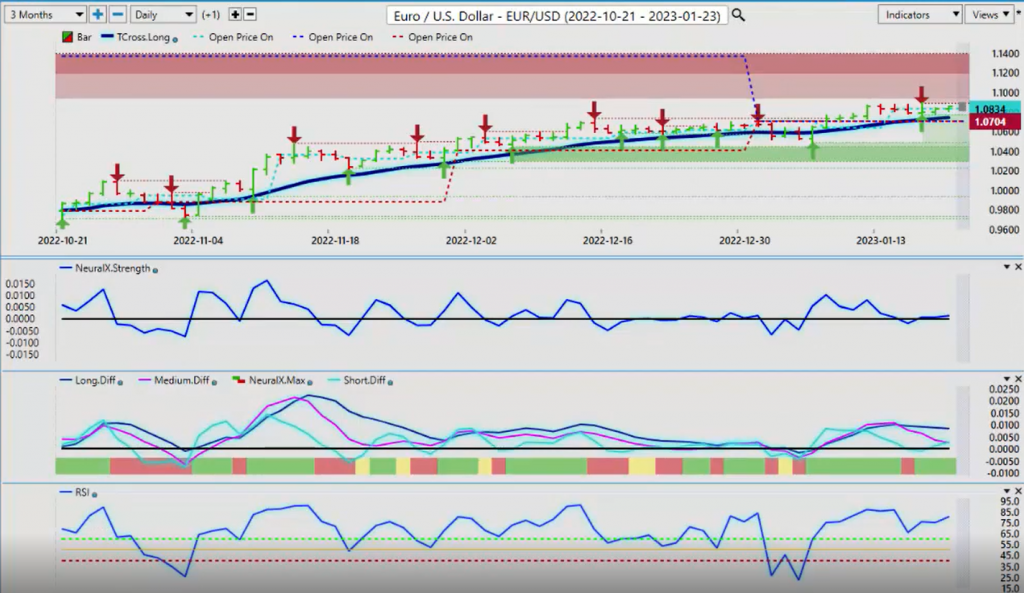 Now, as we look at some of our main Forex pairs, starting with the number one trade at Forex payer, which of course is the Euro/US payer. Right now we have resistance building. Not a lot of buyers up here up around 1.0880. In my respectful opinion, the Euro is likely to struggle into the year end here. If we do get a, in most cases prior to the dollar cycle at the beginning of the month, usually we get one more big push and then a reversal. But as you can see that the MADiff cross right now is already warning us not to buy the Euro at these levels currently until such time, if something changes, then we want to be very, very cautious with longs up here is my best advice.
Excuse me. I believe that if nothing else, we're likely going to retrace back down to the 1.0741 area and then we can reassess this. So again, be very, very cautious. Now the neural index is flat, but that is a very, very strong warning sign. Now again, we've got this signal on the VantagePoint software several days ago, and you can see from the time the pink line crossed the blue line here, the Euro has been unable to extend higher, it's actually moved consistently lower. I could argue that we've hit the Tcross long and now the Euro's going to extend, but I think any extension here is likely to be very, very short-lived.
U.S. Dollar versus Swiss Franc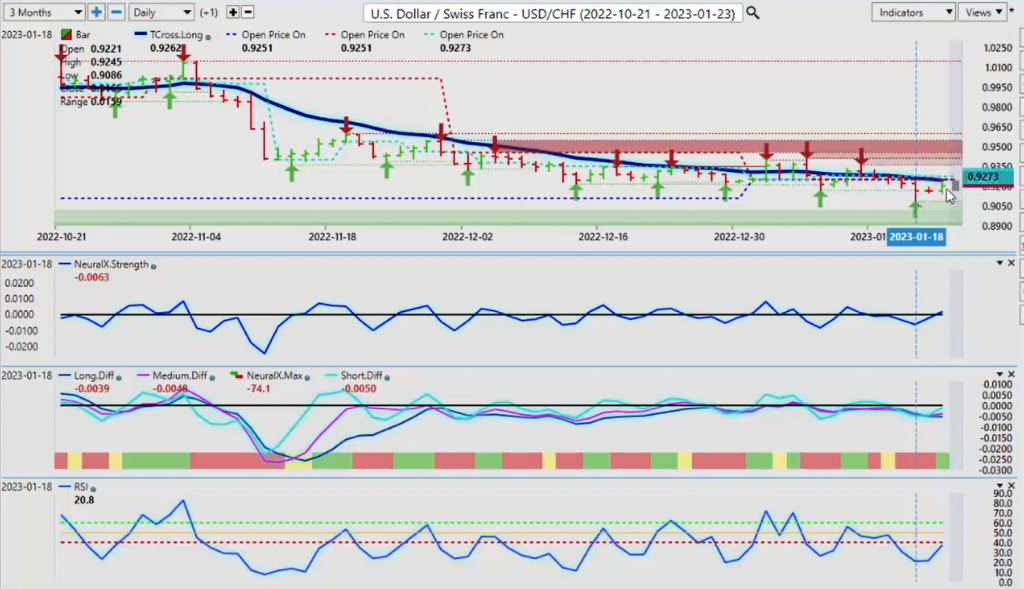 Now when we look at the US/Swiss Franc, this is again another pair that we worked on in the VantagePoint live training room here, verified support low forming down here in this lower 91 level, about 90.86. Now we've had a significant rally on this backup to the TCross long and the yearly opening price. So if we can get above these two levels, 92.46 next week and 92.51, I could even argue you could put a limit, a buy limit order, slightly over these two levels and when it breaks above it, you pick up a long trade.
That's another way of getting in front of the market because we use these predicted levels to do just that. So again, if we can break above that, we know we're coming into a period of dollar, we're likely coming into a period of known dollar strength, then this would be a place of value potentially to buy dollars. Buying this particular pair, the indicators again are rolling over. Our MADiff cross is extending, is crossed over and it's starting to move back up. The predicted RSI also rolling over to the upside and of course a green positive neural index.
British Pound versus U.S. Dollar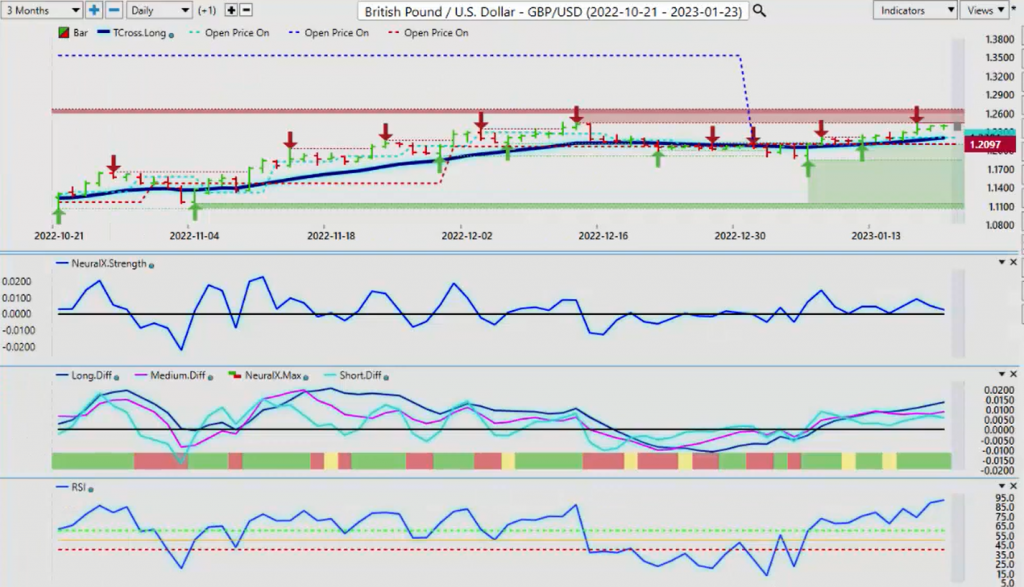 Now the British Pound having a very, very good week last week. Basically Great Britain rallied right across the board. Great Britain/Australia, New Zealand, Great Britain/Swiss Franc, Great Britain/US, Euro/Great Britain took an absolute beating last week. The Euro took a beating from the British Pound, but now we're forming resistance here.
So to start the week, we've got resistance coming in at 1.2435, and this additional verified resistance high from December the 14th, which also is 1.2446. So again, we've got a significant amount of resistance here. Be very cautious up there. Watch the VP indicators. Right now we are moving into, I would argue the pair is overextended, but still has the potential to move higher. The indicators are not overly strong here for longs. And again, this still, you're either buying or selling US dollars in the Forex market. Guys, that's the play, right? So be cautious up here. If we know that the dollar is likely going to strengthen towards the end of the month, then the upside on this pair could be limited.
U.S. Dollar versus Japanese Yen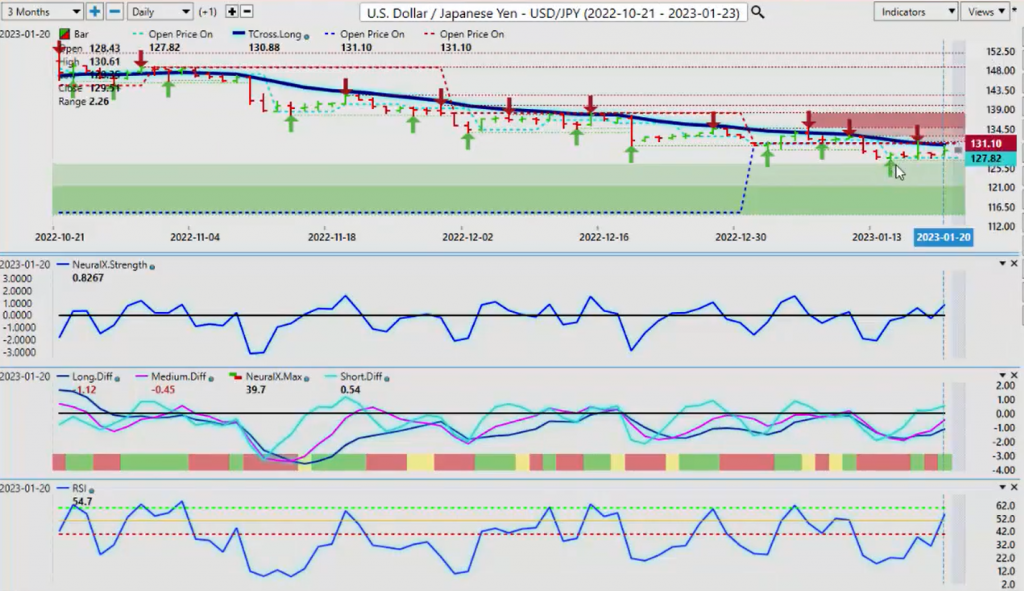 Now when we look at the dollar/yen, once again, the dollar/yen we're recovering yet again, starting to turn back up another warning sign of pending dollar strength. So we've moved lower here. We've been lower for most of the year. Now where we're retracing back up, we have heavy support that is formed at 1.2723. The resistance, however, is at the yearly opening price and the TCross long. So the TCross long 1.3088, the yearly opening price, 1.3110, all of our resistance is right there. So once again, using these levels, if we believe the dollar is going to strengthen, then we can put a pending buy limit order just above 1.3110 and wait for it to break that level and when it does, we're sitting there waiting for it. Now if it fails, if you believe that the dollar yen is going lower, then you can do the same thing in reverse. Put a sell limit order up against these two levels, and then potentially have a stop loss of 1.30, 1.50 and a buy limit order ready to go.That's another way of doing this. But again, this is an outlook, not a recap of something that already happened. So we're, it's in preparation for what we're doing next week.
U.S. Dollar versus Canadian Dollar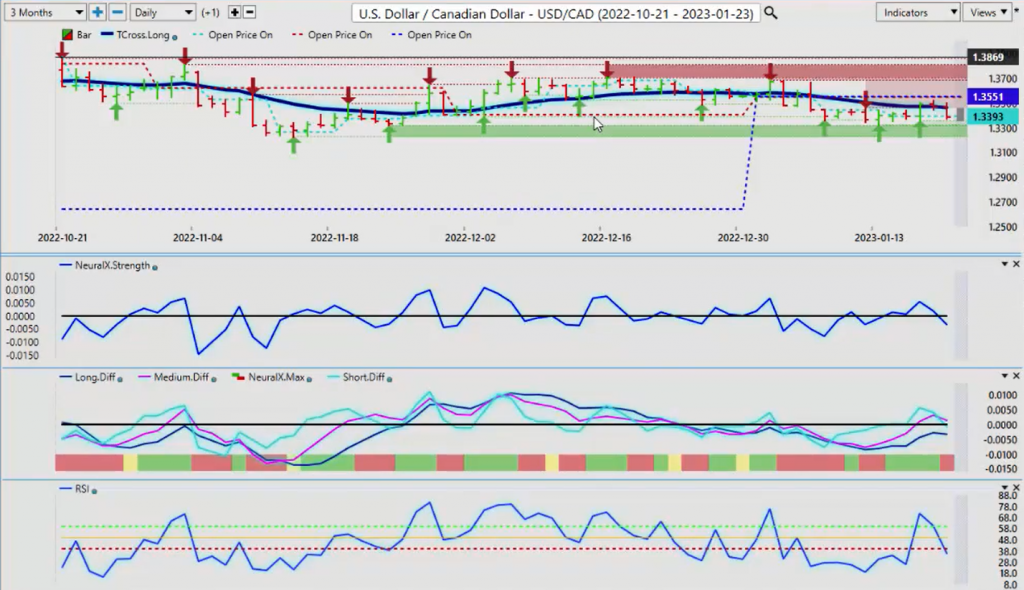 Now with our three main equity based currencies, the US/CAD, Aussie/US, New Zealand/US, these currencies, these three currencies are dependent on the S&P 500 going higher. If they're going to, if the US/Canada is going to extend lower the S&P 500 and, more specifically oil, have to extend higher. So right now we're struggling. US/Canada remains below its yearly opening price. We're below our TCross long, so it's technically bearish at this time, but we're very early into 2023. A primary trend is not formed yet. We've got indecision, but let's just say between buyers and sellers. But keep an eye on these critical levels. Once again, another way to play this, if we believe stocks are going lower and this is ultimately going higher, then we just set buy limit orders above our yearly opening price of 1.3551.
Once we get above that area, then US/Canada should extend higher or again, the alternative is to set sell limit orders into 1.3551 with a buy limit ready to go above 1.36. But again, 100% dependent on the S&P 500 going higher.
Australian Dollar versus U.S. Dollar
Aussie/US, New Zealand/US, the same thing. We're running out of buyers up here. Again, we've got pretty heavy resistance formed on this newly formed verified resistance high. Or we can look at the weekly opening price that came in at 6978.
So basically when you look at this, we've closed the week almost exactly where we started the week, and that is showing basically what happened with the S&P 500. We had the sell off, then we had the recovery into Friday. The Aussie kissed the vantage point TCross long, and it too went up.
New Zealand Dollar versus U.S. Dollar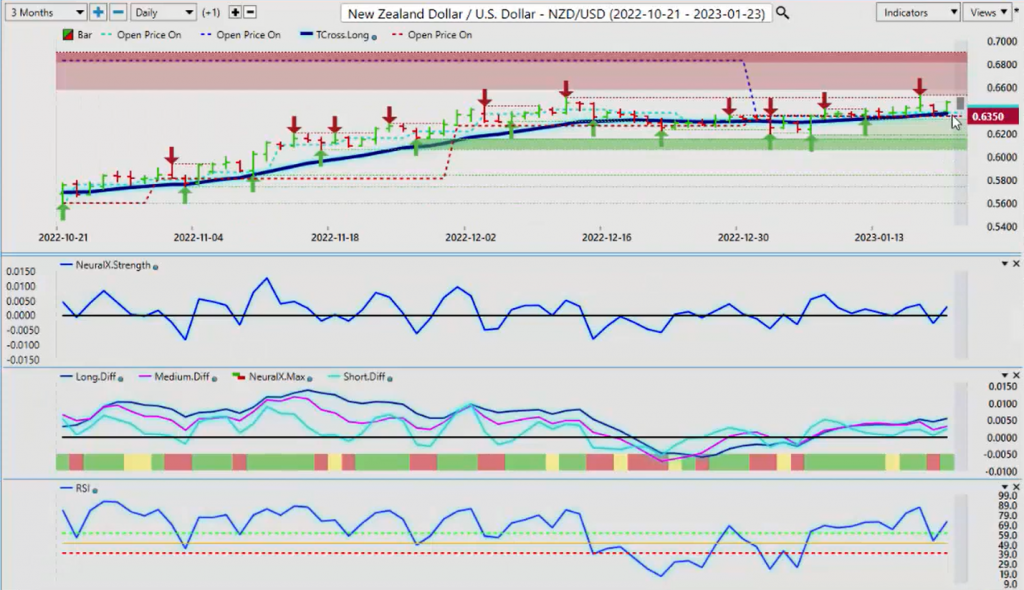 We can see New Zealand basically doing the exact same thing. And this is all because the S&P 500 went up. Aussie/US and New Zealand/US followed it up.
So remember, in your trading next week, in the remainder of the month or the remainder of the year, know your inner market correlations, guys, because they will very often trump the most powerful indicators. So with that said, this is the VantagePoint AI Market Outlook for the week of January, the 23rd, 2000 and….