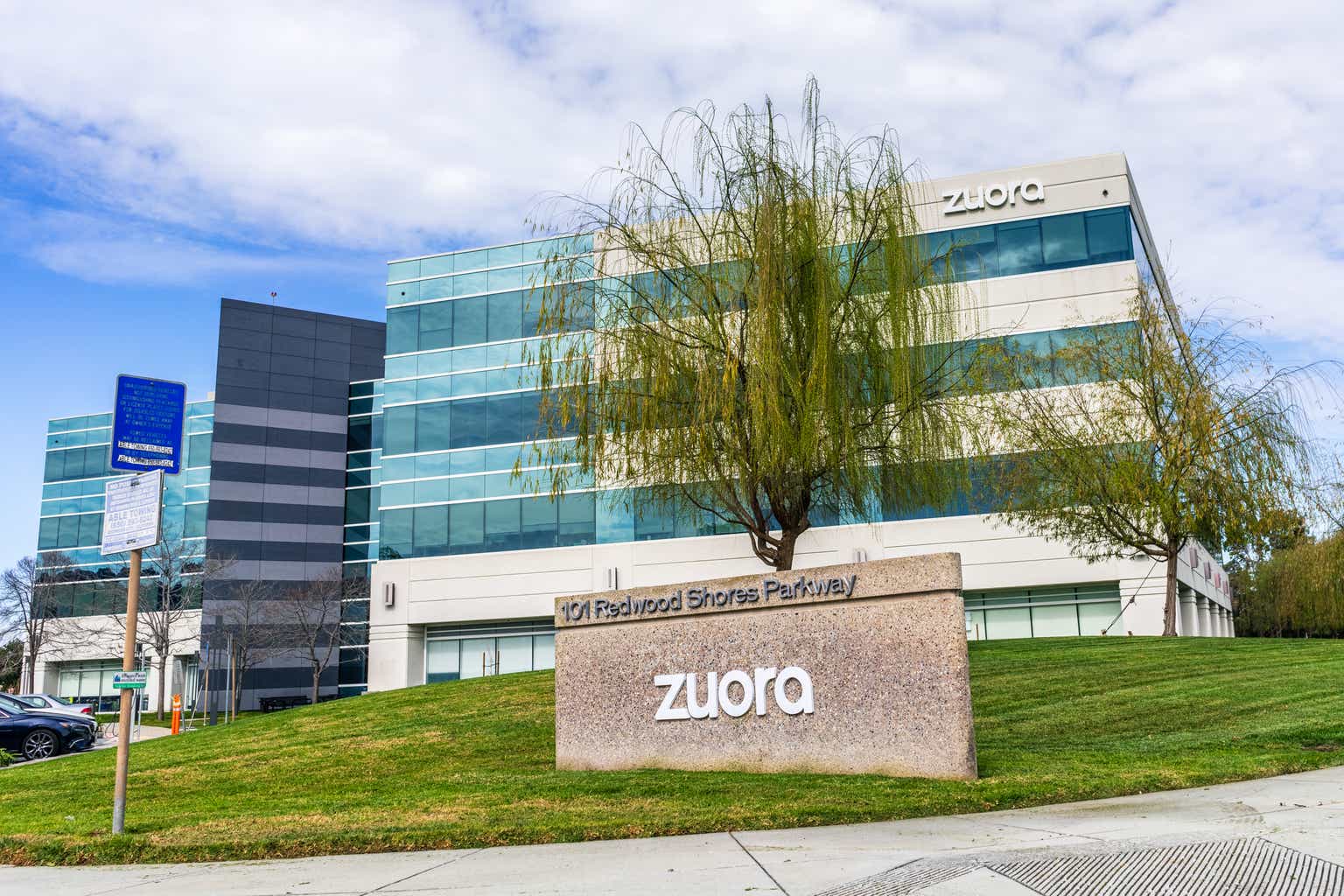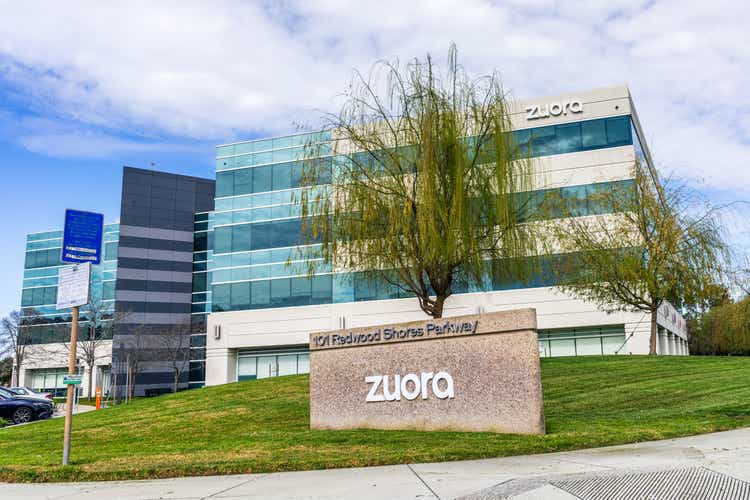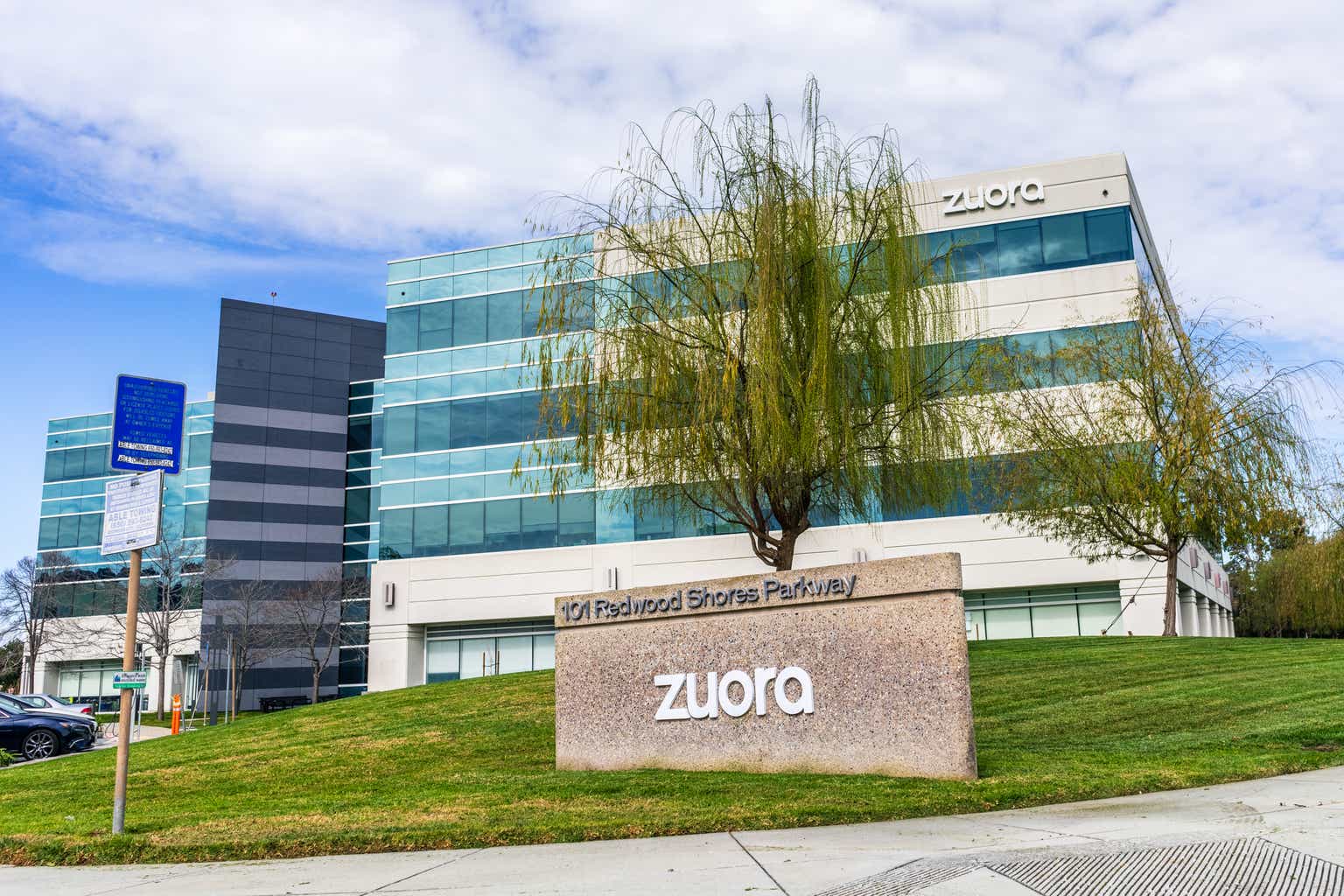 To me, the markets seem ready for a tear after a year of disappointing news. In my view, the best way to play the upcoming rebound is to focus our portfolio on "growth at a reasonable price" stocks – in particular in the small and mid-cap space, which have seen giant corrections over the past year.
Zuora (NYSE:ZUO) is a name worth watching, and I've continued to slowly add to my position in this stock as it trades sideways. A SaaS company that provides revenue management software specifically for other subscription and recurring-revenue businesses, Zuora is still exhibiting steady growth and has hit above-breakeven operating margins on a pro forma basis. These are all the ingredients that can help the stock reverse from a -60% decline over the past twelve months.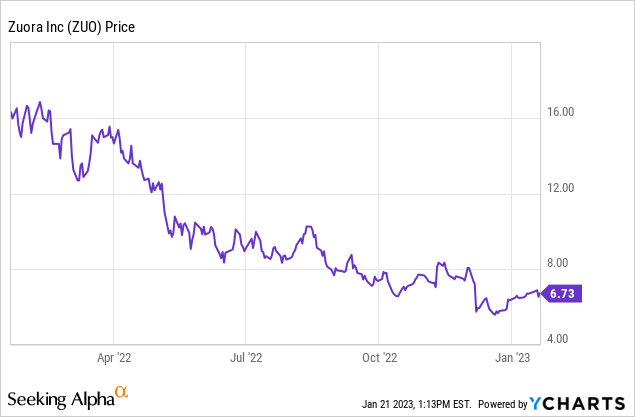 Revisiting the bull
case for Zuora
I am very bullish on Zuora in this market. Even though this company is an off-the-radar play that isn't getting much mainstream attention, I think there are plenty of fundamental qualities in this stock that can unlock tremendous value.
Here is my full bullish thesis on Zuora:
Subscription-based business models are becoming dominant. Given the fact that more and more businesses are adopting this type of model, Zuora's base of potential customers has widened significantly. Zuora's uniqueness in this regard is also important to point out: companies can choose a regular ERP, but Zuora's subscription-focused solutions help to address common pain points.
Innovation track record is strong; the product portfolio is expanding. There's virtually no other company that markets itself as a purpose-built platform for subscription companies. Zuora has also done a good job at fleshing out its portfolio of solutions, ranging from revenue management to billing tools to CPQ (configure, price and quote) applications.
Zuora grows along with its customers. As Zuora's clients grow their subscriber bases, so does Zuora's opportunity to monetize and grow alongside its customers. The company has noted that upsells have hit a "record pace", and highlighted several key milestones like GoPro's (GPRO) subscription-based storage and insurance program (a key feature of the company's planned turnaround) hitting one million subscribers.
Offloading services work to partners. As Zuora has scaled, it has also been able to ramp up its third-party vendors and resellers to take on more of the unprofitable services/onboarding work that typically acts as a drag on software-company margins. Zuora's mix of subscription versus services revenue has grown over the past several quarters, helping boost gross margins and illustrating where Zuora would prefer to be at scale.
Acquisition possibility, especially after the company hit breakeven. While I never like to base any investment decision based on high hopes that the stock will get acquired, Zuora checks off a lot of boxes for being acquired: it's small with just a ~$1 billion market cap; it offers a very unique product that many larger software companies may want to get their hands on, especially during times when organic growth is fading; and it has positive pro forma operating margins.
Valuation check-up
The most compelling reason to be long on Zuora, however, is its valuation. At current share prices just under $7, Zuora trades at a market cap of $899.1 million. After we net off the $400.6 million of cash and $208.4 million of debt on Zora's most recent balance sheet, the company's resulting enterprise value is $706.9 million.
For the next fiscal year FY24 (which for Zuora is the fiscal year ending in January 2024), Wall Street analysts have a consensus revenue target of $432.4 million for the company, representing 10% y/y growth (data from Yahoo Finance). This puts Zuora's valuation at just 1.6x EV/FY24 revenue.
Needless to say, this is one of the cheapest multiples in the enterprise software sector.
Post-earnings malaise
Now, Zuora is up about ~20% from its December lows in the mid-$5s, but the company is still under the cloud of a poorly received earnings release in early December.
The main issue here was Zuora's outlook.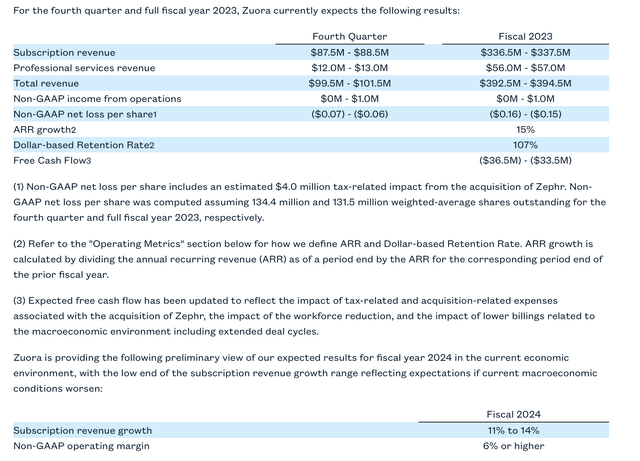 As shown above, the company guided to $99.5-$101.5 million in total revenue for Q4, and $87.5-$88.5 million in subscription revenue, which represents midpoint growth rates of 11% y/y and 14% y/y, respectively. This represents deceleration from 14% y/y total growth and 17% y/y subscription growth in Q3. Further, Zuora posted an initial growth outlook for FY24 as well that calls for subscription revenue growth to fall to the low teens in a range of 11-14% y/y.
The company is baking in recent trends and sales cycle elongations in posting this outlook. Per CFO Todd McElhatton's remarks on the Q3 earnings call:
As many other software companies have reported, we are also experiencing pressure from the current economic trends.

During Q3, we encountered some elongated sales cycles and some deals requiring additional levels of approval. As I speak with customers engagement and demand for our solutions continues to be high. In fact, top of funnel generation has grown by double digits. As a result, we are directing our sales efforts in the areas we saw the most success over the past couple of years. We are directing resources towards our alliance partners versus internal demand generation. Similarly, we are focused on areas to help our customers reduce costs as they navigate the current environment."
While this certainly isn't good news, I think there are some mitigating factors we have to recognize. First, FX has been a huge headwind to Zuora. Q3 subscription revenue growth would have been 20% y/y on a constant-currency basis. As many are aware, the U.S. dollar hit its high sometime in November before falling quite sharply through today. So, versus the time that Zuora set its guidance outlook in early December, the weakening of the dollar could help to shrink FX impacts and boost growth beyond the guidance range.
Second – Zuora is still a big expansion/renewal business. Dollar-based net expansion rates clocked in at 109% in Q3, in line with historical levels and indicating that existing customers roughly increase their spend on Zuora by ~10% in the following year. This is a great way for Zuora to continue growing even as new sales deals slow down and the company lets go of sales heads.
And lastly, as Zuora's growth slows, the company is turning its focus on profitability. It's guiding to a 6% pro forma operating margin in FY24, achieved in part by laying off 11% of the company's workforce. While the market is treating this shrinkage as a sign of poorer growth prospects ahead, I do think Zuora's shift toward profitability will make it an even more attractive investment in this relatively more risk-averse market.
Key takeaways
To me, there is already quite a bit of risk baked into Zuora's valuation multiple at <2x forward revenue. I'm optimistic that the company will beat its relatively conservative guidance targets and delight investors with profitability growth in calendar year 2023. Stay long here.